* Classic & Current Television Blog *
YOU'VE GOT MAIL
Linda Eichberg - former Dean Martin Golddigger - writes: "Reading Maria Lauren's comments, I thought you might like to see a few pics from the Grammy event.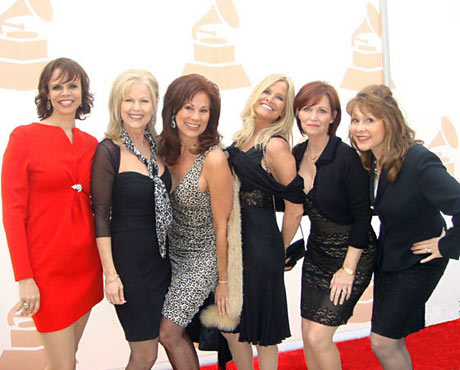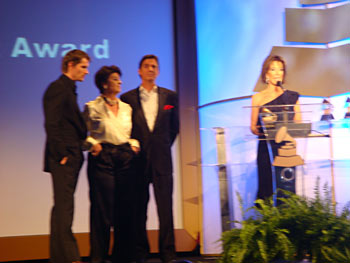 "Yes, it was a thrill to see Dean Martin get his Grammy Lifetime Achievement Award and share the moment with Maria Lauren and my other Golddigger 'sisters' - Deborah Pratt, Susie Buckner, Marie Peck and Peggy Gohl. Dean was honored with a video montage of special moments from Television, Recordings and Movies. As the Martin family accepted the award, Gail Martin told a story about her grandson recently buying a skate board with Dean's picture on it, 'Dean with two other guys.' Dean's music is as popular as ever. He has a recently released new album and his velvety voice is heard on numerous TV commercials. His legacy lives on."
Don't the former Golddiggers look fab!
'The Ghost of Bobby Dunbar' episode of This American Life (the radio version) was fascinating last weekend, if you missed the story of the lost boy who was found (sort of) you can get it here for free. This American Life has to be one of the most under-appreciated but consistently wonderful things in life.
Susan Walker notes that Conan O'Brien is making the affiliate rounds before taking over the Tonight show. Here he is in Charlotte, NC. Although I very rarely watch, I like the Tonight / Late Night combo the way it is. Both shows I enjoy until the interviews start, then it depends on who the guest is whether I continue watching.
Program note: James Rana, host and producer of the radio program, THE JAMES RANA SHOW, welcomes acclaimed British actor/comedian Kenny Baker to the program on Sunday, March 1 at 8am (eastern) on 89.1fm WFDU. Best known as the man inside R2D2, Kenny Baker has enjoyed a diverse career as an actor and stand-up comedian for over four decades. Aside from appearing in all 6 Star Wars films, Baker's memorable screen appearances include a starring role in Terry Gilliam's TIME BANDITS, Milos Foreman's AMADEUS, David Lynch's THE ELEPHANT MAN and Jim Henson's LABYRINTH.
From the press release: It's been a few months since Bill Maher has been on the air and a few things have happened in the meantime—including the inauguration of a new president. In an exclusive rant Maher takes shots at his favorite targets: George Bush, Dick Cheney, Hillary Clinton and yes, even the Obama's. Check out Bill's latest rant exclusively on The Daily Beast and be sure to catch an all new season of HBO's Real Time with Bill Maher, Fridays at 10 p.m. ET/PT beginning February 20th—Plus catch an encore play immediately following… only on HBO!
Tuesday, February 11, 2009 - 6:45am
WOULD YOU LIKE TO RESPOND?
ABOUT THAT...
Greg Laughlin writes about previous posts: "That's too bad about your email from John Byner. I met Mr. Byner in Vegas back in the early 90's when he was doing the live D.C. Follies show (for Sid and Marty Krofft) at the old Sands Hotel. He was a funny guy with some great stories. Unfortunately, most artists carry their insecurities to a high level and he probably thought of himself as the star of Bizarre, not the host.
"In addition, I'm glad you mentioned the Kenny Rogers' Roasters chain. The last time I was in L.A., I actually went out to the Ontario Mills Mall just to have a meal at that place. You're right. The food isn't great but it brought back the twisted memories I had from the 90's. It was hilarious to dine inside a shrine to Kenny Rogers with all the photos and gold records hanging on the wall."
Of course, as I probably didn't make clear, Byner was more than the host of the show, he was also the lynchpin star but sometimes when you're writing boilerplate copy for multiple editions you have to mix it up some in order to not be repetively repetitive.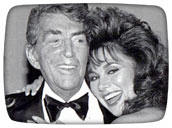 Maria Lauren of The Golddiggers tells us: "I'm so excited... Some of the Dean Martin Golddiggers of 1973, that appeared with Dean till his retirement, (including me) had the honor of walking the red carpet at the Grammy Award Ceremony. We were there, to support Dean Martin's Legacy as his family accepted his Lifetime Achievement Award. It was a fun evening!"
Kevin Butler reminds us that Howard St. John and Jackie Gleason worked together after the color Honeymooners sketches. "In 1970, the pair would be reunited again - albeit briefly - for the movie version of Woody Allen's stage comedy Don't Drink The Water." I love that movie.
Probably the best commentary I've heard on the whole Michael Phelps flap from SNL:
Monday, February 9, 2009 - 10:23am
WOULD YOU LIKE TO RESPOND?

SUNDAY STUFF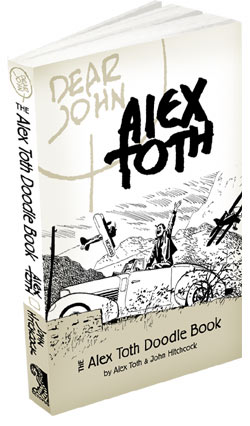 Gulp! The book that John Hitchcock, James Counts and myself did back in '06, DEAR JOHN: The Alex Toth Doodle Book, is now a collector's item, selling for $200 or more - that's a ten fold increase. Wouldn't it have been nice if I had kept a few copies around?
Here's the opening 8 minutes of one of the mid-1960s Jackie Gleason Shows featuring The Honeymooners. They are a true joy to watch, expanded versions of classic Honeymooners routines with musical numbers. The elaborate opening routines were the weakest part of the production but, hey, they don't make 'em like that anymore and it's the June Taylor Dancers after all.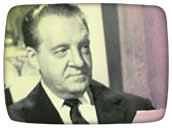 The Color Honeymooners are on DVD and definitely worth a look, notice the magnificent Howard St. John (General Bullmoose in Li'l Abner) was cast as the Flakey Wakey company rep. The 1959 Li'l Abner film is a true gem, Netflix it or look for it in the 'Dollar Store DVD' bin if they are still around. It features an all star cast, most of which were also in the Broadway play, and one of the brightest musical scores of all time. Here's a timely tune from that movie, 'The Country's in the Very Best of Hands,' though you won't see Howard St. John.
Howard St. John was also seen as gruff Dr. Lewis Royal on the short-lived but exalted 1965 sitcom Hank, about a resourceful college drop-in who finds out which students will be absent in what classes that day then takes their place, employing a number of elaborate deceptions to avoid detection by the school's staff. No word on whether that show will ever be on DVD.
Sunday, February 8, 2009 - 10:23am
WOULD YOU LIKE TO RESPOND?
QUICK HITS
I just watched Rocky Balboa not expecting much, I mean, when was the last time Stallone made a good film? I liked it very much, a nice blend of sentimentality and excitement - I was cheering during the fight sequence.
HBO has renewed Big Love for a fourth season. Ricki Lake will host Charm School's third season on VH1.
Lux Interior, co-founder of the punk band The Cramps, is dead at age 60.
Check out TVLoop.com, they have communities for over 200 TV shows comprised of over 17 million registered users from social networking applications on Facebook, MySpace, Friendster, Bebo, and Hi5.
Don't miss drummer Gary Peterson of the legendary 1960's band The Guess Who when he joins Eric Chilton Sunday night on the Wait I Know This podcast. That's the widget you see in the left hand side of this page. Of course, you can listen to the show any time after the live broadcast but - it's live! The Guess Who had hits like 'These Eyes,' 'No Time,' 'American Woman' - great stuff and the story behind the band is very interesting. I'll be one of the guests next Sunday talking about mysterious Hollywood deaths and other scandalous nonsense.
Saturday, February 7, 2009 - 9:00am
WOULD YOU LIKE TO RESPOND?
Read more Blog entries here!