* Classic & Current Television Blog *
COMING SOON
Maria Lauren and her sister Linda (Alberici) Eichberg of The Golddiggers will be the guests this week on Wait I Know This (the module is to your left). These hard working show girls were with Dean Martin right up to the his last performances and walked the Red Carpet at the Grammys this year to honor Dean. They'll have fascinating stories about Vegas and television to share and you can call in and talk with the gals. How great is that? It happens this Sunday night at 7:00pm. Which reminds me, Sunday nights were always a treat when I was growing up, think of all the great TV shows that aired on Sundays - Ed Sullivan, The Smothers Brothers, 60 Minutes, I'll bet you can name a few.
Andy Griffith is starring in a new movie called Play The Game in limited release and it sounds interesting. It's a small budgeted indie romantic comedy that pairs Griffith with Liz Sheridan (Jerry's mom on Seinfeld) for a sex scene that has people talking. Also in this film: Doris Roberts, Andy Griffith, Paul Campbell, and Clint Howard. Watch the trailer here:
It's official - Fox has renewed The Simpsons for two more seasons. Next year it will become the longest running prime-time show in U.S. television history. Woo-hoo!
Friday, February 27, 2009 - 9:20am
WOULD YOU LIKE TO RESPOND?
TV STUFF
Justin Timberlake joins Robert De Niro and Van Morrison for the premiere of Late Night with Jimmy Fallon Monday, March 2 on NBC.
Meanwhile, Conan O'Brien will have a familiar face when he begins his new The Tonight Show with Conan O'Brien on NBC where he will reunite with Andy Richter for the first time on a daily basis in almost nine years - the network announced that Richter will return to its late-night lineup as the announcer for the new show that begins June 1. In addition to his announcing duties, Richter will participate in comedic pieces.
Steven Colbert had a hilarious segment on his show the other day, going back to 1997. It doesn't seem so long ago but...
A victim of the credit crunch? Famed photographer Annie Leibovitz, with whom I've had the pleasure to work with, is putting her life's work up for collateral for a loan to pay the mortgages on her properties.
NBC has ordered a reality show from Jerry Seinfeld that features celebrities, comedians and athletes judging and advising couples who are having marital problems. Huh?!?
Thursday, February 26, 2009 - 8:00am
WOULD YOU LIKE TO RESPOND?
KID SHOW HOST PASSING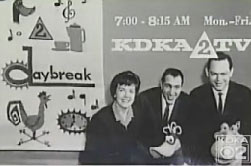 Kevin Butler writes: Pittsburgh kid's TV has suffered another loss - Don Riggs, best remembered by Pittsburgh's young viewers as "Bwana Don" and as the host and puppeteer of Cartoon Colorama has passed away; he died on Saturday, February 21, 2009 at his home in Mount Lebanon, Pa. He was 81 years old.
Born in Newark, Ohio on November 19, 1927, Mr. Riggs began his career in show business by running away from home to join a circus. Just shy of 18, the young fellow worked with the circus as a balloon stunt man, hanging from a balloon 1,000 feet from the ground.
His tenure with the circus was brief; he returned home to Newark, Ohio where he completed his high school education and was inducted into the US Army during the last year of WWII where he played with the Army's band. He entertained returning war veterans with the band at Fort Lewis in Washington.
After finishing his stint with the military he enrolled at Capitol University in Columbus, Ohio where he studied music and speech. Riggs earned his degree but, when he saw that television was becoming successful in 1952, he opted for a career in broadcasting, making his debut as a radio announcer with Columbus station WHKC in 1952. He he joined WBNS TV in 1954.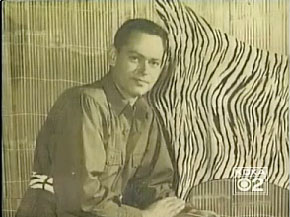 In 1960 Riggs joined KDKA TV where he MC'd Daybreak but it was his stint as Bwana Don on Safari that he is best remembered by Pittsburgh's kids. Set against the backdrop of a jungle hut, Bwana Don introduced reruns of Tarzan films and engaged his viewers in informational segments, lessons on animal preservation and interviewed studio guests. Bwana Don remained on the air until 1967.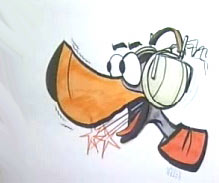 Riggs went to Indianapolis where he did TV for two years then returned to Pittsburgh where he worked for WQED and later for WIIC (now known as WPXI). It was on WIIC TV that he hosted his second and last kid's series Cartoon Colorama where he introduced reruns of cartoons with the aide of his duck puppet "Willie." He also used the duck puppet to read the funnies to the kids on the daily TV news reports during Pittsburgh's newspaper strike of 1970.
Don Riggs also hosted talk shows, served as a news anchor, weatherman and produced many specials and documentaries. He left WIIC TV in 1980 and he spent his later years promoting St. Barnabas Charities and was involved with St. Barnabas Presents For Patients Campaign, a Christmas gift giving service which brought holiday cheer to senior citizens.
He is survived by his wife Joan, daughters Amy Baker and Kathleen Prince, sons Eric and Carl, six grandchildren and a sister Eli.
Wednesday, February 25, 2009 - 10:47am
WOULD YOU LIKE TO RESPOND?
MORE RANDOM STUFF
I'm fascinated by the old school comedians, especially lounge stars like Rusty Warren, raunchy queen of the nightclubs, America's answer to Benny Hill. She was famous for her routine "Knockers Up" and a bunch of very funny comedy albums beginning in the 1950s through the 1980s. She also played Vegas lounges for years, some say she inspired the feminist movement of the 1960s with her call for women to shed their bras.
Maybe you grew up in a home that had her LPs - turns out she's on the Internet now, she even has her own Blog! This video will give you some idea of what this bombastic, baudy lady was/is all about.
Speaking of raunchy comedians, let's listen to LaWanda Page, known to most as Sanford & Son's Aunt Ester. There are LOTS of curse words in this routine, her act was a filthy one.
By the way, Eric from Just My Show tells us about his current Podcast: "It's an interview with Earle Hyman, who played Russell Huxtable on The Cosby Show. He also did the voice of Panthro in Thundercats so we talked about that as well."
Tuesday, February 24, 2009 - 8:27am
WOULD YOU LIKE TO RESPOND?
Read more Blog entries here!