* Classic & Current Television Blog *
COMICS BLOGGING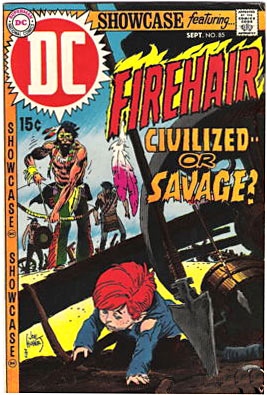 If I found myself stranded on that proverbial desert island and all I could take with me was a few of the comic books I grew up with, I think I'd grab Joe Kubert's Firehair.
Firehair debuted in Showcase #85 and ran for three issues of that title. Showcase was just what the title indicated, a proving ground for concepts - The Flash, The Atom, Green Lantern and other DC stalwarts got their start in Showcase.
Both written and drawn by Joe Kubert, Firehair was a unique graphic adventure with a true Southwestern feeling - the use of a grease pencil to create dramatic effects, decorative borders made up of primitive drawings, even the color and shading was more subtle than you would find in a typical DC or Marvel comic.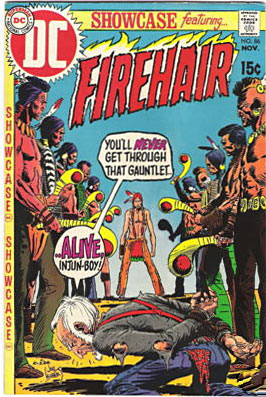 This was the story of a white child who survives an Indian massacre of settlers and is taken to be raised by the Blackfoot Chief as his own son. Racial tensions and cultural divisiveness served as the catalyst in these stories as Firehair discovers he is seen as neither white nor red, truly accepted by no one except the man who 'adopted' him.
The stories were rooted in American Indian folklore, a subject virtually unexplored in comics in any serious manner. Kubert's wife Muriel was of Native American descent and that no doubt served as inspiration.
The storylines were direct and confrontational - in one Firehair must prove his mettle by running the gauntlet to save a hateful white man; in another he questions ancient Indian superstitions and further alienates himself.
Horse operas weren't particularly popular in 1969 so this twist on the traditional western was a hard sell. After the Showcase tryouts Firehair turned up a year later as a backup feature in Son of Tomahawk comics, reduced to 6 page stories that turned up three times in that comic's 10 issue run (with a two-pager to start out with in issue number 131).
Son of Tomahawk, the story of the half breed son of a revolutionary war soldier and an Indian gal, was an attempt to resuscitate a long-running title that had no relevance in the late-1960s. With Joe Kubert as the new editor, Son of Tomahawk took place in the days of the wild west and sported some of the most dramatic covers of the era.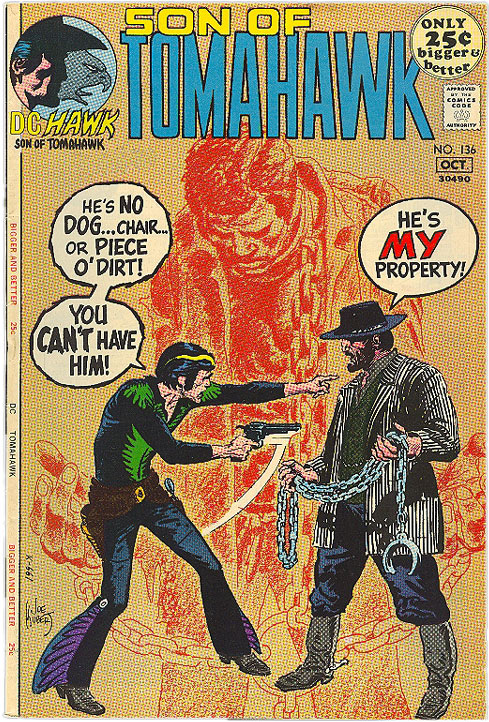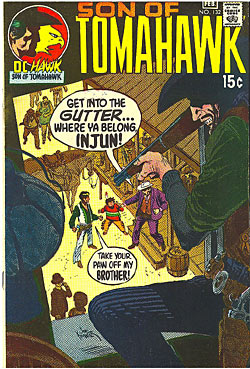 This bold exploration of the tensions that develop when cultures clash was a teriffic run of comics but failed to light up the newsstands and disappeared in 1972, as did Joe Kubert's remarkable creation Firehair.
Although the run was short, Kubert's Firehair stories are some of the finest ever created for the medium. It's a shame they've never been reprinted in the United States, it's one of several Joe Kubert masterpieces standing alongside Enemy Ace and his Tarzan adaptations.
Dig the crazy cover for the last issue of Son of Tomahawk, seen below. Note the comic gets a sharp new logo just in time for cancellation.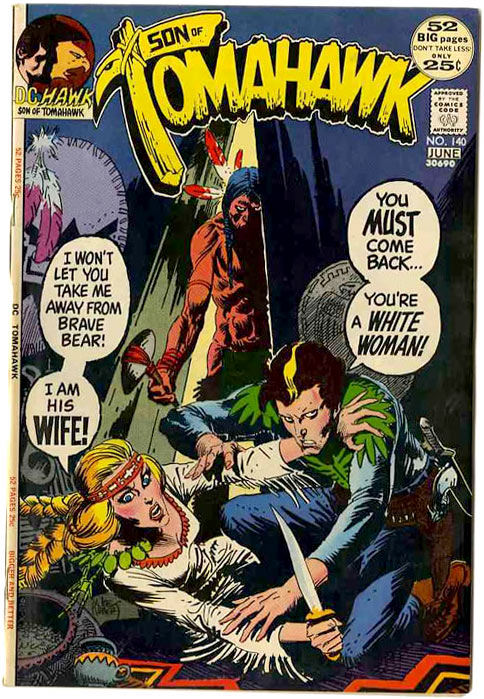 Sunday, February 22, 2009 - 11:10am
WOULD YOU LIKE TO RESPOND?
THIS 'N' THAT
Ed Robertson co-hosts TV CONFIDENTIAL, a bi-weekly radio show featuring lively conversation about all aspects of television. Check out www.tvconfidential.net. The next broadcast is Tuesday, Feb. 24th at 10pm ET, the guests will be Sally Kellerman and Charlie Barrett.
Someone out there in Tubeland has created a video tribute to the late, great Brett Somers, star of that 1970's sensation Match Game.
Want to win some free stuff? Wait I Know This is having a trivia contest tonight at 7:00pm ET - the module on the left side of this page will take you there.
By the way, each one of the blogs listed to the left are worth checking out. For instance Tugley Wood has some great Disney comics on display. Did you know 2009 is Donald Duck's 75th anniversary? Did you know that an Audio-Animatronic President Obama will be added to the Hall of the Presidents at Walt Disney World?
Sunday, February 22, 2009 - 8:29am
WOULD YOU LIKE TO RESPOND?
HENRY FONDA TV SHOWS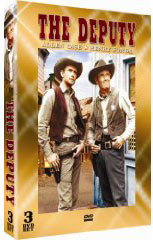 Bob Huggins writes: "In your blog article of The Smith Family, you mention Henry Fonda's other series The Deputy which was co-created by no less than Norman Lear (along with Roland Kibbee). The Deputy has been saved from obscurity (sort of) by DVD. There have been a couple of public domain episodes from The Deputy that have been around on several TV Westerns compilations and Timeless Media released a 3-disc, 12-episode set that was licensed to them by NBC Universal, though two of the episodes on that set are said to be in pretty bad shape according to some customer reviews at Amazon.
"The two public domain episodes of The Deputy... 'The Return of Widow Brown' and 'Hard Decision'... can be found on this disc from Alpha Video.
"They are not repeated, thank goodness, on the set from Timeless, but these two episodes also appear on TV Westerns compilations from public domain releasing companies like Mill Creek, Echo Bridge Entertainment, Madacy and others. The episode 'Hard Decision' features Fonda extensively in the episode while 'The Return of Widow Brown' is more typical of the series... Fonda appears in the episode for just a few minutes, almost a cameo really. The two 'Bat Masterson' episodes are also the only two public domain episodes from that series and have also been making the rounds on the public domain TV Westerns compilations."
Check out those guest stars in the first set - Edgar Buchanan, Alan Hale, Jr., Lee Van Cleef, Robert Redford, and James Coburn.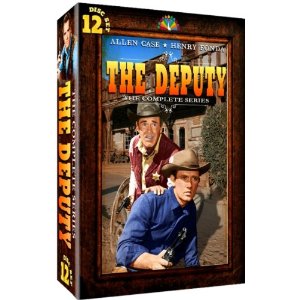 UPDATE: The entire series of The Deputy is now on DVD!
Friday, February 20, 2009 - 1:00pm
WOULD YOU LIKE TO RESPOND?
APPROPRO OF NOTHING
On January 20th, 1971 The Smith Family debuted starring screen legend Henry Fonda as Chad Smith, cop and devoted father. The theme song was 'Primrose Lane' a hit song from 1959. This comedy-drama was the second series for Fonda as he attempted to find a home on the small screen. The show followed Room 222 on ABC Wednesday nights so it had that 'relevant' slant that the networks thought people wanted inserted into their entertainment. That thinking also did in Andy Griffith that same season when his 'hip' drama Headmaster bit the dust in December of 1970. The Smith Family at least managed to limp through a second season - as did Fonda's first series The Deputy - but both are largely forgotten today.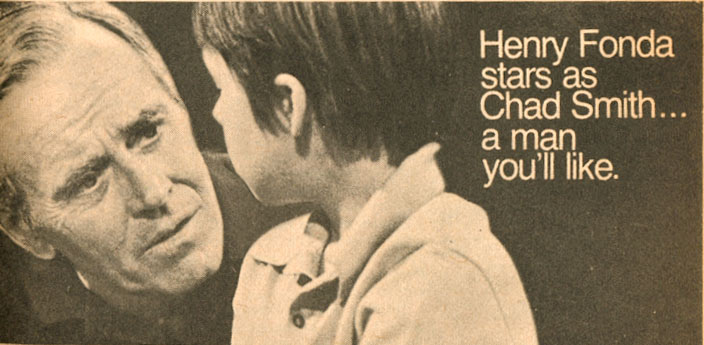 From Edmund Hartman, writer of many Bob Hope films and who's TV credits included Family Affair and My Three Sons, the first episode dealt with Smith arresting a marijuana user, touching off a family crisis.
The supporting cat was solid with Janet Blair cast as Fonda's wife and Ron Howard as his teen son, this was his transition from The Andy Griffith Show to Happy Days. Bubble gum sensation Michael-James Wixted played the younger son with Darlene Carr as the daughter.
With good scripts and a stellar production, it's a shame that The Smith Family never clicked with the audience. There were 39 episodes.
Friday, February 20, 2009 - 9:56am
WOULD YOU LIKE TO RESPOND?
Read more Blog entries here!