* Classic & Current Television Blog *
SANFORD ARMS
Back in 1977 Redd Foxx left one of the hottest shows in television - NBC's Sanford & Son - to star in his own one hour variety series on another network. Sanford & Son was a ratings powerhouse driving NBC's phenomenal success in primetime during the mid-1970s.
Redd's variety show only last thirteen weeks in spite of being one of the funniest shows on the air at the time. Over at NBC they decided, naturally, to keep the Sanford & Son franchise going.
They had set up the premise during the penultimate season of Sanford & Son by having Fred open a boarding house in Julio's house next door, calling it the Sanford Arms. Janet Culp (The Beverly Hillbillies) could be seen occasionally that season as a tenant.
Sanford Arms became the name for the new series two years later. Demond Wilson (Lamont) reportedly wanted too much money so he was out - instead the focus was on a widower (Theodore Wilson) with two kids who move into Fred's decrepit old place in order to run the hotel / boarding house next door. His cute, preppy girlfriend lives nearby so she's always around - making Sanford Arms the exact opposite of Sanford & Son, a bland, family-friendly sitcom steeped in 1970's traditional.
Aunt Ester, Grady and Bubba were back to lend an air of familiarity - which is weird because Don 'Bubba' Bexley, a comic who came up in the chitlin' circuit with Redd Foxx, wasn't used much on Sanford & Son after the first season, mostly Grady took his place as Fred's chief flunky.
Sanford Arms bombed big time and was cancelled after four episodes, eight were filmed. (The only good part of the clip above comes after minute 7.)
NBC and Redd Foxx kissed and made up and attempted to resurrect Sanford & Son in March of 1980 - both parties were desperate for the kind of massive success they had together just a few years earlier; NBC's ratings were in the same toilet as Redd's career.
Demond Wilson wouldn't play ball so the network, in their infinite wisdom, teamed Fred with a white redneck instead. Inexplicably, Fred Sanford also aquired a rich girlfriend. Other than Rollo and officers Smitty and Hoppy, the supporting cast from the original series - including Aunt Ester - were nowhere to be seen.
The first episode of Sanford did attract the big numbers the network was hoping for but the revised format and unfunny jokes were a big turn off. NBC yanked the show in the fall but wasn't ready to give up - after all, the initial ratings proved the public still wanted to like the show.
The peacock network switched things up when the show returned as a mid-season replacement in 1981. For one thing Sanford was moved to Friday nights where Sanford & Son dominated the ratings just five years earlier. Aunt Ester, Grady, and Hoppy & Smitty all made guest appearances. The scripts were overall funnier but the show was dropped after just four outings, returning in the summer of 1981 to burn off episodes already shot.
It's funny, NBC was the first network to ban the 'N' word back in the radio days and the first to bring it back by allowing its use several times on Sanford & Son. If I'm not mistaken, below (airing January 4, 1974) was the first time the 'N' word was used on the series. I remember almost falling off my chair when it first aired. The word was rarely ever used on TV, maybe in a drama where the rascist user would be punished by the end of the story.
Scenes like this are clipped from the syndication prints - okay for 1974 but not for 2010.
Sunday, April 4, 2010 6:15am
WOULD YOU LIKE TO RESPOND?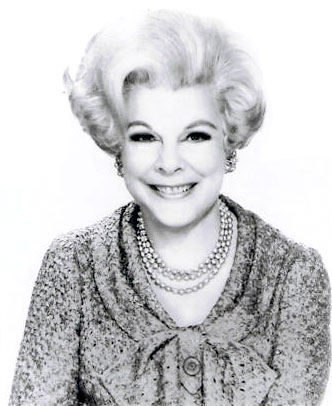 PIONEERING TALK SHOW HOST
I loved the Virginia Graham programs which ran in syndication for a decade, specifically Girl Talk (1963-69) and The Virginia Graham Show (1970-72).
She was a talk show host with a difference. For one thing she was a woman - there weren't many female TV hosts at the time outside of the locals - for another she had a larger than life personality that was made for television.
As a 16 year old she was actually the first person to stumble across the St. Valentine's Day massacre; she interviewed people on the scene and rushed the story to a newspaper where she landed a job as a reporter.
From there she transitioned to radio, penning scripts for top shows like Stella Dallas and Backstage Wife. She later hosted a national cooking program, Food for Thought, on television from 1956-1961 .
A thoroughly modern woman, intelligent and knowledgeable about the subjects at hand, she often tackled serious issues on her show in addition to celebrity interviews which she handled with ease. Her talk show was filmed in Chicago which meant celebrity interviews were limited to who was appearing in town that day. The production was therefore more dependent on discussions about the relevant issues of the day - but always in a genteel manner, Graham was a stickler for good manners and proper decorum on her program. With Women's Lib scaring the hell out of middle American housewives, Virginia Graham always stressed that a woman should be lady-like.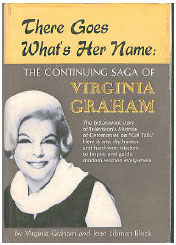 "From the first second I went on the air, I have been easy to communicate with," she told a reporter in 1965.
Sadly there are no examples of her talk show on You Tube and I haven't run across any in my research either.
Here's a local NYC show called Celebrity Cabaret from 1977 with guest Virginia Graham that will give you an idea of what the lady was like.
Now a blooper from a radio show in 1956 when she served as co-host of the NBC radio show Weekday - listen to how annoyed co-host Mike Wallace sounds!
Her post Virginia Graham Show days were mostly filled outside of the limelight living in New York City. She appeared on The Nanny, The Rosie O'Donnell Show and two episodes of Roseanne as herself and played characters on soaps Another World and Texas. Her last role was on The City in 1995.
Virginia Graham died in 1998.
Saturday, April 3, 2010 4:57am
WOULD YOU LIKE TO RESPOND?
JUST FOR THE HECK OF IT
Here's the middle portion of a 1977 NBC morning episode of The Hollywood Squares (they're pretty rare) with original commercials:
Friday, April 2, 2010 11:13am
WOULD YOU LIKE TO RESPOND?
THAT'S NEWS TO ME
Classic Television Showbiz is a fun blog you should definitely bookmark. Host Kliph Nesteroff finds great and not-so-great moments in television and sometimes entire episodes of classic TV shows on You Tube and presents them for your enjoyment. There's a 1970 episode of The Jackie Gleason Show featuring The Honeymooners up right now but you'll also find My Living Doll, Celebrity Sweepstakes, The Tonight Show with Betty White and more.

Are Clowns Hatched? Life of Chucko the Clown is a book about LA's favorite TV birthday clown from the 1960s. I haven't seen the book, and there's no picture on Ebay, but fans of the show will want to check it out I'm sure. It's written by Chucko's (Charles) wife Mildred Runyon.

Is Charlie Sheen leaving Two and a Half Men? The announcement was made yesterday and April Fools being what it is there was some confusion as to whether it's true or not. I don't think the show could survive without him so if this was legit I'd expect the story to be Two and a Half Men was just cancelled. I was just watching an episode on CBS.com, that kid Angus Jones has really gotten old! Gosh, if the youngster makes it into college it'll (fun house) mirror Ozzie & Harriet from almost 50 years earlier when David & Ricky Nelson went from short pants to University while America watched.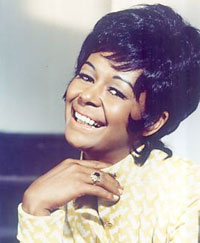 I've been watching the third season of Mannix on DVD. I liked this show as a kid, I was especially fond of Mannix' secretary Peggy played by Gail Fisher. Some of the episodes are quite effective, many are boiler plate TV drama of the era, but one thing that struck me was the superb cinematography with unusual camera angles and inventive setups.
Funny how Gail Fisher virtually disappeared from TV after Mannix was cancelled in 1975. She won an Emmy for the role and was nominated four times, she was nominated for a Golden Globe four times and won twice and she couldn't get another TV gig? She had a troubled personal life and problems with drugs, no doubt fueled by the industry's rejection. She made headlines in 1978 when she was busted for possession of pot and coke and for using an illegal phone device. She was an actress with grace and style at a time when you could count on one hand the number of black women who had ever been regulars on a network TV show. Gail Fisher died in 2000 of kidney failure.
Joss Whedon is on the short list to direct the Avengers movie.
The Office is getting lousy ratings this season and The Marriage Ref is a stiff.
Add John Malkovich to the list of Bernie Madoff's victims, he's trying to get $2 million back from the felon. He was offered a $670,000 settlement but is appealing.
Even though there have been at least five American Pie movies (after 3 they were straight to DVD productions) Universal has announced American Pie 4 with Harold & Kumar creators Jon Hurwitz and Hayden Schlossberg writing and directing.
Friday, April 2, 2010 5:31am
WOULD YOU LIKE TO RESPOND?
STUFF
A few years ago a documentary on Charles Nelson Reilly called The Life of Reilly was released, at least to festivals and a limited number of theaters. It was mostly composed of the actor / comedian's final one man shows. The film racked up some impressive reviews but it hasn't made it to DVD, I wonder why not?
A 30-second ad on the final episode of Lost will fetch $900,000. I'll bet ABC is right now considering After-Lost for 2010-11, I think Jamie Farr is available.
Matt Damon will guest star on 30 Rock, he's a fan of the show.

A screenwriter sued Kelsey Grammer, claiming the actor stole his original idea and turned it into the film Swing Vote. The case has been settled with Grammer paying the guy only $10. A Pyrrhic victory but the record will show that the writer, a former Bush administration official, prevailed.

HBO has a new workplace drama called Luck coming, set at an IRS district office.
Law & Order, never one of my faves, may get renewed next season - not by NBC, the show's gotten too expensive, but by TNT. If so, it will break Gunsmoke's 20 season record as the longest-running TV drama. TNT picked up CBS' Without a Trace but that was a disaster for the net, resulting in a $104,000,000 loss, but reruns of Law & Order are the backbone of TNT's schedule. The franchise has survived many upheavals in the past so it's possible a new, leaner Law & Order may be viable.

The MGM studio is once again teetering on the brink. How many times is this? Nothing left to auction. Well, except rights to the James Bond franchise and distribution rights to The Hobbit, but they alone won't quench the almost $4 billion debt.
A Private Benjamin remake is coming - what's wrong with the original?!? Some movies age well and that's one of them, in fact, a good number of 1980's comedies hold up well today, I'll bet you can name ten off the top of your head.
I often head these columns 'STUFF' because I remember Chuck Barris saying it all the time on The Gong Show. Now that was an entertaining show!
Wednesday, March 30, 2010 7:55am
WOULD YOU LIKE TO RESPOND?