TIME FOR JOYA!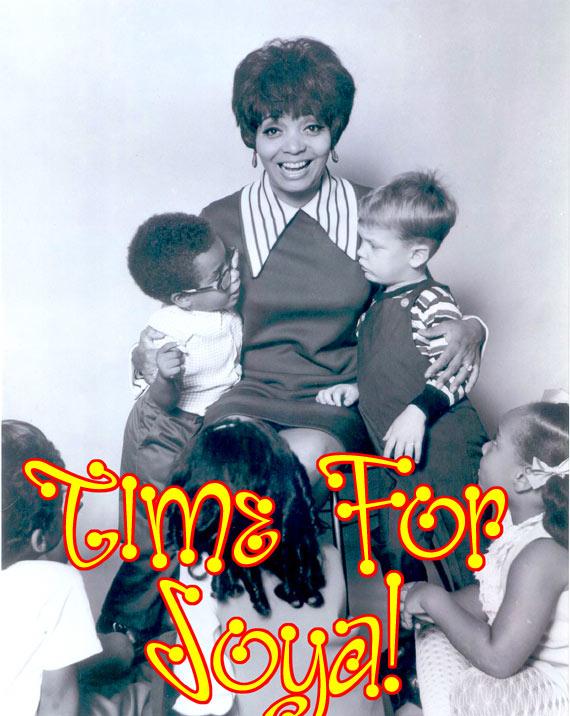 Mike Taylor shares this very rare episode of Time For Joya, the only one known to exist. For the full rundown on the series hop over to this page but the short of it is starring Joya Sherrill, who passed away recently, was the second African-American to host a kid's show in NYC and the first African-American woman to do so. A former vocalist for the Duke Ellington band, she had a hit in the 1940s with "I'm Beginning To See The Light" and starred in Time for Joya on WPIX in New York from 1970 - 1971.

In the first clip, Joya asks the audience at home if they've ever heard of John Brown and then launches into a cute ditty based on the abolitionist song.
It's easy to see why Joya was such an effective kiddie show host, her buoyant charm and lilting voice are one of a kind. Which makes me wonder - were there any Romper Room ladies of color? I know LA had an hispanic hostess but were any black? I bring that up because Time For Joya was very much like Romper Room with the educational focus, the classroom-like set, and the engaging teacher speaking directly into the camera.
In this second bit, Joya interacts with Seymour, a puppet character. Mr. BB, aka Brumsic Brandon Jr., tells us this about the character: "When a requirement for a "one show" appearance of a Book Worm character arose. It seemed to all of us that a puppet would be perfect. Making the puppet in time for the next show became my hurry up assignment. That evening I discussed the project with my wife, a first grade teacher, and together with the assistance of her sewing machine and some scraps of felt we created Seymour, the Bookworm. Automatically, I became it's voice and puppeteer. Seymour's popularity surprised everyone and the "one show" guest puppet stayed so busy it was almost constantly in need of repairs. Today Seymour, tattered and worn, rests comfortably in a box of my archives in an air conditioned storage facility." A lesson on safe bathing leads to another of Joya's original tunes.
Speaking of Brumsic Brandon, he's a skilled comic artist, he wrote and drew the daily strip 'Luther' from 1968-1986 and he would draw cartoons on Joya's show.
Finally, the ending where Joya sings goodbye to the camera. Brumsic Brandon Jr.: "Time for Joya was indeed an 'easy gig' and I believe that was true because all of us, especially Joya, The Professor and Mr BB, respected each other highly and we loved what we were doing. I thoroughly enjoyed being apart of that wonderful experience and I wish we could do it all again. Thanks Joya! And thank you, kids!"
Time For Joya was replaced by Joya's Fun School which ran from 1971-1972, reruns continued for another decade on WPIX. Thanks to Mike Taylor for sharing this TV treasure!
Tuesday, July 20, 2010 - 11:37am
WOULD YOU LIKE TO RESPOND
STUFF
From the press release: The next film in the HBO Documentary Film Summer Series is LUCKY, premiering this Monday, July 19th. The odds of winning big in Powerball's multi-state lottery are a staggering 195,249,054 to one, but one in five Americans still believes the best chance of reaping a fortune lies in overcoming those odds. Is it destiny or are people just lucky?
They used to send me screeners so I can't give you a review but if this year's crop is as good as last year's documentaries they are well worth watching.

Did you know Judge Judy makes almost a million dollars for every day she tapes the show, $45 million for 52 days?

Mike Taylor sends us a very rare find - almost an entire episode of Time For Joya, which I'm optimizing for the web now and I'll have clips for you tomorrow I hope. It's a remarkable show, there's been an article about Time for Joya on TVparty for a decade now and, while there was some audio, this is the first time I've actually seen the program. This is the only known episode of any of Joya Sherrill's shows that's known to survive. You may remember, Ms. Sherrill passed away recently.
Sunday, July 18, 2010 - 8:17am
WOULD YOU LIKE TO RESPOND
TV BLOG NEWS
Bruce Willis has unveiled his new cologne - the "manliest scent in the world." Huh, I thought the "manliest scent in the world" was what you washed off after a hard day's work in the sun. I know a lot of gay guys are into the smell of sweat, but is it that popular with the ladies?
I didn't know this until now but apparently Gary Morton, Lucille Ball's second husband, remarried and has passed away. His widow is putting up his stuff for auction, including items accumulated during Morton's long marriage to Lucy. Ms. Ball's kids are not amused, they want some of the items back, mostly just letters and awards their mother won. They're ready to sue to stop the auction. It's messy.
Remember mass murderer David Berkowitz, the "Son of Sam"? Evangelical prison ministry folks say he's a changed man and Christian groups are turning him into a role model, even Focus on the Family is promoting the killer. This should turn out well.

Was Ryan Reynolds injured on the set of Green Lantern? That was the headline for the story I read this yesterday. I find that when the media asks a question rather than providing an answer, there's nothing there. Sure enough.
Who's the latest Oscar winning star to turn to television? HBO has picked up a new drama series called Luck starring Dustin Hoffman. David Milch (The Wire) and Michael Mann (Heat) are at the helm. I sure hope it's good, I like Hoffman but haven't seen him in anything I liked since maybe Tootsie
This is so funny I have to repost it.
Thursday, July 15, 2010 - 9:00am
WOULD YOU LIKE TO RESPOND
A FRANK DISCUSSION
Sorry about the light blogging, a project that went cold got hot and now I'm cooked.
Our good friend Jim Longworth, who's written some of the best books about television you'll ever read, has a series of interviews with actor Ed Asner of Mary Tyler Moore Show and Lou Grant fame. Not to mention Up and a million other TV shows and movies.
Jim is about as knowledgeable as anyone on the history of TV and never pulls punches in his interviews, so don't miss this. You can find more at: jimlongworth.net, including segments from his interviews with TV Dads at the Museum of Television in LA and talks with Angela Landsbury, Cloris Leachman, Richard Petty, CCH Pounder, Red Skelton, and more. Jim is also a columnist for one of the finest alt-papers in the nation, Yes Weekly.
Here's part one of Jim Longworth's Ed Asner interview where he talks about unsuccessfully auditioning for Mary's show and transitioning to the drama Lou Grant:
Tuesday, July 13, 2010 - 7:10am
WOULD YOU LIKE TO RESPOND
ONE OF THE GREATS HAS LEFT US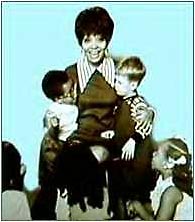 Kevin Butler alerts us to an important passing that I didn't see noted in the national press. This is a shame, not just from the standpoint of television, but we lost one of the great Jazz vocalists of all time as well: Joya Sherrill, host/performer and educator of one of WPIX TV Channel 11's last original kid's TV shows Time For Joya / Joya's Fun School, succumbed to leukemia at her home in Great Neck, Long Island, New York on Monday, June 28, 2010. She was 85 years old.

Born in Bayonne, New Jersey on August 20, 1924, Ms. Sherrill originally wanted to be a writer but a chance meeting with bandleader Duke Ellington led to her writing the lyrics to one of his most famous songs, 'Take The A Train,' and she eventually joined his band as a vocalist in 1942.
She took a brief hiatus from working with Ellington's band to finish her education at Wilburforce University before she returned in 1944; she would continue to perform with the big band until she left the group in 1946.
She continued to perform on her own and sang with Sir Duke occasionally; by the 1970s she joined WPIX with the hope that she could MC a talk/variety TV show. Instead she was hired to host her own kid's series. At the time the station execs at TV 11 had the idea to create an educational children's program for young people from many different ethnic backgrounds. The programmers at Channel 11 felt that Ms. Sherrill had the talent, personality and ability to educate young viewers.
Time For Joya debuted on WPIX as a Sunday morning program in 1970. Where she would entertain and inform a studio audience of kids with games, songs, stories, educational segments, puppet skits and cartooning lessons provided by the show's resident cartoonist and puppeteer "Mr. BB" (played by comic strip artist Brumsic Brandon), music performed by "The Professor" (portrayed by musician/singer/songwriter and arranger Luther Henderson) and visits from guest performers like Chuck McCann and even Duke Ellington himself at one point. (Mr. Ellington performed some of his most famous tunes and drew cartoons for the kids in the studio audience and had some lively conversations with them. This audio recording of an episode is all that survives of Joya's TV series.)
Two years later the show moved to a Friday afternoon timeslot where Ms. Sherrill performed without a studio audience but still did segments with "Mr. BB", "The Professor" and "Seymour The Bookworm" puppet.
The producer (my dear friend Irv Jaris) only taped a limited number of shows yet Time For Joya (the series' title was later changed to Joya's Fun School) continued to be seen in reruns well into the 1980s.
Following the cancellation of her NYC based TV show Ms. Sherrill and her husband, construction company exec Richard Guillemot and their children, moved to the Middle East where she would MC her second and last educational kid's TV show. Unfortunately the series was cancelled due to the political and military unrest that existed during that time.

Ms. Sherrill and her family were forced to move from the Middle East and the videotapes of her shows were destroyed by the government. Ms. Sherrill moved to the Great Neck section of Nassau County, Long Island, New York where she remained in retirement. Her last TV appearance was on the PBS TV Documentary "Jazz" which was created and produced by Ken Burns.
I was lucky enough to meet and interview Ms. Sherrill when she was kind enough to contribute information about her career as one of NYC's most creative, talented and caring educators.
Sunday, July 11, 2010 - 8:40am
WOULD YOU LIKE TO RESPOND
Read more TV Blog entries here!