* Classic & Current Television Blog *
IT'S FRIDAY!
A while back I told you about a film I was working on, some of the same folks involved with that are producing a romantic comedy called Esposito under director Matthew Nunn. I wasn't involved in it at all but I'm really looking forward to seeing this film. The director has posted a recording session for the movie's soundtrack, wanna hear it? It's incredible, let it be your soundtrack at work today.
A few posts ago I linked to a You Tube mashup of George Gobel and Paul Lynde quips from the classic Hollywood Squares daytime game show - the person who posted it taped these off of the TV with a cassette recorder. Here's another one of those.
Thursday, February 25, 2010 8:01am
WOULD YOU LIKE TO RESPOND?
TV NEWS
Production has shut down on Two and a Half Men while Charlie Sheen re-enters rehab for a third time; CBS issued a statement saying: "CBS, Warner Bros. Television and Chuck Lorre support Charlie Sheen in his decision today to begin voluntary in-patient care at a treatment center. We wish him nothing but the best as he deals with this personal matter."

Guess who has an online petition to become Simon Cowell's replacement on American Idol? None other than that sleazy Perez Hilton. Sounds like a great way to kill the franchise once and for all.

Here are the top 30 TV shows for last week in total viewers:
1: Winter Olympics - Wednesday (NBC): 29.42 million, Winter Olympics - Saturday (NBC): 26.67, Winter Olympics - Monday (NBC): 25.22, Winter Olympics - Thursday (NBC): 24.78, American Idol - Tuesday (Fox): 23.92, Winter Olympics - Friday (NBC): 23.30, Winter Olympics - Sunday (NBC): 23.29, Winter Olympics - Tuesday (NBC): 20.33, American Idol - Wednesday (Fox): 18.63,
10: Undercover Boss (CBS): 13.76, Survivor: Heroes vs. Villains (CBS): 11.97, NCIS R (CBS): 11.66, The Bachelor: On the Wings of Love (ABC): 11.53, 60 Minutes (CBS): 11.36, Desperate Housewives (ABC): 10.92, Two and a Half Men R (CBS): 10.61, Grey's Anatomy (ABC): 10.27, The Big Bang Theory R (CBS): 10.09, Lost (ABC): 9.82,
20: NCIS: Los Angeles R (CBS): 9.13, The Amazing Race (CBS): 9.01, Cold Case (CBS) and The Mentalist R (CBS): 8.81 each, 24 (Fox): 8.58, CSI: Miami R (CBS): 8.38, Extreme Makeover: Home Edition (ABC): 7.99, CSI: NY R (CBS): 7.97, CSI R (CBS): 7.96, Criminal Minds R (CBS): 7.91
USA is the top cable network in total viewers and in the highly coveted 18-54 demo.
Wednesday, February 24, 2010 11:05am
WOULD YOU LIKE TO RESPOND?
HOWARD ST. JOHN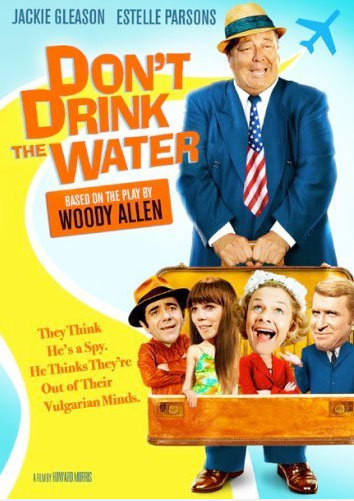 Kevin Butler writes about a previous post: I've just seen the clips of character actor Howard St. John appearing with Jackie Gleason, in that first installment of The Honeymooners Around The World Trip episodes from The Jackie Gleason Show of the late-1960's. This was not the only time that Mr. St. John appeared on-camera with "The Great One," they would be reunited one more time, albeit briefly, in the movie version of Woody Allen's stage comedy Don't Drink The Water in 1970.
Their scenes were filmed in Canada. Appearing with Gleason as his on-screen wife was Estelle Parsons, his daughter was played by Joan Delaney and the American Ambassador's (Mr. St. John) son Axel was portrayed by That Girl regular Ted Bessell; they were trapped together in the American Embassy and about to be turned over to the head of The Vulgarian Secret Police, Commissar Krojack (Room 222's Michael Constantine).
Of course, Jackie and Estelle's Walter & Marion Hollander manage to escape back to the USA with an exiled priest (played by a wonderful talent and a sweet old gentleman that I was lucky enough to meet in NYC years ago, Richard Libertini). The pilot flying them back was portrayed by the film's director, Howard Morris (seen on The Andy Griffith Show as Ernest T. Bass).
Don't Drink The Water is one of my favorite comedies of the late-1960s, it's uneven but a great joy with a cast like that and a generally funny script even if it does play like an extended TV sitcom. I think that may be part of its charm with me, like those awful Bob Hope movies of the era that I enjoy watching for some unknown reason.
And Howard St. John was always a treat to see, he guest starred on dozens of classic TV shows generally playing a gruff boss-type and was General Bullmoose in Li'l Abner (1959), one of the best Broadway musical movies ever. He must have been a favorite of Gleason's, he appeared in a number of the Color Honeymooners, he was practically a regular except he played different roles on most but not all shows. He was also seen regularly on Hank in 1966 where he played Hank's nemesis, the college Dean.
He died in 1974 at age 69, I believe Don't Drink The Water was his last motion picture.
I have to say, as a former movie poster artist, that poster is whack!
Wednesday, February 24, 2010 10:45am
WOULD YOU LIKE TO RESPOND?
STUFF



Jeff Pickens points us to a project that sounds like a great idea: I thought you'd be interested in knowing about this project, a re-do of Sandy Becker's "Christmas Carol" using Sandy's original puppets. We are sending out feelers now to see if there is enough interest before we start soliciting financial backing. There's more information here.
East Coasters (and anyone else) should be looking forward to the Mid-Atlantic Nostalgia Convention, a three-day non-profit film festival benefiting the St. Jude Children's Hospital. Click on the banner link for more details.


Alvin asks: Have you ever heard of Chatters World, it was a popular TV comedy show (for kids) with chimps dressed as humans in situations. it lasted a few years when I was a kid 50-60 do you have anything on it? How about the song "The fireman is your friend" I remember it well too, can't remember if it was from a show like Garfield Goose or a cartoon. My buddy's a fireman and I kid him about the song and would love for him to hear it for the kids.
I thought for sure Chatter would be on You Tube but lo and behold he's not. Chatter the Chimp was the star of a series of syndicated short subjects made for local TV outlets to air on their hometown kiddie shows, occasionally stations would run them in a half hour block as a stand alone show, at least I'm assuming they did. It was a feature on Wonderama for a while.
Headline of the day: NBC Punishes Cable Providers Who Didn't Pay for Olympics Feed by Airing Prison Documentaries on MSNBC Mornings

This is odd - bloopers from local Nashville TV shows in 1970. A great example of how much TV has changed over the last 40 years!
Now for some more modern bloopers of a more naughty nature. These are some of the funniest clips I've ever seen.
Tuesday, February 23, 2010 8:12am
WOULD YOU LIKE TO RESPOND?
THE HONEYMOONERS
Did you know the Honeymooners was a sketch on Gleason's 1950 Dumont Network show Cavalcade of Stars before becoming a half-hour sitcom on CBS?
These sketches, ranging in length from seven to thirteen minutes, proved so popular that they became a regular feature on The Jackie Gleason Show after the series moved to the CBS network in 1952; eventually these routines ran for a half-hour or even the entire hour.
Gleason ended his variety show to do The Honeymooners half-hour sitcom in 1956 but returned to the hour-long musical comedy format after only one season. The adventures of Ralph Kramden, Ed Norton and their long-suffering wives continued on The Jackie Gleason Show intermittently for another season but ended when Carney left the series in 1957.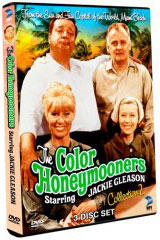 In 1966 the sketch was revived and continued until Gleason's program was dropped by CBS in 1970; by that point every few weeks there was a Honeymooners hour-long musical extravaganza that incorporated plotlines from classic Honeymooners of old.
These are the Honeymooners I enjoyed as a kid growing up watching the Gleason show with my family.
CBS was actually willing to renew the Gleason show if he would do a Honeymooners hour every week but the star declined; it would have been like doing a Broadway musical every week.
There was a 1973 CBS special and four hour-long specials on ABC in the mid-1970s where Audrey Meadows returned as Alice. These are now being released on DVD along with other color Honeymooners sketches that haven't been previously released.
The one constant in all those years - Gleason always played Ralph and Art Carney always played Ed (although the Nortons were not in the very first few Honeymooners sketches, Carney appeared as a police officer in the first one).
Alice and Trixie were portrayed by several actresses, Pert Kelton was the first. Gleason loved working with Kelton but when his show moved from Dumont to CBS in 1952 the network blacklisted her as a suspected communist, this prompted a reluctant recasting.
Audrey Meadows was hired in 1952 and played the role until the sketches ended in 1957. Meadows played Alice once more on a 1966 Gleason hour; Sheila MacRae took on the role after that when the Honeymooners once again became a semi-regular feature on the program in 1966.

The first Trixie was Broadway great Elaine Stritch, she was replaced after the initial outing by Joyce Randolph who was also seen in the CBS sitcom. Jane Kean assumed the role of Ed Norton's wife in the 1960s and Pert Kelton even turned up as Alice's mother in some of those 1960's color sketches.
Here's one of the early, Dumont Honeymooners sketches with the original cast including Pert Kelton and Joyce Randolph. Remember this was the early-1950s when television was brand new, this plotline has been played out on every sitcom since then - and for decades before on radio, no doubt.
Here's a 1952 sketch with Audrey Meadows, by now Gleason had really hit his stride.
Now to compare and contrast - the opening to one of the color Honeymooners hour-long musicals.
Monday, February 22, 2010 9:40am
WOULD YOU LIKE TO RESPOND?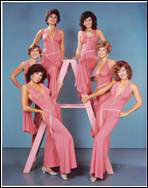 REMINDER
This should be fun, a rare opportunity to stroll down memory lane for those of you in Southern California: Former Golddiggers "dish" with Patti Gribow about their time on the Dean Martin Show

Patti Gribow will wear two hats on Saturday, March 27, at 7 p.m. when she interviews former members of The Golddiggers; a group she used to be a part of from 1973-1985.

The Golddiggers (or "Dean's Girl's" as they were known) will "dish" about performing on the Dean Martin Comedy Hour and touring with Dean Martin, Frank Sinatra, Bob Hope and more. Former members, including Maria Lauren, Linda Eichberg, Joyce Garro, Linda Snook-Bott and Marie Halton will join Patti as they take a trip down memory lane as well as discuss what they're up to today. They'll show video clips from their Dean Martin days and may even sing a song! The Indian Wells Theater is located on the Palm Desert Campus of Cal State San Bernardino -- 37-500 Cook Street, between Gerald Ford and Frank Sinatra Drives.

Ticket prices range from $45 to $55 and can be purchased by calling the Indian Wells Theater Box Office at 760.341.2883, ext. 78154. For more information about the Indian Wells Theater, visit www.IWTheater.com.
Monday, February 22, 2010 7:13am
WOULD YOU LIKE TO RESPOND?
BETTY WHITE IS A BLANK
I used to love Match Game back in the 1970s so here's a segment from the show. Apparently this episode was pulled from the Game Show Network for political incorrectness. Judge for yourself.
In that same vein, another segment where the question is: "Tinkerbell is BLANK." Notice how they often positioned Betty White at the end of the dais. That's because she could be counted on to deliver a socko answer, often the funniest quip on the panel.
How weird is it that Betty White is more popular than ever? Everybody loves her and with good reason. I missed it but Ms. White did a guest turn on the newly cancelled Ugly Betty and it's a hoot.
I can't embed it, but this is a pretty funny exchange from a promotion for 2009's The Proposal starring Ryan Reynolds and Sandra Bullock where Betty lets her freak flag fly.
Monday, February 22, 2010 7:00am
WOULD YOU LIKE TO RESPOND?