* Classic & Current Television Blog *
STUFF
Nan E. Fagan writes: Haven't been on this website in a while! Wow! These TV shows were a part of my childhood, (I am now 52) especially Green Acres.
But look what we have on TV today: violent crime shows like CSI: New York, CSI: Miami, and NCIS: Los Angeles. Sex-saturated sitcoms like Two and a Half Men. And of course on daytime TV, especially here in Philadelphia where I live, 6 hours of sex-saturated drama from Stamford, CT. Yes that's right: I'm talking about Maury Povich, Jerry Springer, and Steve Wilkos. (Who's My Baby's Daddy?, Is My Husband/Wife/Fiancee/Fiance Cheating on Me? I Need a Lie Detector Test to Clear My Name), and so forth. Keep up the good work.

Yeah, those CSI shows are really boring to me and can contain a shocking level of violence for a major network TV program. Unbelievably Maury ("You are the father!") Povich keeps getting more popular - his ratings are up 20% this year, he's tied with Oprah for heaven's sake! Steve Wilkos and Jerry Springer are also enjoying record high numbers. Go figure. But I do enjoy Two and a Half Men, which is surprising because I never cared for Charlie Sheen, John Cryer or sitcoms with kids in general.
Speaking of vulgar and tasteless, South Park returns Wednesday, March 17 and the show celebrates its 200th episode on April 14th. Who'da thunk it?
The cast of Eight Is Enough reunited recently on the Today show, Entertainment Weekly has some behind the scenes video.

This actually sounds interesting to me but I have no idea why: "The Marriage Ref" is Jerry Seinfeld's new comedy panel series where disputes between real-life couples are revealed, examined -- and ultimately judged. At the center of the action is popular comedian Tom Papa, who serves as the 'marriage ref' and has the final say in determining the victor in each spat, though he is influenced by the rotating panel of celebrity "experts."
The show aired a special sneak preview on Sunday night following the closing ceremony to the Winter Olympics, and "The Marriage Ref" now premieres in its regular Thursday night slot (10-11 p.m. ET) beginning March 4. That premiere installment will feature celebrity panelists Tina Fey, Eva Longoria Parker and Seinfeld. The following week, Thursday, March 11 promises to be fun when Madonna, Ricky Gervais and Larry David drop by to offer their wit and wisdom.
The latest in cruise ship entertainment? Boy band cruises - first the New Kids on the Block headlined a Carnival cruise and sold out (pun intended). Now the Backstreet Boys are getting on board for their own fan cruise. This high seas Voyage To The Bottom Of The Barrel will include an "intimate performance," photo session, Q&A with the band, along with deck and beach parties.
Thursday, March 4, 2010 5:27am
WOULD YOU LIKE TO RESPOND?
UH-OH!
Howard Stern took aim at Jay Leno on the CBS Morning Show with Stern calling Leno a thief, among other things - "Jay-Walking was lifted from my radio show."
Wednesday, March 3, 2010 8:47am
WOULD YOU LIKE TO RESPOND?
RECKLESS YOUTH
Ken Reid, who's been recognized as one of Boston's best stand up comedians, writes about an earlier post: Reading your blog post today I was reminded about my experiences as a 16 year old in a punk band in the mid 90s. We ranged in age from 16-17 for the majority of the time in the band (by the time I was 19 we had broken up) and we were out every weekend playing in places like New York and Philly, driving all night and generally being far more unsupervised than 16 year olds 600 miles from home should be.
We were also good kids and huge nerds as well so no drinking or partying or forfeiting payment from us. There were also no sexed up teens to report at the time. For the most part our fans consisted of overweight nerds with glasses (we loved them) and no girls. We did alright locally (we started with bands like Dropkick Murphys) and played with some national punk rock bands at the time.
We address that is a big time zine interview from the time (your post made me re-read this interview, it's weird seeing what your 17 year old self, who thinks they are an adult, has to say):
There's also some footage up on Youtube of us playing some giant crazy punk rock show (probably 17 or 18 at the time) on my youtube channel www.youtube.com/user/lastdaysofrain (probably funnier than any of my comedy clips)
In hindsight, I cannot believe our parents let a bunch of 16 year olds drive hours to far away cities and play screaming, angry music to strangers in bad parts of town, but we all turned out relatively ok.

I had similar experiences. My freshman year in college I spent the summer doing an outdoor drama in Kenansville, NC - a mixed race cast in a small town down South in the mid-1970s, that was a trip. The next summer I spent in Birmingham, Alabama doing dinner theater and the next I toured across NC, Virginia, Tennessee and South Carolina. (I was so lucky to have been out on the road in the 1970s in the South while the region still had it's old world flavor. Now practically every city looks the same with the Applebees and Wal-Marts replacing home cooking and locally owned stores.)
I guess what struck me most about the conversation with that teen band promoter was that the kids in his bands were all about getting famous and making money and had zero regard for showing up at gigs and doing what's necessary to get what they wanted. For myself and the people I worked with, we loved performing and felt so lucky and privileged to be able to do it for a paycheck. It was the desire to get up there and do it that drove us - I hadn't even started drinking although pot was on my menu by then. The idea of missing a performance or being too hung over to get out of bed was a foreign concept to me.

I have a friend who manages a band that's hot on the east coast and she has the same problem, spending all of her time on the road herding the cats. She finally let them go out on their latest tour without her, she couldn't take it anymore - and those guys are in their late-20s. Another friend is the head meteorologist at a local network affiliate and he says the same thing, the young interns just want screen time and don't care to do anything else (and boy does it show when you see them).
I guess that's why surveys tell us what young people today want most of all is to be famous. In my day the answer might have been rich, I'm guessing, but it might just as well have been being happy. Can you imagine being famous but not rich? That would be a true nightmare!
End of cranky old man rant.
Wednesday, March 3, 2010 6:48am
WOULD YOU LIKE TO RESPOND?
TONIGHT
As you prolly know last night was Jay Leno's return to The Tonight Show. How were the numbers? Leno beat the competition easily, with a 5.4/14 rating, the best performance for The Tonight Show since Conan O'Brien took over. The Late Show With David Letterman lagged with a 3.0/ 8.
And the big Olympic Hockey game on Sunday? It was the most watched Hockey match on television ever.
Tuesday, March 2, 2010 11:58am
WOULD YOU LIKE TO RESPOND?
THERE'S A HOLE IN MY NEIGHBORHOOD
DOWN WHICH OF LATE I CAN NOT HELP BUT FALL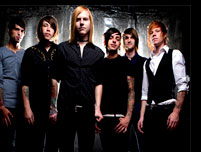 I had the most fascinating conversation with a guy last night at the hole in my neighborhood. He's a promoter for a record company and is on the road all the time making sure the label's bands get to where they need to be - and he was having a lousy day because the band that was supposed to be in North Carolina was in Virginia and they had to be set up in a club in Greensboro in 15 minutes or they would forfeit a $200 deposit. (The band pictured is not the one I'm talking about.)
He's telling me how frustrating it is to get these musicians from one place to another because they are so young and were so consumed with partying that everything else falls by the wayside. Now, the promoter was only 22 and he was talking like he was an old man - he told me that they had bands out there touring with members as young as 12! I'm talking about touring in a van to a Monday nightclub gig, not the big time Van Halen tour bus deal. He's telling me about 15 year olds getting drunk, high,and God know what else. I asked him where their parents were. At home signing release forms, basically. The band he was waiting on, two members of which were 15, likely spent last night in the van because of forfeiting that $200. Can you think of anything more fabulous - or horrifying - than being on the road at 15 with no parental supervision playing the role of rock star with today's sexed up teens? Yowza!
Speaking of bands, here's the great Joe Tex fronting one of the best funk groups ever, every member of which I assume were over the age of consent.
Tuesday, March 2, 2010 10:16am
WOULD YOU LIKE TO RESPOND?
STUFF
Remember the cool jet pack Professor John Robinson had on Lost in Space? Well, a Jet Pack is now available to the general public - only this one runs on giant fans instead of highly combustible jet fuel. Only $75,000 - believe me, if I had the dough you would see me flying around in this bad boy.
Became a Facebook fan of Flexitoon Presents "Sandy Becker's Christmas Carol."
Sunday, February 28, 2010 9:32am
WOULD YOU LIKE TO RESPOND?