* Classic & Current Television Blog *
HA!
Okay, I admit it, I can't get enough of those stupid game show answers. Here's another mashup of embarrassing moments, the video is lousy but it's still funny.
ROLE MODEL HUMILIATION
Remember Carrie Prejean, the virtuous uber-Christian California Miss America winner torpedoed by the evil gays and stripped of her crown because she spoke out against gay marriage? As I heard it on TV, it was our gay overlords who control everything we see, hear, taste, think and touch that was responsible for her ouster. What other reason could there be but Perez Hilton's homo mindslaves at work?
Of course, poor, put-upon Carrie did what any of us would do - whine incessantly in the media and run to the warm bosom of her lawyers. So what if she had exposed her nubile titties and then swore in an affidavit that she hadn't - therefore disqualifying her for the title of Miss America - anyone can make a mistake. It was a mere lapse of memory after all. Heck, our own vice president Cheney had to say he "didn't recall" 72 times in one sitting just the other day.
She demanded a million dollars for her unfair termination and subsequent public humiliation. Yesterday she went into arbitration with the Miss California USA Pageant officials, determined to get her pound of flesh. And boy did she get it - when a lawyer for the Pageant screened an X-rated home video Carrie had made and distributed before the pageant of herself engaged in a sex act usually performed in private.
From TMZ: We're told it took about 15 seconds for Carrie to jettison her demand and essentially walk away with nothing. As we first reported, the Pageant is paying around $100,000 to her lawyers and publicist -- a fraction of her bills. She pockets nothing in the settlement.
Oh, and the pageant officials still want her to pay for those perky breast implants they bought for her.
Thursday, November 5, 2009 8:11am
WOULD YOU LIKE TO RESPOND?
BLOG RERUN: THE BIG SHOW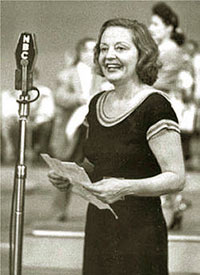 For one brief, shining moment a radio show became a hit in the era of television, a time when nearly everyone reasoned (rightly) that radio's days as the predominant form of home entertainment were over.
It was 1950 and the NBC program was called The Big Show, a star-studded 90 minutes that attracted the biggest names in the entertainment industry and beyond.
The star attraction was the outrageous hostess, a most unusual pick for a master of ceremonies, stage and screen actress / ultimate diva Tallulah Bankhead.
The program aired Sunday nights at 6:00pm but despite the network putting everything it had behind the program in an attempt to salvage the medium, The Big Show reportedly lost a million dollars and was cancelled after a couple of years, then moved unsuccessfully to television as the All-Star Revue with Tallulah as one of the rotating hosts.
Here's an episode of The Big Show from December of 1950 with guests Fred Allen, Margaret Truman, Joan Davis, Phil Silvers, The Sons of The Pioneers and more. The highlight of every episode was Tallulah's madcap putdowns and acid tongued bouts with the guests. (I edited out a boring 13 minute dramatic presentation with Douglas Fairbanks, Jr.)
Wednesday, November 4, 2009 10:14am
WOULD YOU LIKE TO RESPOND?
WHERE I'M AT
I'm going to be light blogging for the foreseeable future thanks to an acting gig I landed in a motion picture. It's an indie pic and I'm playing a major role so it's going to dominate my time over the next couple of months. Add to that a book I'm about 75% of the way done with and it's Wile E. Coyote over the cliff time - as long as I don't look down I should be fine. The film I'm working on is a dream come true, a juicy role I've dreamed of one day playing and I couldn't be more excited. Want to see a preview? Well, okay...

So Billy Ingram morphs into Reverend Ray for the rest of the year. Hey, I know this is preposterous, but apparently you can hop over to a site called Facebook - it's something new - and follow the progress of the film as it's being made. Go to: facebook.com/lakeoffiremovie and become a fan of a movie you've never seen. There's an idea.
Wednesday, November 4, 2009 10:14am
WOULD YOU LIKE TO RESPOND?
SOUPY'S PASSING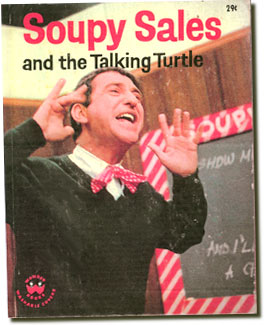 Frank Freighter writes about Soupy Sales: Kathy O'Connell, who has hosted "Kids Corner" a radio show on the University of Pennsylvania's WXPN for many years, was a close friend of Soupy from the time she met him as a fan. Kathy has been our friend since we were on her show, answering questions about the Three Stooges. She also sat with Soupy when he was a guest at one of our Philly Non-Sports Card Shows, a kiddie show host's reunion, along with Lew Anderson (Clarabell), Sally Starr and Chief Halftown. She says:

"I can tell you that Soupy's death was peaceful. Trudy and I were with him, talking to him and holding his hand. And all of a sudden he was gone. As you can imagine, because I've been with Trudy since last Thursday, I had missed all the obituaries. Thank you for sharing this. Dave Usher was a dear, wonderful friend of Soupy's. And I'm glad he made the call to announce it to the media. He got everything right. He was the first person Trudy had me call."
Sunday, November 1, 2009 9:10am
WOULD YOU LIKE TO RESPOND?
SUNDANCE CHANNEL HALLOWEEN TONIGHT
From the press release: Right now, on our Digital Shorts minisite you can watch clips from 10 of Sundance Channel's favorite scary movies. Included are previews for three films that will be playing on Sundance Channel beginning at half-past midnight on Friday, October 30st.

The project is called "Scare Tactics." The block kicks off at 12:30 am with Philip Chidel's Subject Two, a twisting tale of a scientist whose formula for resurrection involves the repeated murder of his unhappy student volunteer. It's followed by Korean filmmaker Woo-cheol Lee's Cello, an atmospheric horror film about a brilliant cellist who attempts to begin a new life after a traumatic car wreck. The night closes with David Moreau and Xavier Palu's Them, an excruciatingly tense thriller that follows a French couple through a single, terrifying night in a rented house in a Romanian forest.
Friday, October 30, 2009 10:46am
WOULD YOU LIKE TO RESPOND?
HA!
Here's a webisode for The Office you may find amusing - "Male Prima Donna," the breakout single from Subtle Sexuality, is here. See the whole video, plus the making of, now at NBC.com.
Thursday, October 29, 2009 12:59pm
WOULD YOU LIKE TO RESPOND?
NEW SHOW REVIEW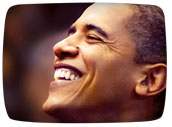 Are you as sick of politics as I am now? Does the last election still leave a bad taste in your mind? Then you probably aren't planning on watching By the People: The Election of Barack Obama on HBO starting Tuesday night.

This documentary takes you behind the scenes at the last Presidential election cinema verite style, gazing not just at the candidate but at the folks who helped him get elected. It's a superb, intimate glimpse at a remarkable man and a seminal event in American history - no matter what you may think of how well he's doing on the job.

It's a revealing portrait, as you'd expect Obama comes across as likeable and engaging, his family charming and unaffected. Michele especially reveals herself to be tough-minded and an equal partner in the endeavor, this campaign was truly a family undertaking.
It's also a reminder of how close we came, for better or worse, to having Hillary Clinton in office; after all Obama's election was the ultimate come from behind win, the plucky underdog who snatched victory from the jaws of defeat.
What you take away from this program is the idea that indeed anyone can grow up to be President one day and that might be the lasting legacy of the last election. It's also a good counterweight to the cartoonish image of the President as portrayed by the TV news gasbags.

By the People: The Election of Barack Obama airs on HBO starting Tuesday at 9:00pm.
Thursday, October 29, 2009 8:32am
WOULD YOU LIKE TO RESPOND?
AHA
Kevin Butler has one of the answers to the questions below about the kid's TV show host who'd say "Zoom! Mooz!": That was the KNXT (KCBS) TV 2 L.A. version of "Space Funnies"/"The Captain Jet Show" hosted by my dear friend and fellow performer Mr. Dallas McKennon. Dal never screened "Flash Gordon" or any movie serials on his show but he reran Laurel & Hardy, Little Rascals, Charley Chase, Thelma Todd / Zasu Pitts/ Patsy Kelly, Leon Errol and Edgar Kennedy films on his show.
Wednesday, October 28, 2009 12:46pm
WOULD YOU LIKE TO RESPOND?
RANDOMNESS
From the press release: Yesterday was John Cleese's birthday! The old fart is now officially way over the hill at 70, and we're asking everyone what they'd write to Cleese in a birthday card on our Facebook page.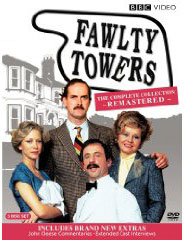 BBC Video's new special-edition DVD box set Fawlty Towers Remastered is now on sale, it's one of my very favorite shows and I can't wait to get my hands on that collection. Look at the extras:
-Exclusive commentary by John Cleese
-2009 extended interviews, including exclusive interview with Connie Booth
-Accompanying booklet
-Interviews with John Cleese, Prunella Scales, and Andrew Sachs
-Series 1 director's commentary by John Howard Davies
-Series 2 director's commentary by Bob Spiers
-Artist profiles
-Outtakes
-Torquay Tourist Guide (short documentary film)
-Cheap Tatty Review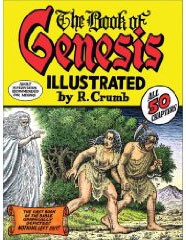 Speaking of new products, look what's been a big seller through this site - The Book of Genesis Illustrated by R. Crumb. No wonder, it's gotten great reviews and it's only $14 if you order online now. Great Christmas gift.

I've gotten a few requests for information about some local TV kiddie shows, maybe you know the answers?
Dan writes: I'm trying to find the name and any info about the kid's TV show host who'd say, "Zoom! Mooz!" while looking through a circle he made with his his thumb and index finger. I believe he showed Flash Gordon serials (and maybe cartoons)? This show was probably produced in the 1940s or 1950s and aired in the Los Angeles area.

Melanie N. Lee asks: I grew up in the 1960s in Queens, NY. Lately the theme to "The Lone Musketeer" has been running through my head. Do you know where that music came from, and its name? It's a dramatic flourish of trumpets that sounds like it came from a Hollywood movie about The Three Musketeers or some other medieval swashbuckler. I had thought Sandy Becker had done The Lone Musketeer, but it turns out it was Fred Hall, a name I didn't even remember. So, please tell me the name of that music, and where I can listen to it on the Internet. Thanks!

Finally, Jill Botts wants to know: I was a child and was on a LA local TV show one time in the 50's. The only thing I remember about it was that I was a hostess and there were younger children on the show. I was presented with a doll at the end of the show as I acted as the hostess. It seems to me like I had to help the children do something or give them ice cream or something. Do you have any idea what show that was?
Wednesday, October 28, 2009 8:36am
WOULD YOU LIKE TO RESPOND?
SUNDAY ROUNDUP
Here's a quick video mashup of some of the vicious attacks by the FOX News organization against the Obama White House, on a month by month basis, compiled by Media Matters. I mean honestly, no matter what your political bent, this is so bad for our nation, this kind of poison filling the airwaves. It wouldn't be any big deal really if the network wasn't disguising itself as a fair and balanced, honest to goodness news source. There are a lot of gullible people out there who can't distinguish between TV and reality and this is a cynical attempt to blur the lines further - not just for monetary reasons but for political reasons as well.

Just finished watching Top Chef season 4 on DVD. I honestly don't know how you can watch this show when it originally airs, I find myself wanting to watch 4 or 5 episodes at a time, it's so easily digestible.
Now this is adorable - and so wrong:
Sunday, October 25, 2009 1:20pm
WOULD YOU LIKE TO RESPOND?
Read more Blog entries here!