* Classic & Current Television Blog *
BATLAUGHS
I swear this is the funniest thing I've seen all year - Brady Sullivan writes: "Financial times are tough for everyone, even television Batman himself, Adam West. Guess he isn't getting royalty checks from The Dark Knight. So what does he do? Set up a garage sale in front of the batcave and sell some of his most treasured bat-possessions. As anyone that has paid attention to Adam West's career knows, he is absolutely hilarious and is especially great in this video. So I wanted to send it along to you to see if you wanted to share it with your readers. It seemed like a really great fit for your site since it's about an iconic TV show, timely, and really funny." Funnier still when you realize that that really is the exterior of the Batcave in Griffith Park.
Wednesday, April 29, 2009 - 1:08pm
WOULD YOU LIKE TO RESPOND?
HA!
When I want to laugh across the You Tubes I often find myself going to clips from The Carol Burnett Show. One of the funniest recurring skits has Carol as the dimwitted Mrs. Wiggins and Tim Conway as Mr. Tudball. I wonder how much of this Conway improv-ed?
Wednesday, April 29, 2009 - 10:32am
WOULD YOU LIKE TO RESPOND?
YOU MIGHT JUST MAKE IT
Patrick points us to this link where you can buy the ultimate piece of classic TV history - Mary , Phyllis and Rhoda's house!
Tuesday, April 28, 2009 - 11:57am
WOULD YOU LIKE TO RESPOND?
GOLDEN TUESDAY
Several people pointed out that's not Chuck McCann but Pat McCormick in that Golden Girls clip from yesterday. How stupid of me! I was a huge fan of Pat's, he was always hilarious on The Tonight Show - or Merv anywhere else he appeared.

Jim writes: Thanks for the Golden Girls clip. The great thing about that clip was that though the writing was fairly predictable, the presentation and reactions truly showed how even pedestrian comedy can be made funny with the right actors. You are so right about the interviewer of Bea Arthur. That same woman has interviewed several people and she always asks the same type of questions and seems genuinely disinterested in the subjects she's interviewing; that said, I'd rather have historical videos of late great entertainers with a poor interviewer than nothing at all.

Speaking of which - WE tv will feature a marathon of favorite THE GOLDEN GIRLS episodes Thursday, April 30 beginning 9:30pm/e, 8:30pm/c. Care for another funny moment from the show?
Check out Jim Longworth's new site, you'll find clips from some of his celebrity interviews, everyone from C.C.H. Pounder to
Cloris Leachman. You can also visit Triad Today to find out more about Jim's weekly public affairs show - they are a rarity on television today and no one does it better than Jim!
Tuesday, April 28, 2009 - 8:47am
WOULD YOU LIKE TO RESPOND?
MONDAY MONDAY
I'm looking for someone to transcribe interviews for a book we're publishing. This will be a project you'll be very proud to be a part of. I can pay one dollar for a minute of transcribed text. In other words, If I give you a ten minute sound file I can pay you $10 for the transcription. I know that's not a lot but we're working without a budget as usual. Depending on how fast you type that's maybe $10 an hour? You'll also get credit in the book.
I would prefer if you're a fast typist, hopefully with experience doing this type of thing. Work is done from your home. I'll send you the sound files to work with, around 10 minutes in length. You set the deadline. Work will end this summer, there won't be a tremendous amount of work but if it sounds like something you would want to do please email me. Payment is by Paypal only and I'll pay you right away. Thanks!

Here's a classic clip from The Golden Girls as the ladies go shopping for condoms. Recognize the shopkeeper? It's none other than the great Chuck McCann.
Remember when IBM built 'Big Blue' the first computer to beat a human at chess? Now IBM is testing a computer to try to beat people at Jeopardy. If it is successful it will be a huge leap forward for artificial intelligence. It will also, presumably, make IBM relevant again.
Monday, April 27, 2009 - 8:30am
WOULD YOU LIKE TO RESPOND?
SAD PASSING
As you may know Bea Arthur passed away on Saturday. What a great talent - here's a portion of her revealing interview with The Archive of American Television that covers Maude and (way too briefly) her infamous 1980 special. No offense to anyone but I wish this interviewer was better - but God bless them for doing these talks, so many greats have been preserved by this project that are now gone. An extended talk on that 1980 hour would have been incredible given the guest stars - Rock Hudson, Melba Moore and Wayland Flowers & Madam.
I love her quoted remark about Ester Rolle - "She doesn't do windows and she doesn't do comedy." I always thought Rolle was weak at comedy as well, hopelessly miscast but beloved none the less.
Sunday, April 26, 2009 - 11:26am
WOULD YOU LIKE TO RESPOND?
FRIDAY STUFF
G. Wendt asks: "I am trying to locate a TV show that had a brief run in the early to mid 1970's. It was a kids show and it could have been from British TV, but I'm not sure. It featured a shrunken head that was in a chest or box or something and that had some kind of magic abilities. I think the name of the show might have been Rainman, or maybe that was the name of the shrunken head. Any searches I have done on the name Rainman doesn't turn up anything so perhaps I am mistaken. If you or anyone knows which show I am describing, please let me know as I am trying to find it."

John Stahl has some new bite sized TV on DVD reviews - X-Men Animated Volume 1 and a Britcom Pulling. We try before YOU buy!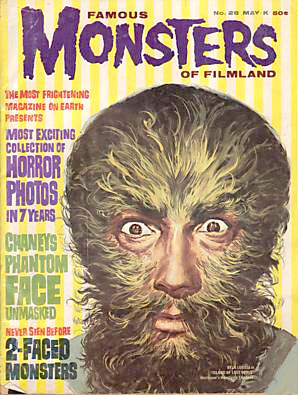 Watch below as Billy Bob Thorton has a bit of a slow moving meltdown on this Canadian broadcast. Seems the actor has a band he plays with but hasn't learned a darn thing from his decades of plugging movies - he doesn't want people to know Billy Bob Thorton is in the group. Then again, anyone who loved Famous Monsters of Filmland - as I did - can't be all bad.
Offhand, I can think of two actors that were in bands that didn't want people to know it was them up there playing - Cher in Black Rose (pretty hard to mistake her voice for anyone else) and Billy Mumy (Lost In Space) from Barnes & Barnes.
New ABC show The Unusuals is a stiff. Hardly a big surprise, who would watch a show called The Unusuals no matter how good it was? Reminds me when I was doing marketing for the motion picture industry and two films in particular that I thought were great - The Shawshank Redemption and Glengarry Glen Ross - I knew wouldn't stand a chance at the box office because the titles were too uncomfortable for most people to say out loud.
Friday, April 24, 2009 - 11:06am
WOULD YOU LIKE TO RESPOND?
PATTY, LAVERN & MAXENE
Smooth as silk Dean Martin is joined by The Andrews Sisters, the best-selling female vocal group in the history of pop music, in the girl's last appearance together.
I was fascinated with music of the World War II era growing up in the 1970s, swept up in the nostalgia boom that was going on at the time no doubt. The Andrews Sisters were three of the brightest stars of the 1940s, scoring big not only on vinyl but in motion pictures with Bob Hope and Bing Crosby as well.
LaVerne Andrews (in the center) died in 1967 at age 55 and the other 2 sisters had a rocky relationship throughout in the 1970s even though a hit broadway show Over Here! was built around them in 1974. They had a serious falling out after that and never reconciled.
Maxene is on the right, she died in 1995; Patty, the lead singer, is still alive, the last I saw of her was as a judge on The Gong Show in the late-1970s.
Thursday, April 23, 2009 - 12:23pm
WOULD YOU LIKE TO RESPOND?
EARTH DAY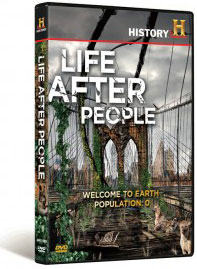 From the press release: If humans were suddenly to disappear, what would happen to our planet? HISTORY® takes you on an amazing visual journey in LIFE AFTER PEOPLE, a though-provoking adventure that combines movie-quality visual effects with insights with insights from experts in the fields of engineering, botany, ecology, biology, geology, climatology, and archeology to demonstrate how the very landscape of our planet will change in our absence. In a world without people, who will watch the TV shows?!?

No offense to out Catholic friends but it always amazes me that Catholic League president William Donohue can openly criticize anyone - glass houses and all. Now he's attacking Ron 'Opie' Howard for his sequel to The Da Vinci Code. "Howard must be delusional if he thinks Vatican officials are going to like his propaganda -- they denied him the right to film on their grounds. Moreover, we know from a Canadian priest who hung out with Howard's crew last summer in Rome (dressed in civilian clothes) just how much they hate Catholicism. It's time to stop the lies and come clean." Way to promote a movie probably no one wants to see. Speaking of religious zealots:
And I don't know WHAT to make of this but it's cute as hell.
Look at the loser lineup for NBC's upcoming'reality' show I'm a Celebrity, Get Me Out of Here!: supermodel Janice Dickinson, Geraldo Rivera, Duane "Dog the Bounty Hunter" Chapman, couple Heidi Montag and Spencer Pratt (The Hills) and possibly former Illinois Gov. Rod Blagojevich. Sounds like a real snoozefest.
NBC has cancelled Kings as of now replaced with reruns of Law & Order: SVU. Kings will return in June to air already filmed episodes.
Wednesday, April 22, 2009 - 2:30pm
WOULD YOU LIKE TO RESPOND?
Read more Blog entries here!