* Classic & Current Television Blog *
CARTOON BREAK
HBO has renewed Eastbound & Down for a second season. Meanwhile, Fox's Prison Break, Terminator: The Sarah Connor Chronicles, and probably Dollhouse are headed to the TV boneyard - Terminator this week with Prison Break (and Dollhouse?) exiting in May.

Who doesn't like cartoons, especially Fleisher toons? This one is Barnacle Bill from 1930 co-starring Bimbo and an early version of Betty Boop.
'Barnacle Bill' was a baudy tune, listen to this 1928 version by Bix Beiderbeck which is, like the cartoon version, cleaned up considerably although you can clearly hear the background guys singing, "Barnacle Bill the shitter" during the second chorus. Naughty!
Thursday, April 9, 2009 - 12:55pm
WOULD YOU LIKE TO RESPOND?
FUNNY
Enjoy Dom DeLuise and Orson Welles as the recreate a famous British comedy routine from the At Last the 1948 Show originally performed by Marty Feldman and Tim Brooke Taylor. This is from The Dean Martin Show.
Wednesday, April 8, 2009 - 10:43am
WOULD YOU LIKE TO RESPOND?
DEAR FOX NETWORK
In the words of Chef Gordon Ramsay, "Shut it down!" Slam on the brakes and take a hard look at your operation and figure out where you went wrong over the last year or two. You're launching one dud after another, filling your schedule with shows that look OK on paper but leave an embarrassing stench behind. You used to be so good, even the shows I didn't enjoy like Family Guy and Arrested Development are acknowledged TV classics. But Hole In The Wall, Osbournes Reloaded (which my local affiliate refused to even air) and upcoming shows like Glee and Shut Up And Sit Down are major league turkeys. The guys you're hiring to create comedies apparently don't know from funny. Send some storm troopers over to Comedy Central and capture some talent - or reach back to legendary comedy writers like Ken Levine.
Speaking of FOX - they have a new series coming called Somebody's Gotta Go - where employees at a struggling small company (15-20 employees) get together to vote someone off their downsized island. You think I just make this stuff up, don't you? You would hope...
Wednesday, April 8, 2009 - 8:40am
WOULD YOU LIKE TO RESPOND?

I STOLE THE TV
CBS is looking for contestants for Big Brother - interested? Of course you aren't but just in case, auditions are being held in New York, Boston, Atlanta, Nashville, Chicago, Philadelphia, New Orleans, Louisville, Charlotte, Tampa, Columbus, Wilmington, Austin and Abilene. Contact CBS casting here. I'd like to do Big Brother, it's the only reality show I would even consider - I'd tear those kids up so fast it would be hilarious! Of course, I say that having only seen the show a couple of times in London. I don't understand the fascination.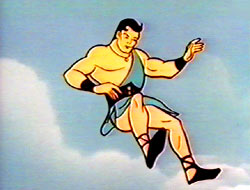 Edwin Janzen asks: "I had a question about that old TV show from the sixties, 'The Mighty Hercules.' Since you've devoted a page on your website to the show, I thought you might be able to answer it.
"Recently I bought three old, used VHS tapes of 'Herc' episodes off of Amazon -- comes to about 30 episodes, total. Wikipedia's entry on the show lists no less than 128 episodes that were created. Yet, I've searched Amazon, YouTube and other places for the 98 episodes I don't have and have come up with nothing. Do you have any idea where a person might find those 98 lost episodes? They must surely be archived somewhere?"
Check out this just-released trailer for True Blood Season One on DVD coming to stores May 19th.
I just rented The Lost Room on DVD, it's a Sci-Fi Channel program and it's quite trippy with a sharp concept - a guy gets hold of a motel key that opens any door and allows him to exit anywhere he likes. That sets him off on a journey to find all of the super-charged objects in the motel room that serves as a cosmic way station. That's a lousy description, you should see it yourself if you're into well done science fiction. If you're willing to suspend your common sense a few times at the start it's well worth it. The show gets better as it goes along with a superb cast that includes Kevin Pollock, Julianna Margolis, Peter Krause and the guy who played the union boss on The Wire season 2.
Tuesday, April 7, 2009 - 9:10am
WOULD YOU LIKE TO RESPOND?
STUFF
A while back there was an announcement about the upcoming Room 222 Season One DVD set on Amazon and a chance to pre-order at the ridiculously low price of $9.99. Since Amazon's policy is that they will honor pre-order prices no matter what the actual retail price there was some speculation that the E-tailer might not follow through. Ed Golick tells us: "Amazon did honor their $9.95 price on the Room 222 DVD box set. Unfortunately Shout Factory used worn, washed out prints with bad sound as their masters." I wonder what the reasoning was for using worn out prints?!?

Wait I Know This features Space Ghost Coast to Coast star George Lowe this (Sunday) evening at 7:00. The player is on your left - but you may have to use the link above the player, that widget seems to move around in time and space more often than Sam Beckett.

Here's an article on people who have their own Star Trek captain's chair in their homes. First the home version of the Lost in Space Robot, now this?
I was directed to this fantastic tune by John Brannen because we may be doing a film together. I don't take to new music easily, I usually have to hear a song a few times before it grows on me. In fact, all of my favorite albums I hated when I first heard them. But every once in a while a song grabs me and this one did just that. 'Boom, Baby, Boom' by John Brannen:


Sunday, April 5, 2009 - 12:50pm
WOULD YOU LIKE TO RESPOND?
SATURDAY FUNNIES
Sure to give you a laugh, here are a bunch of bloopers from TV game shows from around the world. I'm not sure what's dumber, the shows themselves or the contestants!
Nobody can watch just one...
Saturday, April 4, 2009 - 10:48am
WOULD YOU LIKE TO RESPOND?
Read more Blog entries here!