* Classic & Current Television Blog *
NEW SHOW REVIEW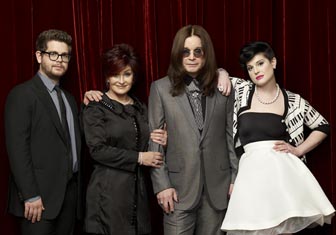 Just when people are relying more and more on public transportation, here comes the 'Crazy Train' wreck of the year.
I've just watched a short preview of the new FOX show Osbournes Reloaded, a title that perfectly reflects the drunken debaucherous nature of the show.
Entering from the Time Tunnel to the screams of a hyped up live audience, the preposterous Osbourne family returns to the small screen to host a variety show for the new age.
Of course, it's Sharon who has to do the heavy lighting seeing as how her husband is fucked up beyond all belief and her kids have no dicernable talent on display. In that sense, this is the perfect show for a real life Addams Family.
Setups include the family working at a fast food window that descends into the Osbournes throwing food into the customers cars; a fiancee that threatens her boyfriend with a breakup if he doesn't marry her right then and there; a vulgar takeoff of What's My Line; squirting the audience and stage down with crazy foam; getting the parents of an audience member to simulate a sex act on stage; and a musical duet between father and daughter that promises many Brady Bunch Hour moments to come.
Sharon promises that this is entertainment the entire family can enjoy together. As they all gather around the TV at the bar, presumably.
I suspect what I watched was a highlight reel for maybe three episodes - if that's the case this is going to make that Fox game show about the people falling off those walls seem like Shakespeare. On the other hand, if the few minutes I saw was all culled from the first episode alone this show could be a blast.
I swear I think I've seen some of these bits done first on Jerry Springer but whatever; this is Candid Camera meets Maury, The Carol Burnett Show on Ketamine, television entertainment live from skid row.
Judge for yourself:
OSBOURNES: RELOADED PREMIERES TUESDAY, MARCH 31, ON FOX
Saturday, March 20, 2009 - 7:29am
WOULD YOU LIKE TO RESPOND?
I'M DC YOU'RE MARVEL
I haven't seen the Watchmen movie but I'm really looking forward to it. Meanwhile, Wolverine and Dr. Manhattan argue about their movie careers.
By the way, thanks to everyone who has contributed to the 'Get Billy back on his ass' campaign!
Sunday night I'll be joining Eric Chilton on Wait I Know This, you can access the player at the left. The guest will be Debra Pratt, writer for that great classic series Quantum Leap. You can join us as well, by all means call in and ask questions. A VERY special guest is scheduled to join us and I mean this guy is BIG in the Quantum and Battlestar worlds!
From the L. A. Times: Morton Lachman, one of the creative minds behind Bob Hope who was a writer and producer for the famous comedian for more than two decades before shifting into sitcom production in shows including "All in the Family," "Gimme a Break" and "Kate & Allie," died Tuesday at UCLA Medical Center. He was 90 and would have celebrated his birthday Friday.
Thursday, March 19, 2009 - 7:49am
WOULD YOU LIKE TO RESPOND?
AAAAAAARG!!!!
Did you miss me? No, I didn't flee the country, I had a total and complete system meltdown and I'm just getting back online. Unfortunately I feel like I've been bombed back into the stone age as I lost all of my software used to create this site. Did you know they want $600 freaking dollars for Dreamweaver?!? I'm back to writing HTML code by hand! It's 1994 all over again except I don't get my youthful good looks back.
Wednesday, March 18, 2009 - 10:39am
WOULD YOU LIKE TO RESPOND?
HA HA
Watch what happens when Ricky Gervais and Elmo try to get through a segment for the 40th anniversary tribute to Sesame Street:
Friday, March 13, 2009 - 10:49am
WOULD YOU LIKE TO RESPOND?
NEW SHOW REVIEW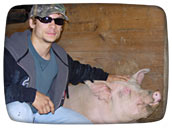 I'm not sure, technically, that I watched this film in its entirely. The first half is so horrifying, so completely devastating, that I want to forget it as soon as I can. I was forced to avert my eyes through most of it.
Digital muckraker "Pete" (he keeps changing his name to avoid reprisal) goes undercover to document animal cruelty at a large hog farm. What he captured on video is nothing less than an atrocity. Being one of those people that prefers not to know where my food comes from, this is a very unsettling documentary.
Believe it or not, pigs are actually smarter than dogs, falling just after primates and dolphins on the intelligence scale. I had a friend who had a pot belly pig and it lived in his home as his pet. That sow was very well behaved, he traveled cross country with the damn thing on his way to live on his brother's farm, a brother who told him in no uncertain terms that a pig won't be living indoors at his place.
Undercover footage of a bunch of good old boys hanging a pig with a front loader for laughs was enough to land these farmers in court on animal cruelty charges but that practice doesn't surprise me a bit. Watching newborns tossed in a bin like inanimate objects might be the order of the day for some but that doesn't mean it's easy to witness.
"Pete" is an odd character, one of those attractive but dicey individuals you might meet in a bar who's way too self-involved, but he's a crusader in the grand tradition so you gotta admire the guy. He previously appeared in Dealing Dogs, a documentary that blew the lid off the abhorrent treatment of dogs at one kennel. Presumably he's going to work right now to expose more appalling practices somewhere. He's the Michael Moore of the animal rights movement, I guess.
After exploring the seedy underbelly of the modern farm this program moves into the courtroom for the brutal cross examinations that put the young investigator unexpectedly under the gun. Would a Judge who's also a farmer convict hometown business owners based on an outsider's investigation? What constitutes animal cruelty on the farm anyway? Is it OK to bash a piglet's brains out with a hammer just for the heck of it? Gosh, don't you like to blow off a little steam at work?
I think we as a society decided a long time ago that this type of behavior is acceptable in a farm setting and it's a damn shame. Having it rubbed in my face is exactly what I deserve.
Death on a Factory Farm premieres Monday, March 16 at 10pm on HBO.
Friday, March 13, 2009 - 7:38am
WOULD YOU LIKE TO RESPOND?

FREE IS GOOD
See the Wait I Know This widget to the upper left? For some reason the code went buggy last week and I missed the show they had on Saturday - with Batgirl herself Yvonne Craig! Fortunately you can listen to the show anytime. Hey, it's free entertainment!
As more and more of us get used to entertaining ourselves by staring at the four walls, thank goodness for the internet. And You Tube.
Wednesday, March 11, 2009 - 7:28am
WOULD YOU LIKE TO RESPOND?
LET'S DO THIS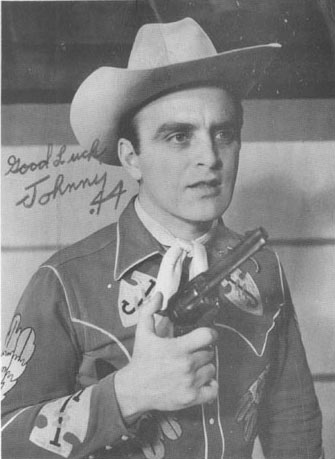 Julian West Writes with sad news: I recently received an email from the granddaughter of Jack Hastings. He played the cowboy character Johnny .44 on WCCO-TV in the 1950s, and also hosted Popeye's Clubhouse on WCCO-TV for at least one season around 1960. I've attached jpegs of a Johnny .44 photo trading card, and a color picture of Johnny .44 with none other than Gene Autry.
Unfortunately, Mr. Hastings is now in the final stages of cancer. He's too ill to receive visitors, but cards and letters would be greatly appreciated. Thank you.
Please mail them to:
John Hastings
c/o Our Lady of Good Counsel
2076 St. Anthony Avenue, Room 106
St. Paul, MN 55104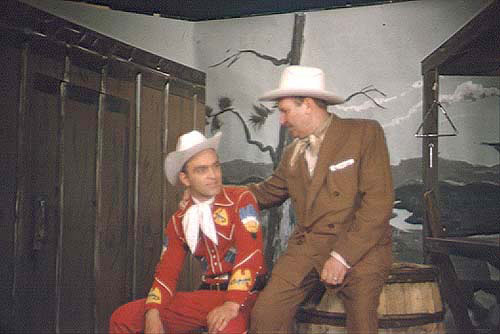 Tuesday, March 10, 2009 - 12:45pm
WOULD YOU LIKE TO RESPOND?
Read more Blog entries here!