GOOD GUYS FINISH LAST
There's a new show on Fox called The Good Guys about a couple of mismatched cops. I remember a sitcom by that same name that aired back in 1968, this one starred Bob Denver as a cabbie with Herb Edelman as his best friend, the owner of a diner.
The Good Guys was Bob Denver's follow up to Gilligan's Island. He'd learned a hard lesson - after watching the enormous popularity of Gilligan in syndication, which benefited him not a bit, Denver insisted on - and got - an ownership stake in the show.
I never thought The Good Guys worked particularly well, mostly because Herb Edelman just wasn't a funny guy the way, say, Alan Hale Jr. was The chemistrybetween the co-stars just wasn't there. Edelman's stiff demeanor couldn't help but drag the proceedings to a halt.
In a nod to continuity, I guess, Alan Hale, Jr. appeared in a few episodes, including one of the very first episodes, where he called Denver's character "little buddy."
Like Gilligan, The Good Guys relied on slapstick and broad humor but the production had a more theatrical feel to it, at least during the first year under creator / producer Jack Rose (writer of Road to Rio starring Bob Hope).
With a screen and playwright at the helm and Mel Tolkin (Your Show of Shows) in place as the story editor, this production felt more mature than you would expect, more like The Mary Tyler Moore Show than Bewitched. Denver had a chance to mute his over-the-top characterizations seen in previous shows, at least somewhat. (It looked like it was shot before a live audience but the laugh track was obviously sweetened.)
No doubt the network realized the series was off-kilter but ultimately believed in Bob Denver's appeal. For the second and last season Bob Denver's character became a partner in the diner, now relocated to the beach (gee, wonder why?). Now that Denver was back on the sandy shore, Alan Hale, Jr. returned with more frequency and Jim Backus turned up as well for even more Gilligan-esque appeal.
New producers were brought in, Bob Weiskopf and Bob Shiller, I Love Lucy vets. The show took on a flat, traditional sitcom look but it didn't help one bit. CBS yanked the show mid-season.
Denver lamented in later years that The Good Guys didn't attain the level of success Gilligan's Island did since he had a vested interest in one over the other. But how could it have sailed? Everything, from the seriously lame theme song to the unfortunate casting felt second rate, even to this pre-teen in the sixties starved for entertainment.
Tuesday, June 22, - 10:15am
WOULD YOU LIKE TO RESPOND?
QUESTIONS, NO ANSWERS
Again, sorry about the light blogging. I'm trying to move my life into a new direction. It was F. Scott Fitzgerald who stated there are no second acts in American lives, I'm not sure that makes much sense, maybe it did in the 1920s or maybe that's true for folks who don't have to work for a living. I'm on act 4 at least. I'll bet many of you are playing well into overtime as well. Is that a good thing or not?
I love 'watching' Hell's Kitchen and Kitchen Nightmares while I'm working. Well, I like having it on to listen to - something about all the chaos and yelling is comforting to me. Maybe it reminds me of some of the places I worked in LA, I had some bosses that were real screamers.
I loved it when one of the contestants said that no one would yell and humiliate people on the job the way Chef Ramsay does. Boy, is she wrong! Although I must confess, no one screamed at me, I think they could tell I was the type that would turn around and walk out. Life's too short for that shit. But I witnessed a number of whirlwind tantrums and the most inappropriate behavior you can imagine directed at my co-workers. Kept you on your toes. Then again, it literally took me two years to decompress from that lifestyle.
Back to Hell's Kitchen - if you're going to be a contestant for heaven's sake learn to cook Risotto, Chef Ramsay always features it on his menus and it trips up an amazing number of contestants. And, if you're eating in Hell's Kitchen, enjoy a big meal first. Chances are you won't get much, if anything, to eat.
So let's shoot back in time - anyone who's read this Blog for long knows I'm fond of the cheesy TV shows of my youth, like Match Game in the 1970s. Here's the first segment from the pilot for Match Game '73 shot in May of that year; the contestants are fake but the celebs are real but this was never shown on CBS. The network must have liked it, they didn't make any major changes when the production launched in August.
Monday, June 21, - 6:15am
WOULD YOU LIKE TO RESPOND?
HUH?
When do I get my life back? I feel like that BP guy - but he's out on his yacht while I struggle in vain to get caught up. I should be back to wasting your time soon!
Sunday, June 20, - 11:57am
WOULD YOU LIKE TO RESPOND?
ONE STONED FRIDAY NIGHT IN THE 1970s
Talking about the radio version of The Bickersons reminded me of something that I tossed up in here a couple of years ago without much explanation.
When I was a sophomore drama major at Catawba College I participated in a night of one act plays. Senior John Bell and I were teamed up but we didn't have any ideas on what to perform so Dr. Epperson reached into his stash and pulled out a folded, mimeographed script. He didn't know where it came from or who wrote it but thought that John & I could put it over. We both quickly realized it was wildly hilarious, especially for the time.
When it came time to perform this bit the audience, mostly a bunch of jocks trying to work off their co-academic credits, went absolutely nuts! There's nothing to compare to being onstage while the audience is convulsed in laughter.
A few weeks later, on one of the last days of school, John & I were at a party. I had just started smoking pot - I'd never had a drink, tho - and was well toasted when the idea came to someone around midnight that we should run over to the brand new radio station and record the skit for posterity. John played Reilly and I (way over)played the country hick.
I wasn't until we were well into the recording that we realized parts of the script relied on physical comedy and rampant profanity, which only made it funnier to me at the time. It was all I could do not to burst out laughing throughout the whole thing, you can hear me straining a couple of times to keep it together. I was stoned! But we decided in the beginning that we were doing it once through and that was it, back to the party.
Class president Frank Mianzo was the announcer at the start, Spencer Gill was the end announcer and Theresa Wallace played the New York City call girl.
Somehow I managed to hold on to a copy of that radio skit and here it is: The Convention (Quicktime / MP4).
Friday, June 18, - 10:34am
WOULD YOU LIKE TO RESPOND?
THE BICKERSONS
Who funds all those dumb studies we read about seemingly on a daily basis? We do I guess. You know what I mean, the studies that tell us everything from the air we breathe to the water we drink will kill us. Here's one I read today - if your friends start dating, that gets you to start thinking about hooking up as well, and you'll think better of a person if they have a mate. Huh? How much did that bit of wisdom cost me?
You see, I suspect that's not always true. And where do we go for thruth? The television, of course! Sadly, there have been a few troubled couples on TV; the Bickersons were the medium's first battling couple.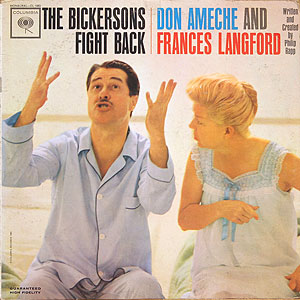 A popular radio feature starring Don Ameche and Frances Langford, The Bickersons was written & created by Phillip Rapp who also invented Baby Snooks and the television version of Topper, one of my early TV faves. He also created a series for The Marx Brothers that had to be scrapped when Chico couldn't get insured because of an ongoing illness.
There were actually several attempts to bring The Bickersons to TV with both an animated and a live action pilot. There were Bickersons sketches on Star Time from 1950-51 with Lew Parker and Frances Langford and a 13 week series aired in the summer of 1951. Parker, who played Anne Marie's father on That Girl, had taken over the role of John Bickerson on the radio series in 1950 for the final season. Here's part of one of those summer shows; unfortunately the TV versions of The Bickersons just didn't have the punch the radio series packed.
One of the radio skits was adapted for a 1960's animation test, I'm guessing that the popularity of The Flintstones in primetime inspired this.
Ameche & Langford re-recorded some of their funniest radio routines for a series of LPs in the 1960s, I discovered The Bickersons on a 1965 double LP re-release. I'd still have those LPs but my brother swiped them, our whole family loved listening to those riotously funny albums.
Just as The Bickersons faded from radio & TV in 1951, The Honeymooners sprang forth from the genius of Jackie Gleason, basically The Bickersons with neighbors and a kind word at the end.
Thursday, June 17, - 6:24am
WOULD YOU LIKE TO RESPOND?
Read more TV Blog entries here!