* Classic & Current Television Blog *
WHEN WILL IT END?!?
The celebrity deaths keep on coming - TV pitchman Billy Mays, Fred Travelena, and classic TV star Gale Storm died over the weekend. According to imdb Gale Storm last appeared on TV on Murder She Wrote twenty years ago. Most of what you'll find on You Tube concerning Ms. Storm are her 1950's recordings like this one, I Hear You Knocking:
In an article on Michael Jackson appearing in London's Daily Mail I noticed this passage:
Some liked to snigger at his public image, and it is true that flamboyant clothes and bizarre make-up made for a comic grotesque; yet without them, his appearance was distressing; with skin blemishes, thinning hair and discoloured fingernails.
That fourth word jumped out at me - when was the last time you saw that word in print? If I didn't know better...
Tonight's Dateline at 10 p.m. ET will feature a one-hour version of 2003 documentary Living With Michael Jackson.
Monday, June 29, 2009 - 10:30am
WOULD YOU LIKE TO RESPOND?
LOCALS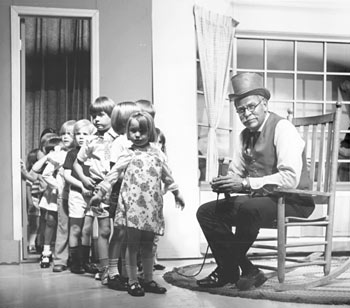 Growing up in Greensboro, NC had one thing going for it - we had a great local kid show with a talent - George Perry - who remains in the hearts of his young viewers. It's been 60 years since the station WFMY got it's start and 30 years since the tragic death of George Perry who was cast aside by the station in the coldest, most heartless manner. Not unlike how they're treating their talent today.
Michael J. Stancil writes: My first job in media was television cameraman for the Old Rebel Show in 1974. It was this experience that influenced the path that I would follow for the rest of my career. Working behind that huge studio camera and literally grabbing shots at "fractions" seconds was very exciting to me. And, it was a very comfortable environment - it was as if I belonged there on that set with smiling Old Rebel and all those happy kids. Believe me, it was happy times! What people outside of the media production world do not know is how fast paced the "live" shows tend to be. In the smaller market television stations, if you have the talent, it tends to be used to its fullest. A wonderful world of playtime opened up before my very eyes on that first day as cameraman for the Old Rebel Show. Very soon afterwards my talents were also used for floor directing, set designing and I even tried my hand at technical directing for the Afternoon News before leaving in 1978. I've gone on to have a wonderful career with the U.S. Postal Service writing and producing corporate videos, directing cable television programming for training, and working as a public relations representative. Within the past few years, I've taken on an Assistant Professor position with Webster University in St. Louis MO, teaching Media Production Management - and you'd better believe - I tell all my students how my career started with the Old Rebel Show.
Saturday, June 27, 2009 - 2:26pm
WOULD YOU LIKE TO RESPOND?
FRIDAY
Bob Mills writes: I've attached some photos I thought you'd enjoy seeing. They're from a party that Dick Riordan, former LA mayor, threw for Yarmy's Army members at his Gladstone's Restaurant in Malibu recently.
Thought you'd get a kick out of my shot of the three "Boston Legal" judges: Chuck McCann, Henry Gibson and Shelley Berman. The extra guy in the shots is Dick.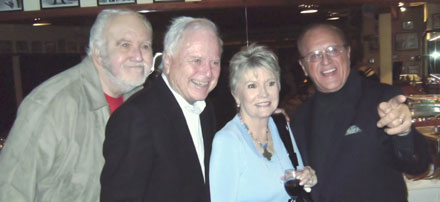 (The lady appearing here is Mrs. Betty McCann, Chuck's wife.)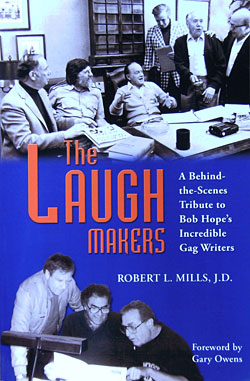 I've also attached an excerpted chapter from my book, the stories in it are always very popular on my cruise ship lectures. Civilians love it when showfolk get themselves into deep doo-doo.
Thanks Bob! If you're a fan of Bob Hope - or of that grand era of show biz in general - you'll love Bob Mill's book The Laugh Makers. It's chock full of stories from his days as a writer for the Bob Hope Specials. There will never be another Hope and his writers were held in the highest esteem not just by the industry in general but by the legendary comedian himself.
Friday, June 26, 2009 - 2:56am
WOULD YOU LIKE TO RESPOND?
NEW SHOW REVIEW
Shouting Fire: Stories From the Edge of Free Speech debuts on Monday June 29th, another brilliant but ultimately disturbing HBO documentary that may have you rethinking what being an American means today.
The documentary takes a balanced approach. It's not just left-wingers that are being marginalized in this nationwide assault on our freedoms, this revealing film looks at several examples across the spectrum - like the egregious crackdown on protesters at the 2004 Republican convention and a conservative high schooler's battle with teachers and administrators over a controversial T-shirt he felt he had a right to wear.
All along the way these individuals run smack up against enforcers determined to protect ourselves from ourselves and media scolds who take to the airwaves to inflame otherwise benign situations merely because of what someone said. Remember all that BS over Ward Churchill after 9/11? It's examined here in detail.
You can observe these ad hominem attacks happening all the time now - just yesterday Michael Savage threatened to publish "full pictures and other pertinent information about" Media Matters employees in a veiled threat of violence, calling the organization a "Stalinist group." Have you ever been to Media Matters? All they do is point out inaccuracies in the media in a very straight forward way and for this they've been demonized by the right wing media. The folks yelling the loudest about fascism are the ones that brought it on over the last few years, the ones that smelt it dealt it so to speak, and this documentary is a stark reminder of how fragile our freedoms really are.
Friday, June 26, 2009 - 1:27am
WOULD YOU LIKE TO RESPOND?
FARRAH
New York, N.Y. – June 25, 2009 – "Dateline NBC" will air "Farrah Fawcett: The Life and Death of an Angel," a very special tribute to Farrah tonight from 10-11 PM ET. In addition to a look at Farrah's life and her battle with cancer, the hour-long tribute will share recent interviews with Ryan O'Neal, Alana Stewart, her dad, sister, fellow "Charlie's Angel" Kate Jackson, and never before aired parts of a 1997 interview with Stone Phillips.

On Friday, June 26, 9-11 PM ET, NBC News will re-broadcast "Farrah's Story," a two-hour documentary about Farrah Fawcett's battle with cancer that she shot with her own video camera over the past two and a half years. The special, which first aired last month on NBC, is intensely intimate and emotional. It is Farrah's story in her own words as she explains her battle and her journey with cancer, and it is her narration that tells this story.
Thursday, June 25, 2009 - 4:30pm
WOULD YOU LIKE TO RESPOND?
Ed
Kevin Butler writes about his experience working with Ed McMahon: I worked with Mr. Ed McMahon on Alf's Hit Talk Show back in 2004 and he was nice to me. When we were in the make up room, his daughter and granddaughter were there and I told them that I remembered watching their grandpa play an unsympathetic senator in "The Enormous Egg" on the NBC TV Children's Theater and he was Ms. Shari Lewis' co-host and announcer for the NBC TV broadcasts of the NYC Macy's Thanksgiving Day Parades back in the 1970s. His granddaughter said to me, "Did my granddad really do those things on NBC back then Mr. Butler?" And Mr. McMahon said, "Yes! I did honey... I did more than just say 'And HEEEEEEEEERRRRRRREEEEEE's Johnny' in my career... I'm surprised that you even remember that Kevin!"
I told him that I did remember watching those shows and he was very engaging; he also introduced me to his granddaughter and daughter as "The Funniest Man In The World." I was embarrassed by his compliment and I said to him, "Oh come on Mr. McMahon... I'm not that funny. I'm a good comic/character actor but I'm not that great. I'm not being disrespectful sir but..."
He replied, "You are Kevin. You're really a very funny man." I tried to tell his daughter and granddaughter that, "I'm not a great comedic artist and that type of adjective belongs to someone like Charlie Chaplin" but Mr. McMahon gave me that compliment and so... I accepted it.
A true gentleman and a sad loss of someone who did a great job mainly as a broadcasting personality, not so much as a performer- who sadly was besieged recently by financial, legal and health problems.
Mirrors pretty much everything I've heard about the gut - he was one of the good ones.
Thursday, June 25, 2009 - 10:20am
WOULD YOU LIKE TO RESPOND?
Read more Blog entries here!