* Classic & Current Television Blog *

MAD MEN AND ENGLISHMEN
Have you noticed that everyone's talking about Mad Men? No wonder, I just watched season 2 on DVD and it's a remarkable achievement in television art. Visually it's amazing colorful eye candy, I'm always trying to find something incongruous but everything seems to be time period correct (it's a little before my day but not by much). From a story and performance level the show can't be beat, with intriguing twists and turns and a supporting cast of characters that are so vividly drawn you forget it's a TV show you're watching. And the ad campaigns they discuss are based on actual advertisements from the era! Season three got off to a roaring start on AMC, the critics are raving and audience number are up 30% this year.
Speaking of ratings spike True Blood's numbers are up as well. That show ultimately left me cold after a good start - but that's just me. I'm really enjoying the third season of Dexter right now, though, another show that has kept up the quality from year to year.
Just for laughs here's the immortal Noel Coward from a live 1955 CBS TV broadcast.
A judge has ruled against a dumbass film producer that sued Paris Hilton for failing to properly promote the 2006 movie bomb Pledge This. You hired Paris Hilton to star in your movie and you expected to make money on it?!? Ha ha ha ha ha!
Meanwhile, here's Family Guy's bid for Emmy votes, pretty funny stuff.
Remember when the network's had fall preview shows with clips from upcoming shows? That practice ended decades ago but CBS is reviving the concept with a half-hour special hosted by the cast of How I Met Your Mother airing on Wednesday, Sept. 2 at 8:30.
Finally, if this is an indication of what Jay Leno's new show is going to be like it could be good. This spot is running in movie theaters across the USA.
Wednesday, August 19, 2009 - 10:43am
WOULD YOU LIKE TO RESPOND?
STUFF
I've been light blogging lately, trying to get ahead of projects outside TVparty-land. It better be worth it!
Sean Dougherty writes: One of the crew of the Enola Gay was a radio actor, Jack Bivans, who passed away last week. An obituary put together by his friend Randy Larson is attached if it's worth mentioning on the blog. I don't think I've met anyone else who is buried at Arlington National Cemetery. According to this biography page, he was on Sky King in early television.

Here's a clip from THE SIMPSONS: SEASON 12 which goes on sale today:
Tuesday, August 18, 2009 - 10:30am
WOULD YOU LIKE TO RESPOND?
GO OUT AND BE SOMEBODY!
For all y'all Yankees up North check out this cool band, The Holy Ghost Tent Revival. I've seen them a few times and they're loads of fun and coming to a venue near you.
Pittsburgh, Pennsylvania-Thunderbird Cafe w/ The Armadillos
Thu, 20 Aug 2009 8:00PM
-
Philadelphia, Pennsylvania-The M Room w/ And The Moneynotes
Fri, 21 Aug 2009 10:00PM
-
Scranton, Pennsylvania-Salter's Cafe w/ And The Moneynotes
Sat, 22 Aug 2009 8:00PM
-
Rochester, New York-The Bug Jar w/ And The Moneynotes
Sun, 23 Aug 2009 10:00PM
-
Montour Falls, New York-Harvest Cafe
Tue, 25 Aug 2009 6:00PM
-
Sommerville, Massachusetts-Johnny D's Uptown
Wed, 26 Aug 2009 10:00PM
-
Portland, Maine-One Longfellow Square
Thu, 27 Aug 2009 8:00PM
-
Great Barrington, Massachusetts-Club Helsinki
Fri, 28 Aug 2009 9:00PM
-
Montpelier, Vermont-Langdon St Cafe
Sat, 29 Aug 2009 9:00PM
-
Danbury, Connecticut-SubRosa Party @ Cousin Larry's Cafe
Sun, 30 Aug 2009 9:00PM
-
New Haven, Connecticut-Cafe Nine
Wed, 2 Sep 2009 9:00PM
-
New York, New York-The Living Room
Thu, 3 Sep 2009 8:00PM
-
Brooklyn, New York-Southpaw
Fri, 4 Sep 2009 8:00PM
-
There's more here.
Sunday, August 16, 2009 - 7:00am
WOULD YOU LIKE TO RESPOND?
NOW THIS IS FUNNY!!!
Justin Kaplowitz points us in this direction: Wasn't sure if you had put this up yet, but It's a song by "Weird" Al Yankovic & jibjab.com paying homage to the great Charles Nelson Reilly. I don't know the exact name of the song he's spoofing (something by the White Stripes...I think), but I figure this would be right up your alley.
Friday, August 14, 2009 - 9:38am
WOULD YOU LIKE TO RESPOND?

BLOG RERUN
Damn that Lee Goldberg! Not only has he written some of the best books about television (Unsold TV Pilots, Successful Television Writing), and penned some amazing novelizations of shows (Monk, Diagnosis Murder) and written scripts for some of the most critically acclaimed series of all time (Seaquest, Sliders) but he also has a Blog that just ate up 3 hours of my time because I couldn't stop reading. The great thing about Lee is that he's not only talented but he's a really nice guy as well.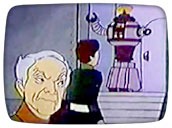 On his Blog was posted this revolting 1973 Lost In Space animated reimagining by Hanna-Barbera, this was a pilot produced for the Saturday Superstar Movie. Jonathan Harris provided the voice of Dr. Smith, the only original cast member to be involved and the only recognizable character other that the 'robon' which looks kinda sorta similar to the Robinson's pet robot.
Friday, August 14, 2009 - 8:55am
WOULD YOU LIKE TO RESPOND?
MAIL!
OM responds to my central time zone query: I once heard one of LBJ's people at KTBC explain this to me over 40 years ago: the East Coast needed that extra hour to get home because their weather was worse than ours more months out of the year, and it could take longer to get home. Some years later, that same engineer remembered the conversation we'd had, and asked me if I'd seen the Bob Newhart show, and noticed how he took trains to and from work. We didn't have to do that in Austin, or pretty much anywhere in Texas or the Central Time Zone outside of Chicago, but it proved the point.

…There's other factors involved in the digital delay issues, but right now I'm not sure what NAB, the FCC, and the networks have evolved them into from the days when Douglass Edwards and John Cameron Swayze were coast-to-coast thanks to this wonderful transcontinental cable feed.

In any case, should you decide to write up that article on the JFK coverage, let me know. You probably won't be surprised, but the percentage of who watched what of A11 pretty much mirrored that of JFK. See-BS first, NBC significantly second, and ABC somewhere between the toilet and the plumbing….

Sean Dougherty adds: You might also want to mention that Max Schmid, host of The Golden Age of Radio on WBAI-FM in New York City did a salute to Walter Cronkite as part of his program last week, which can be found here. He included several news segments based on Cronkite's reporting.

Jay Blotcher writes: My article in this month's Roll -- available now -- is all about the 40th anniversary of Woodstock. It includes interviews with Woodstock co-organizer Michael Lang on his memoir, The Road to Woodstock Elliot Tiber on his memoir Taking Woodstock and James Schamus, screenwriter- producer of the new Ang Lee film Taking Woodstock.
Wednesday, August 12, 2009 - 8:05am
WOULD YOU LIKE TO RESPOND?
Read more Blog entries here!