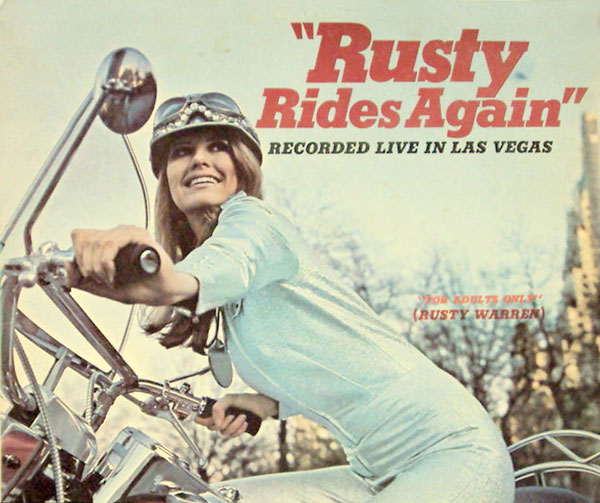 WORKING DIRTY
Rusty Warren is a risque nightclub comic with a series of albums with titles like Knockers Up and Songs For Sinners. I say risque because, while she was considered a dirty act in the 1960s, it's tame stuff by today's standards. More suggestive than vulgar. It had to be, remember what happened to Lenny Bruce and Jim Morrison? But in 1960 the idea of a woman comic talking about sex and intimacy was unheard of. Rusty Warren never achieved great fame but she blazed a trail for all who followed and she's the subject of a DVD documentary Knockers Up: The Lady Behind The Laughs.
She may not have been the funniest comedian back in the day, more of a novelty act really, but I miss that old style nightclub act, the kind that mostly died out after the 1970s partly thanks to TV and disco. Once people started to go out dancing in the mid-1970s the lounge act circuit collapsed. Here's the lady in more recent times entertaining at the piano and doing her 'hit' 'Knockers Up.' (Skip to minute four to see Rusty.) Watching this makes me wonder if modern audiences are too rude for this type of entertainment.
One of the women who came up behind Rusty Warren was LaWanda Page, best known as Aunt Ester on Sanford & Son. Her act was decidedly more vulgar but then, by the late-1960s, things started to loosen up. This is definitely not safe for work as you'll discover in the first few seconds!
Sunday, September 14, 2010 - 8:50am
WOULD YOU LIKE TO RESPOND
BOYS WILL BE BOYS
I spent many an hour on Sundays growing up watching the old Dead End Kids / East Side Kids / Bowery Boys movies on TV. Here's a sampling of Bowery Boys moments, these were silly little films but the cast was so darn good I couldn't get enough.
The history of the films is convoluted, with studio firings, cast changes, and the quality of the films varied wildly in quality. Apparently there was an attempt to launch a new Leo Gorcey / Hunts Hall movie in the 1960s thanks to the popularity of those TV reruns but it never got off the ground.
Despite making 41 (or more depending how you count them) film comedies over a twenty one year span, the boys, together and separate, had a checkered Hollywood career. Hall and Dell performed a nightclub act together but faded from the spotlight; the last film they did together was The Sphinx in 1970.
Sunday, September 12, 2010 - 11:58am
WOULD YOU LIKE TO RESPOND
LAUGH MAKERS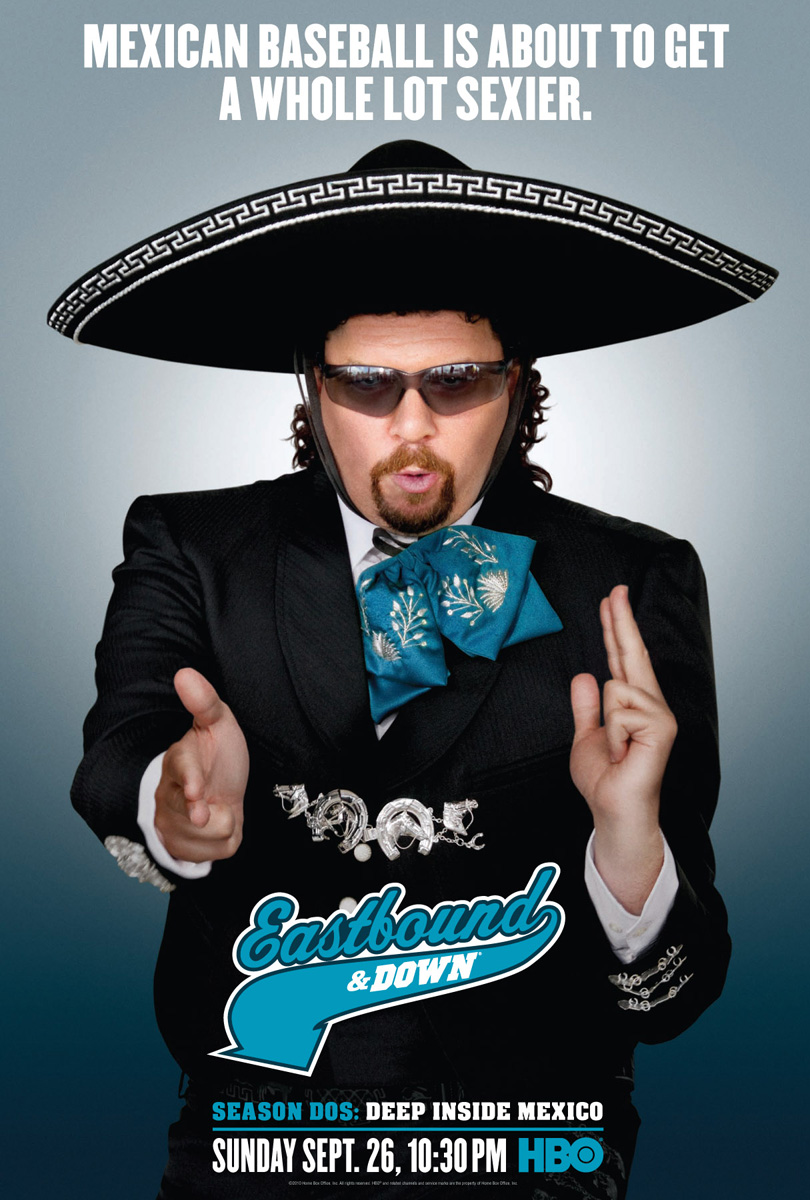 HBO has a great series returning Sunday, September 26 - EASTBOUND & DOWN - here's the official Season 2 poster.
Roger Ebert At The Movies will begin soon on PBS which is great news. I always felt he gave the most honest film reviews.

Bob Hope writer Bob Mills has a new web site about the comedian you're sure to enjoy. His book on Bob Hope, THE LAUGH MAKERS: A Behind-the-Scenes Tribute to Bob Hope's Incredible Gag Writers, is now on Kindle and audio book. Those of you on the West Coast can see Bob when he does a talk and signing at the Glendale Library Auditorium on 9/22. You have no excuse not to read it now - and the book has earned a five star rating on Amazon.
I've posted this before I think but it's so funny - The Hollywood Squares outtake reel.
Sunday, September 12, 2010 - 7:40am
WOULD YOU LIKE TO RESPOND
TV BLOG SUMMER RERUN
Gene Rayburn takes you on a tour of the CBS Television Center studio where The Carol Burnett Show was filmed, in addition to Match Game and The Price is Right.
Thursday, September 9, 2010 - 11:00am
WOULD YOU LIKE TO RESPOND
GOLDEN OLDIES & MORE
This is an interesting story: The legendary KCBQ-San Diego jocks and newsmen from decades past gathered at the original site in Santee (now Kohl's parking lot alongside Mission Gorge Road) of the Top 40 station where what is believed to be the first monument to a Top 40 era station has been unveiled. For two rockin' decades from 1958 to 1978, KCBQ 1170 AM was the number one radio choice, at times attracting 60% of the listenership.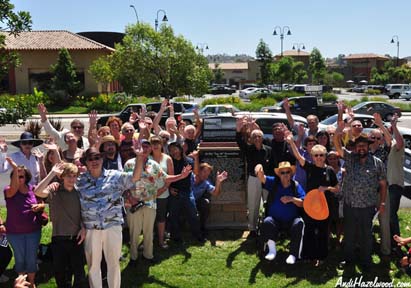 About 400 former KCBQ personalities and fans of the station gathered last Saturday afternoon for the monumental unveiling. "KCBQ changed the lives of all those involved on air – and fans everywhere," wrote Chris Carmichael, owner and publisher of the San Diego-based SDRadio.net. "Captivating for those who were fortunate to hear and share its trend-setting music and original Top 40 radio personalities, news and staff, KCBQ provided entertainment, music and information for San Diego. The station became legendary and was often copied but never duplicated, KCBQ was one of the most listened to stations in San Diego and known world-wide for its programming excellence."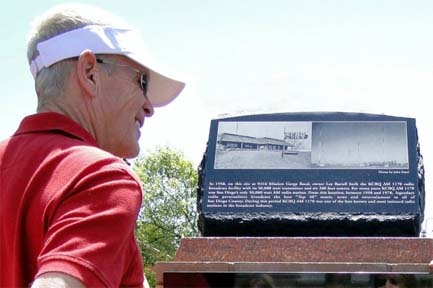 With on-air hosts such as Jack Vincent, Don Howard, Casey B. Quack, Scotty Day,Magic Christian, Gary Allyn, Neil Ross, Charlie Tuna, and many others, KCBQ put San Diego on the radio map and it was a destination that many wanted to work at. "It was an amazing day," said Shotgun Tom Kelly. Tom spearheaded the event and believes it is the first time that a radio monument exists that pays tribute to those who entertained the local community. "Most of the 400 people who attended were just fans who brought along station albums and surveys with the hopes of getting some autographs," said Tom.
David Bianculli and friends just launched a redesigned version of TV Worth Watching. That's a web site worth visting.
Wednesday, September 8, 2010 - 8:56am
WOULD YOU LIKE TO RESPOND
ANNIVERSARY OF TERROR
(Sounds like a 1970's TV movie huh?) It was on this date 70 years ago that the German bombing blitz of London began. Rare color footage has been found of the devastation on Oxford street during one of those raids, shot by an air raid warden with his home movie equipment. Isn't it great that Queen Elizabeth, who was so brave and noble during that dangerous time, is still with us? What a treasure, a stark contrast to the cowardly quacks we have running our country today on a campaign of fear.
Tuesday, September 7, 2010 - 8:56am
WOULD YOU LIKE TO RESPOND
Read more TV Blog entries here