* Classic & Current Television Blog *
WHITE TRASH MONDAY
Here's a skit from The Carol Burnett Show with Eunice and her evil sister Ellen (Betty White) celebrating Mama's birthday.
This next one of the funniest videos I've seen in weeks - it has to be a parody, right? RIGHT?!?!?!?!?
Switch to teabags, kid, you just set Southerners back a half-century (not that we needed any help lately). Then again, I think he's just aced a spot on Fox News.
Monday, September 28, 2009 12:12pm
WOULD YOU LIKE TO RESPOND?
JACK KIRBY
It's been fifteen years since the passing of one of America's greatest talents, Jack Kirby. The comic book legend made a few appearances on TV, not many for a man of his stature, but there you go.
Since he was the co-creator of The Incredible Hulk it was only fitting that he make a cameo appearance on the TV series as a police sketch artist. The short clip is followed by a bit from the Merry Marvel Marching Society song which was available by mail order in the sixties.
Another biggest guest shot was on Bob, a Bob Newhart sitcom where the comedian played a comic book artist. On one episode 'King' Kirby and his wife Roz made a brief appearance.
Jack Kirby was the King of comics in the same way Elvis was the King. I had the pleasure of talking with the man in the early-nineties at the Golden Apple store in Hollywood. Unbeknownst to me he was making an appearance there, as I was walking out of the store I was flabbergasted to see Kirby and I stopped to tell him how much his work meant to me growing up. I almost feel sorry for those of you who missed out on going to the newsstand (what's that?!?) or the drug store and seeing the latest Kirby masterpiece on the racks.
One of my most vivid memories - in the 1970s comics where I lived, for some unknown reason, came out a month after they did everywhere else. Even the towns next door got their comics on time but not us. On Christmas day it was lightly snowing and I had a pocket full of cash from the relatives and no place to spend it.
A store doing on Christmas day? Preposterous. I knew that, but as I was walking I noticed the 7-11 had their sign lit. Maybe they were open, it was a short walk to find out. Of course, they were closed. But on the comic rack I spied the book I'd been waiting for for probably 6 months or more - New Gods number 1. I freaked, I'd checked all of the usual places the day before yet here it was, plain as day. Needless to say I was at the store at 7 on the dot the next morning. The store clerk wasn't there for another couple of hours, naturally, just to torture me I guess.
Want to know more about Jack Kirby? Here's a tribute and interview from a 1993 public access show called Prisoners of Gravity. This was the year before he died. The Kirby estate is right now suing Marvel for ownership over some of the characters he created and I hope they prevail.
Saturday, September 26, 2009 12:52pm
WOULD YOU LIKE TO RESPOND?
STUFF
I'm recovering from the flu - I somehow managed to avoid the swine kind but it's the first time I've gotten sick in at least a decade. Ha!
Did you know Captain Kirk never actually said "Beam me up Scotty" on any of the various Star Trek incarnations? The closest he came was in two of the animated episodes where he said, "Beam us up, Scotty." Kirk's middle name Tiberious also originated in the animated series. Speaking of Star Trek Animated, some guy on the net has created a new episode here. I'm not recommending it exactly, just pointing it out for your Saturday enjoyment.

Ken Levine has an interesting post about how unlikely it is that an industry outsider could ever get a spec script for a TV show picked up. That reminded me of a story.
When I was working for Seiniger Advertising creating artwork for movie posters in 1988 we had an intern who was leaving. Seems he and a friend wrote a plot synopsis, totally on their own, for an episode of Hooperman starring John Ritter. One of their dads worked as a cameraman on the show (this is all from my all too often faulty memory bank) and he agreed to show the storyline to a producer who bought the story. The intern was over the moon, they'd made $10,000 for a two page plotline about a dog that farts, based on a true story. If I'm not mistaken that episode became one of the most talked about of the series' two season run. I wonder whatever happened to that guy - of course I've long since forgotten the intern's name. We usually had some interesting interns there, one was Jennifer, the granddaughter of William S. Paley. She was really sweet.
Saturday, September 26, 2009 10:05am
WOULD YOU LIKE TO RESPOND?
LIFELESS ON MARS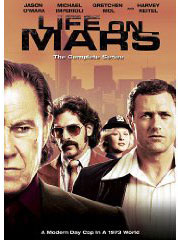 Take a proven winner of a concept, pair that with one of the best casts a TV show ever had - including Harvey Keitel and an almost unrecognizable (except for that distinctive voice) Michael Imperioli - and what do you get? A flopping fish gasping for air on the shore.

The problem? The UK version of Life on Mars effortlessly integrates the time travel / fish out of water idea but the American version uses the concept as a pretense to hang the weekly storyline on. Trouble is, the crimes that make up each episode are just not that interesting.
The guest stars on each episode are tip top, with some of my favorite actors from The Wire and Rescue Me appearing, but without strong scripts the whole affair is an exercise in futility. The only elements that work here are lifted directly from the British version.
It's a leaden, dead-weight of a show that ignores 1973 consciousness in favor of top 40 music and the less flamboyant fashions of the time.
A Black liberation group kidnaps two NYC police officers, lets them go and there's no retaliation? This is the era of counterintelpro, where even peaceful Black Panther leaders were killed in their beds by cops, I don't think so! A pirate radio station operating within the city confines and it can't be found? Right.
Watching the British version, I couldn't find one discrepancy - maybe that's because I didn't grow up there (I did live there for a while) but even the 1970's decor doesn't feel right here. Whereas the BBC series has a ring of truth to it, right down to the wallpaper and drapes, the yankee production looks like it was shot in a New Jersey thrift store.
I mean, if Mad Men can get the sixties right the seventies should be easy peasy. Then again, Mad Men works because the specificity of the year they're operating in is baked into the cake not smeared across the top; 1973 seems to be an afterthought on Life on Mars.
I say this with a heavy heart because I was really looking forward to this DVD release, I love almost any movie or TV series that concerns time travel. Thank goodness Life on Mars lives on in Great Britain.
Thursday, September 24, 2009 11:46am
WOULD YOU LIKE TO RESPOND?
TV NEWS
Did you see the Emmy Awards last night? Not me, I was out partying - but it looks like everyone who won really deserved it this year, with Mad Men and 30 Rock winning top honors.
Check this out - Ed O'Neill (Married with Children) and Julie Bowen (Boston Legal) are the stars of what Entertainment Weekly calls, "The fall's funniest new comedy." It debuts Wednesday night, Sept. 23rd at 9/8c on ABC. Here's the official show site.
It's Always Sunny in Philadelphia continues on its winning streak - ratings are up 22 percent in total viewers for the season premiere, as much as 76 percent among adults 18-34.
George Takei and his husband will be appearing on The Newlywed Game - who even knew that show was back in production? Anyway, they'll be the first gay couple in the program's history. Here's a few minutes of a classic Newlywed Game episode from the 1980s, always good for a laugh or two - "What's the one thing you refuse to let your wife put on your weiner?"
Monday, September 21, 2009 10:27am
WOULD YOU LIKE TO RESPOND?
SUNDAY LAUGHS
OK, I admit it - I like to laugh at stupid people. Believe me, I give lots of folks something to laugh at myself, but at least I haven't yet made a fool out of myself on national TV. Unlike these guys - who prolly should have thought twice about going on that game show. For instance, is this the dumbest family ever to appear on The Family Feud?
More silly contestants with astonishing answers - where do they find these people?!?
Here are some racy game show moments...
Sunday, September 20, 2009 1:56pm
WOULD YOU LIKE TO RESPOND?
Read more Blog entries here!