* Classic & Current Television Blog *
CRONKITE
I suppose if you're not of my generation it's difficult to comprehend the impact Walter Cronkite had on the nation during his tenure. Just as boomers were coming of age Cronkite was solidifying his reputation as America's Most Trusted News Anchor. Back when that actually meant something. Was the media landscape a better place then? Heck no, for the most part ordinary Americans had no access to a mass audience at that time. Maybe the pendulum has swung too far in the opposite direction but what can you do once the electronic gates are torn down?
Cronkite hosted the popular early TV series You Are There, mock newscasts that reenacted major historical events. Watching on a small screen with snowy reception it looked pretty darn good, it was a little like looking into a time machine. The show was revived as a kid show on Saturday mornings in 1971 without much success. Here's an example:
That show didn't stand a chance before an audience of kids fed a high fructose Saturday morning diet consisting of cartoons like Scooby Doo, The Archies, Jackson 5ive, not to mention the Funky Phantom. A Mister Wizard revival also failed that season. See what else was on TV on Saturday mornings back in 1971 here. Many of us remember watching episodes of the original You Are There in Jr. High history classes.
Saturday, July 18, 2009 - 9:27am
WOULD YOU LIKE TO RESPOND?
NEW SHOW REVIEW: Prom Night in Mississippi

Can you even conceive in this day and age that a high school would have separate proms for white and black kids? I grew up in the South but that sort of thing wouldn't have taken place in my time despite the fresh wounds of busing. We all just got along, no big deal.

And that appears to be the case at Charleston High in Mississippi, but down deep in Dixie things are slow to change. Seriously slow. The kids are alright, it's mostly the parents that are out of sync with the times.

That's when none other than Oscar winner Morgan Freeman steps in. He spent a few years growing up in the town as a toddler and, when he heard about the continuing separate dances tradition in Charleston, Mississippi, he offered to pay for an integrated prom.
Of course, the senior class has to agree to it, as do school administrators who do an artful of dance around the hot tempers and cool egos - not to mention the ever-present cameras.
Filmmakers did a great job of staying out of the way of this story, letting the participants shine. It's a journey of discovery for everyone involved, especially for the viewer - riveting, shocking, life affirming are words that come to mind to describe this telefilm.

Ironically, I didn't go to my prom because I thought it was stupid - but if we'd had segregated proms I'd have gone for sure. To the black prom. So maybe it's not such a bad idea after all.
Watch Prom Night in Mississippi on HBO beginning Monday, July 20th and ask yourself could this happen here? Oh, yeah, it did. Click for more info on HBO's summer documentary series.
Thursday, July 16, 2009 - 10:46am
WOULD YOU LIKE TO RESPOND?

WHAT WE MISSED
Mitchell Hadley of My Word & Welcome To It writes: Hope all is well. I've pulled out another of my old TV Guides - this one from the week of February 3, 1968. It was the start of the Winter Olympics, among other things, but what really caught my eye was the lineup of guests for the Tonight Show for that week.
Johnny was on vacation, and the guest host for the entire week was singer/actor/activist Harry Belafonte. (Talk shows really were different when they had guest hosts, weren't they? And by the way, perhaps some of the blog's readers would know if Belafonte was the first black guest host of the Tonight show.) Check out this lineup of guests - and keep in mind, this was for a guest host!
Monday: Senator and Mrs. Robert F. Kennedy, Bill Cosby, Lena Horne, and actress Melina Mercouri and her husband, movie producer Jules Dasin.
Tuesday: Zero Mostel, Diahann Carool, Petula Clark, folk singers Sonny Terry and Brownie McGhee, and ski expert Ken White.
Wednesday: Sidney Poitier, Dionne Warwick, George London and Marianne Moore.
Thursday: Dr. Martin Luther King Jr., Paul Newman, and Nipsey Russell.
Friday: Robert Goulet, Aretha Franklin, and Thomas Hoving (director of the Metropolitan Museum of Art).
Can you believe that lineup? A lot of younger people might not recognize everyone listed, but I'm sure most of your readers will realize these guests were huge names! Hard to believe you could have that kind of talent. I'm sure Belafonte must have had something to do with choosing the lineup - he probably knew or had worked with many of them personally, and guests such as King and Kennedy certainly would have reflected Harry's own political philosophy.
I wrote about it more today (http://hadleyblog.blogspot.com/2009/07/be-my-guest.html), but I thought you might enjoy sharing the guest lineup at least.
Wouldn't a DVD release of Tonight shows with guest hosts be a great idea?
Thursday, July 16, 2009 - 10:26am
WOULD YOU LIKE TO RESPOND?
TWO MORE LOSSES
We lost two more talented gentlemen. Dallas McKennon, the cartoon voice Gumby, Archie Andrews for Filmation's Archie series, and Buzz Buzzard in the Woody Woodpecker cartoons. From his obit: In the early 1950s, McKennon created and hosted his own daily kids TV wraparound show, Space Funnies/Capt. Jet, which was seen weekday mornings on KNXT (KCBS) TV Ch. 2 in Hollywood, California. Space Funnies was the first Los Angeles-based kids show to air reruns of The Little Rascals and Laurel & Hardy film comedies. He was also the primary voice actor for the 1960 cartoon series Q.T. Hush.
Philadelphia based kid show host Joseph P. (Joe) Earley aka Mr. Rivets passed away last week. Here's a rare audio clip.
Kevin S. Butler has more: In 1960, Trans Artists TV Prods. and Sam Singer TV Prods. created, produced and released for the first time "The Adventures of Courageous Cat & Minute Mouse" to national syndication. The films featuring the crime fighting efforts of two superheroes who protected Empire City from such super crooks as "The Frog", "Harry Ape", "Rodney Rodent", "Big Shot & Little Shot" (bulldog robbers), "Foxy Fox", "Robber Rabbit & Screwy Squirrel", "The Black Cat", "Darrell Hambone" and Courageous' evil cousin "Outrageous Cat."
Dal did the voices for all of these characters; the films were seen weekday evenings and mornings and Sunday afternoons on "The Tommy Seven Show" over WABC 7 in NYC from Monday September 12, 1960 to May of 1963. (Entertainer Ed Bakey played "Tommy Seven," the sad faced tramp clown; "Q.T. Hush" was also seen on WABC's "Tommy Seven Show.") The films were later seen on "The Felix The Cat Show" on WPIX 11 in NYC hosted weekday evenings by "Officer Joe" Bolton from 1970 to 1971.
The last time "CC & MM" cartoons were seen on TV was on Nickelodeon's "Weinerville" weekday, Saturday and Sunday afternoons in the early 1990s. Marc Weiner was the host of this series which was not a big hit.
In the early 1970s, Joe Early created, produced and hosted a mini-series of educational kiddie specials titled "Come Along." The series, which was first seen in the Philadelphia viewing area and later on WABC 7 in 1973, had Mr. Early portraying famous men from history like President Teddy Roosevelt, Gen. George Washington, Gen. Robert E. Lee, Captain Miles Standish, Gen. (later president) Ulysses S. Grant, Dr. Alexander Graham Bell, Leonardo Da Vinci, Christopher Columbus, Chief Sitting Bull, Dr. Ben Franklin and Marco Polo. The series was seen Sunday evenings on WABC TV Ch. 7 in NYC on a bi-monthly basis in 1973.
WABC TV Ch. 7 reran the shows on Sunday mornings two years later and it was very popular with kids and with educators. Mr. Early also played famous persons on Ed T. McDonnell's local WNAC TV Boston kid's program "The Major Mudd Show" and was a regular on Mr. & Mrs. Steve Allen's PBS series "Meeting Of The Minds."
Wednesday, July 15, 2009 - 7:30am
WOULD YOU LIKE TO RESPOND?

NEW DVD RELEASE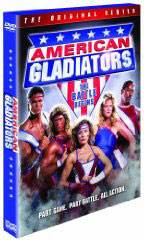 American Gladiators (The Original Series): The Battle Begins
American Gladiators was one of the most popular shows at the dawn of the 1990s, a weekly battlefest that inexplicably captured the zeitgeist of the times and changed to look of the nation. No, really, it did.
These smack-talking American Gladiators all had snappy names: Blaze, Gemini, Gold, Lace, Laser, Malibu, Nitro, Sunny, Titan, and Zap are the stars here. Muscles bulging, these spandex clad guys and gals were like the Legion of Superheroes, only instead of superpowers they had a singular personality type.
Faces painted with that harsh, late-'80s makeup and festooned with emblematic headbands, they faced off against real folks in competitions like joisting, dodging tennis ball gunfire, modified basketball games, wrestling, and various daredevil feats.
It's hard to convey just how massive a hit with the guys this series was when it debuted. The eighties had become defined by the Breakfast Club look, a vague sense of androgyny and that Polo shirt preppy look. As with all fads the reversal came hard and fast - and it was largely due to this 1989-1996 series.
American Gladiators sparked the beginning of the pumped up male as an ideal in the media, the gym culture (as we know today) grew out of the resulting explosion of people rushing out to get that American Gladiator buff. And it's been that way ever since.

Joe Theisman hosts. Enjoy Ninja Warrior? You'll love American Gladiators, a big steaming gob of '80's cheese that's fast paced and holds up well. Great for lazy weekends and the kids are sure to love it because it's all good clean fun.
Tuesday, July 14, 2009 - 7:34am
WOULD YOU LIKE TO RESPOND?
THAT'S TRUTH IN ADVERTISING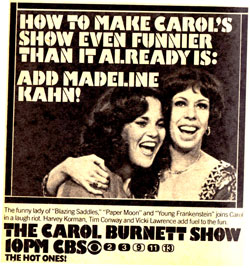 There were few shows on television that I enjoyed more than The Carol Burnett Show. I remember in the mid-'80s sneaking away for lunch at the Shakeys on Santa Monica Blvd in Hollywood because they not only had a killer buffet but the TV above the bar was tuned to reruns of Burnett's show (Carol Burnett & Friends). Man, I'd like to have some of those fried potatoes now - and I was always fond of their pizza as well.
Not as good as Round Table's but I'm digressing heavily.
Anyhow, my very favorite Burnett show skit is this one with guest star Madeline Kahn. Too bad it's edited and my favorite moment from the skit is snipped ("In our circles, in our circles, in our circles...").
The Lola Falana specials from 1976 are coming to DVD, here's part of a skit featuring Willie Tyler & Lester.
Still in a seventies' mood? Here's a prime-time commercial break from WFLD in Chicago circa 1972. Seems really primitive doesn't it?
Saturday, July 11, 2009 - 9:27am
WOULD YOU LIKE TO RESPOND?