* Classic & Current Television Blog *
MONDAY MUSINGS
The new Jay Leno program debuts tonight - his special guests tonight are Dean Martin, Frank Sinatra, Jerry Vale, Sonny & Cher, and comic Totie Fields. I can't wait!
Paul Burke, Det. Adam Flint in "Naked City," died Sunday. He was 83. He also had a recurring role in the primetime soap opera "Dynasty" from 1982-1988. Thanks to Jay Blotcher for the tip.
When I pointed out Friday that more museums should be hosting tributes to local TV shows Kevin Butler points out: There are three museums that did honored the kid's TV shows from Chicago, NYC and L.A. The Museum Of Broadcast Communications honored their shows a their special tribute "Puppets, Prizes and Pies," the Museum Of TV & Radio (now known as The Paley Center For Media) honored the kid's TV shows of NYC and later on the shows from Hollywood. There are not a lot of other broadcast museums in this country - there is one in Baltimore but I don't know if they have honored the local shows that aired in the Baltimore / Washington, D.C., Virgina and West Virgina viewing areas.

Hopefully, there will be a museum one day dedicated to kid's TV. There was a children's television museum in Hollywood situated within the confines of the Waddles Mansion but it was simply a repository of memorbillia and not a true living museum dedicated to children's television history and thus the Museum Of Children's Television at The Waddles Mansion failed and was shut down.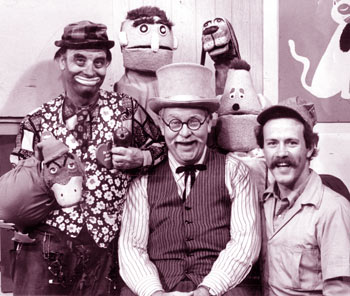 Actually, my point was why don't city museums with no broadcast agenda do their own tributes? James Counts and myself hosted a tribute to central North Carolina's Old Rebel Show in 1999 at the downtown Greensboro library and it was a big success— although nothing along the lines of the crowds Julian West is drawing.
Just a few months ago WFMY celebrated their 60th anniversary and had a tribute to the Old Rebel at the Children's Museum with Timm Perry donning his dad's familiar top hat. Boomers brought their kids, as they did to the library event. Museums are always looking for ways to bring new people in...
Monday, September 14, 2009 9:23am
WOULD YOU LIKE TO RESPOND?
WHY AREN'T MORE MUSEUMS DOING THIS?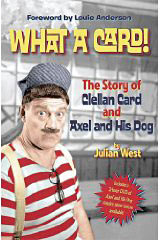 Julian West writes about the kid show event in the Twin Cities: The show last night was fantastic, better than even I hoped it could be. I'm sorry that not everyone who wanted to attend was able to get in. They probably could have sold out the 400-seat Heights Theater at least twice, maybe more. The audience was wildly enthusiastic, the special guests were great, the film clips were terrific fun, we sold a couple dozen copies of my book, and autographed even more.
But for those who missed it, the good news is that because demand for tickets was so great, they're going to repeat the event on April 22nd. I don't know if they'll be able to have all the live special guests next time, but we'll see. The Museum of Broadcasting also hopes to issue a DVD with all the film clips on it, IF they can get permission from all the parties. I'll keep you posted.
A nice article about the event appeared in last Sunday's Star Tribune and it's online here. On Wednesday morning, I made an appearance on "Rockin' in Rhythm" on KFAI radio, the community radio station and that's in their archive here. Even Minnesota Public Radio did a story on it on Thursday morning and that's online here.
And my book's going into its 3rd printing! Woo-hoo!
Saturday, September 12, 2009 1:50pm
WOULD YOU LIKE TO RESPOND?
SEVEN YEARS AGO I WROTE THIS:
How Did Network News Coverage
Of The 9/11 Terrorist Attack
Play Out On The Internet?
posted - September 12, 2001 - 11:00am
What if the Internet was your only source of news during a national tragedy. Suppose you had no television to give you the word on a breaking news story like the one we've seen recently.
That is just the predicament I encountered during the Twin Towers / Pentagon attacks. As I write this, I still have seen no coverage of the terrorist attack on the television. I was in the air when the attacks happened, en route to a vacation in London. The friend I'm staying with in England has no television (he doesn't want to pay the TV tax here!), newspapers were sold out, so I was entirely dependent on the Internet - with a 56k dial-up connection - to ferret out the news.
This situation gave me the opportunity to see which of the major American network news websites did the best job of covering the story.
Of course, TVparty has been providing streaming video and audio for over 7 years, so I took for granted that the major networks would be up to delivering the news in live-time streaming video. Sadly, that's not yet the case.
Here are my discoveries: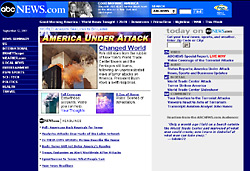 ABC News did the best job of covering the unfolding events online. Their reporting was solid and the video clips worked much better than I expected with a 56k connection.
Text stories were numerous and I was able to see amateur video of the second twin towers' crash on the site as well as an events recap. I was even able to watch live news updates as they were broadcast and see Good Morning America live in its entirety.
The front page graphics on ABCnews.com were spectacular as well, leading with a photo that on first glance looked phony to me - a fireball emanating from one of the Towers. It reminded me of the explosions we would create when I was doing graphics for the 'Die Hard' movie posters. Only this time it was all too real.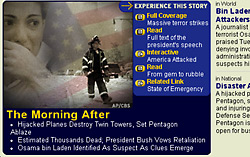 CBS News led the story with a strange graphic blending President Bush's face, the flag and smoke from the explosion. That graphic was later changed slightly to something equally weak (shown) and revised again later in the day (all the network sites frequently changed their front page graphics during the coverage).
Video on CBS.com was a no-show for me (after selecting the connection speed nothing happened).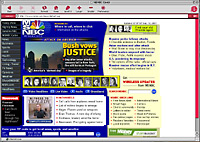 NBC News had lots of engaging text reporting, but gets a fair rating for me as far as video coverage goes - their video player required a plug-in my friend's computer didn't have. A shame, as there were a number of interesting stories to select from, clips that I assume most people would be able to access.
The ads that invited me to 'Play Blackjack Now' bothered me somewhat, but that's just a natural result of my revolution to the day's events. Everything else seems so meaningless.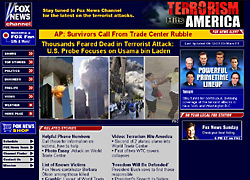 Fox News led with exciting photos, extensive coverage and tabloid-style graphics. Images were used most effectively throughout to tell the whole story, with an interactive flight path and event timelines.
The 2 lone video clips on the site were washed out, less than 30 seconds long and without any audio commentary. I couldn't watch Fox News live either, a disappointment, but at least they had some accessible multi-media.
A note should be made here about the bravery many TV journalists, displayed in those tough, uncertain hours when the unthinkable was unfolding. They were in the thick of things and demonstrated great courage and restraint by staying on the job in the most extreme circumstances. It was this consistency that kept the nation from unbridled panic - with 99% of Americans glued to the television there was no need to take hysteria to the streets.
I wonder how many Americans think of these electronic foot soldiers as real flesh and blood people? Television journalists (camerapersons and on-air talent) stood just as good a chance of being killed or injured as anyone else and they stayed on the job.
Overall, ABC did the best job of covering the tragedy as far as the Internet is corncerned, with a lot of dedicated work and a strong web platform. The Real Video stream was very robust, optimized for my slower connection and there were no stops and starts even at peak times.
Clearly, the ABC network has made a strong commitment to the Internet, working in tandem with their news gathering organization. I for one, am grateful someone got it right.
Friday, September 11, 2009 10:30am
WOULD YOU LIKE TO RESPOND?
FRIDAY SEGUES
That classic kid's shows event I told you about yesterday in the Twin Cities sold out last night. The Broadcast Museum is considering doing another night - contact them if you think that's a good idea.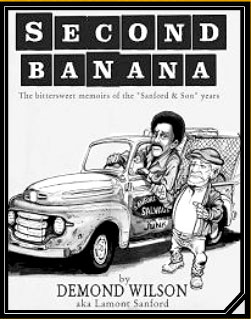 Speaking of classic TV - check out this book that is sure to be a hot read. Demond Wilson, co-star of one of my very favorite shows of the 1970s Sanford & Son, has written his memoirs and it promises to be a candid and honest look at that tumultuous production. The book hits the streets today, get your copy at 2ndbanana.net, I can't wait to read it myself!
While we're on the subject of Sanford & Son, here's my favorite scene from that series, Fred Sanford's engagement party is a bust thanks to his shrewish relatives:
More comedy - a gag reel from the DVD release of Fringe Season 1.
Kevin Butler adds to a previous post: Back in the late 1960s Army Archerd was a regular on the TV show "The Movie Game." In his segment he would describe a well-known movie or a famous film performer to the celebrity panel and the contestants on the show. They had to guess in order to earn points and win prizes. The hosts of the show were former NYC based kid's TV MC Mr. Sonny Fox and later actor/singer and game show host/panelist Mr. Larry Blyden. "The Movie Game" was first seen weekday mornings on the ABC network and later in national syndication. The show's announcer was Mr. Johnny Gilbert.
Friday, September 11, 2009 5:10am
WOULD YOU LIKE TO RESPOND?
ONCE IN A LIFETIME OPPORTUNITY
Darn I wish I'd seen this earlier, Julian West writes: This Thursday, September 10, at 7:30 p.m., The Museum of Broadcasting (952-926-8198) presents "HI KIDS! A Retrospective of Twin Cities Children's TV" at the Heights Theater, 3951 Central Avenue NE, Columbia Heights/Minneapolis. They'll be showing rare old Twin Cities children's television shows, such as Axel and His Dog, Lunch with Casey, and many others, most of which have not been seen since they first aired in the 1950s, 1960s, and 1970s.
Also scheduled to appear are: Miss Betty of Romper Room, Daryl Laub (Skipper Daryl and T.N. Tatters), Mary Davies (Carmen the Nurse), Don Stolz (Towser & Tallulah), Allan Lotsberg (Willie Ketchem), and others. I'll be there, too, selling and signing copies of my book, What a Card! The Story of Clellan Card and Axel and His Dog, in the lobby.
Tickets are only $10 for Museum sponsors & Block-Heads members; $15 for non-sponsors. To become a Museum of Broadcasting sponsor, click here. To become a member of Block-Heads, the Twin Cities tent of the Sons of the Desert (The Laurel & Hardy Fan Club), please call Tracy Tolzmann at 651-674-5149. Tickets are almost sold out, so order now!
Thursday, September 10, 2009 1:06pm
WOULD YOU LIKE TO RESPOND?
Read more Blog entries here!