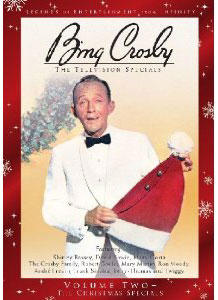 1968 TV CHRISTMAS
Bing Crosby has been getting a lot of play in this blog this holiday season. I guess it's because, more than anyone else, Bing is the archetypical Christmas TV star to me. I actually enjoyed Andy Williams a great deal more but Der Bingle's suave style seemed to embody the spirit of Christmas' past - plus he had that cold, stern personality that a lot of guys of that generation shared.
Bing hosted The Hollywood Palace Christmas fest in 1968 and he brought his family along with Jackie Gleason and The Lennon Sisters among others.
As long as we're lingering in 1968 here's a portion of Rowan & Martin's Laugh-In Holiday episode from that year.
Finally the Christmas episode from Julia in 1968, 'I'm Dreaming of a Black Christmas.' I really liked that show as a kid, I'm not sure it holds up so well, but this episode's pretty good and touching too. In it the widowed Julia tried to explain Santa's race to her son while her boss laments that people were forgetting the reason of the season. And that was 40 + years ago! I always enjoy watching classic TV Christmas episodes, they usually stray a bit from the program's usual storyline parameters.
Tuesday, December 14, 2010 - 11:00am
WOULD YOU LIKE TO RESPOND?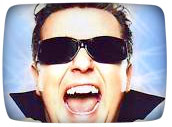 MORE ON RICKY GERVAIS
I have a much longer article at dtvusaforum.com about the conference call I participated in with Ricky Gervais the other day but I wanted to share this with you here.
At times the teleconference felt like a university lecture on the vagaries of life, long time fans know Gervais is as intelligent as he is funny. He offered up eloquent, thoughtful answers to every question posed and expressed deep gratitude for where he is now. He also talked about the evolution of television entertainment over the last decade:
"The last 10, 15 years TV took on film and beat it on many levels. There is nothing as audacious in TV as 'The Wire' and 'The Sopranos'. And it even beat it as an art form because with the pressure of movies to make their money back in the first three hours of opening, you know, they don't give it time to evolve and it's these focus groups and begging people just to come out and just like it enough to do it again.
"Whereas things like 'The Wire,' if 'The Wire' had been based on ratings it would have been canceled. And it's amazing and they kept that up. It's like an art factory those things, like 'Sopranos' and 'The Wire' and so TV had that to give us. It had to give us - there was no pressure. It was much more about the work of art itself as opposed to the industry.
"And so to come to America and then win the Golden Globes and then to be asked to do a remake was ridiculous. I didn't even think about it at the time because I thought, "Well nothing's going to come of this." That's me being British. That's how we think. Nothing will come of this. And then we cast Steve Carell who by the way I must say joking aside, I always joke about him, I always tease him, I hope people know that I think he is one of the nicest people I've ever met genuinely. There's no one like him. He's untouched by Hollywood. He's untouched by his fame, his (cachet). He's just a lovely family man who loves comedy and the work and he's done an amazing job above and beyond the call of duty.
"We never knew the remake was going to be this successful. I mean it's the first successful British remake of a sitcom for 30-odd years, 'Sanford and Son' or 'All in the Family' or something. And they made it happen, that team made it happen. So honestly I don't think anyone has a bad word to say about Steve Carell. And it's a great ensemble cast. They've kept the level up for, you know, 100-odd episodes. It's a success story commercially and in terms of an art form.
"And there's difference in this one. It had to be. It's not so steeped in that the realism, it's slightly broader. It hasn't got that existential quality. It's sort lighter. You know, people are better at their jobs and more fun and all that but that's true. That's the difference between English and Americans really. It has to be that way. It really shows the difference between our two nations I think that the English and the American Office.
"Americans are told they can be the next President of the United States. British people are told, 'It won't happen to you.' And it did happen to me. And so it's strange that I've come full circle. It started with 'The Office' and the Golden Globes and it's just great. So looking back it's been ridiculous. It's been like a dream. I'm going to wake up and I'm still - I'm 36 still working in my old job. I'm still working in the office where I got the idea from and I'm going to wake up and go, 'I just had the best 12-year dream I've ever had.'"
By all means jump over to dtvusaforum.com for the rest!
Monday, December 13, 2010 - 1:00pm
WOULD YOU LIKE TO RESPOND?
12-24-74
1974 was one of my favorite years and one of my best Christmases. So let's take a trip back in time to Christmas Eve 1974 when humorist Jean Shepherd read 'Duel in the Snow, or, Red Ryder Nails the Cleveland Street Kid' over the WOR radio airwaves in New York. This story was the inspiration for The Christmas Story but you knew that.
That very same night Elton John presented his musical Christmas Special on the radio live from the Odeon Hammersmith. This was when the pop star was at the peak of his popularity selling millions of albums here in the USA alone and no one suspected he was gay in spite of the feather boas and flamboyant Bob Mackie outfits. We were so naive. On the live event he was joined by Rod Stewart and Gary Glitter for an Elton-upped 'White Christmas'.
Monday, December 13, 2010 - 9:45am
WOULD YOU LIKE TO RESPOND?
CHRISTMAS SPIRIT
One of my favorite holiday themed episodes of all time is the 'Honeymooners Christmas Party' from 1953, before the series run in 1955 (Jackie Gleason had Honeymooners sketches on his variety series before and after The Honeymooners ended in 1956).
In this episode the Kramdens are visited by characters Gleason made famous on his show like The Poor Soul and Reggie Van Gleason, Frances Langford belting (It's Gonna Be A) 'Great Day', and features a delightful rendition of 'Walking My Baby Back Home' performed by a little kid.
Sunday, December 12, 2010 - 9:23am
WOULD YOU LIKE TO RESPOND?
RICKY GERVAIS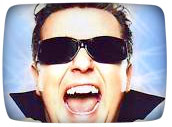 I participated in a conference call with Ricky Gervais yesterday and it really was amazing. What an intelligent and thoughtful guy.
Here's how Ricky opened the conference call - I couldn't help busting out laughing, sorry about that!
Here's an example of the long form answers he gave to every question, he talks about how grateful he is for the opportunities he's been given. I'll share more from that call later.
Ricky Gervais will host The Golden Globes on Sunday, January 16, 2011 from 5-8 p.m. (PT) and 8-11 p.m. (ET) from the Beverly Hilton Hotel in Beverly Hills.
Thursday, December 9, 2010 - 9:23am
WOULD YOU LIKE TO RESPOND?


Read more TV Blog entries here!