* Classic & Current Television Blog *
STILL DOING IT
Bette Midler blew everyone's mind when she incorporated Sophie Tucker's raunchy vaudeville jokes in her concerts. It seems like everyone's heard the routine from her 1974 live album and the jokes were probably the best part of her sadly uneven Divine Madness concert film.
Miss M is still offering up a dish of the same bawdy humor in her current gig, Diva Las Vegas, and it's still entertaining - still spicy but a great deal more family friendly these days.
Monday, May 17, 2010 - 8:05am
WOULD YOU LIKE TO RESPOND?
ONE OF THE GREATS
Ah, the shout down. TV has long loved the loudmouthed agitator, from Joe Pyne to Glenn Beck; but where did our love for the blowhard come from?
TV wrestling would be my guess, a program that had viewers screaming at the screen while the wrestlers behind the screen were screaming at each other. There's something cathartic about a great shoutfest, Judge Judy built a career on it; combine that with physical violence and you've got a television natural. We could probably go back to feeding people to the lions if it all started with a nasty argument.
A list of the greatest TV loudmouths of all time would have to include Jim Cornette, the colorful ring manager of one of wrestling's hottest acts in the 1980s, The Midnight Express.
Dressed like a Breitbart pimp, Cornette kept his tennis racquet handy for last minute pickup games and a swift crack to the opponent's skull when 'no one' was looking. But more importantly, Cornette had the gift of gab, the ability to shout down any man - or woman for that matter - that entered his orbit.
I was never a fan of wrestling back in the day but after doing extensive research into the phenomenon and watching hundreds of matches, Jim Cornette stood out as one of the truly gifted on-camera stars. Along with Ric Flair, he had a genius for saying the wrong thing at the right time, a way of demolishing an opponent by way of sheer wit, unleashing a avalanche of vulgar taunts and torments that buried anyone he came up against.
From 1989, an uncharacteristically low-key Jim Cornette announces that the Midnight Express is no more and that he is leaving the NWA.
In the 1990s Jim Cornette started his own wrestling outfit, Smokey Mountain Wrestling; in this clip he hilariously insults the fine folks in Harrisonburg, Virginia. Hey, so what if they showed up with torches and pitchforks, at least they showed up!
So I was wondering this morning - has the king of the ringside tonguelashing mellowed out with age? Not entirely, judging from this confrontation at a 2004 wrestling convention where the Insane Clown Posse crashes his talk and Jim Cornette smacks them down old school. Lot's of profanities in the next two clips!
Yes, the mouth of the South you loved to hate on Saturday afternoons in the '80s is still railing against the elements. The tennis racquet is gone and his suits are more conservative but his combative nature hasn't changed much. Here's a 2009 rant about politics and religion (of all things) where he tells it like it is in his inimitable way.
And he's not done battling the wrestling stars of old either, here he goes off on Eric Bischoff because of a passive-aggressive Facebook posting.
Today in BestofTVblog - Two surprise (kinda) cancellations from NBC. Jonathan Rhys Meyers banned! Bad news for Polanski. What two '70's pop stars are back on top?
Saturday, May 15, 2010 - 5:43am
WOULD YOU LIKE TO RESPOND?
SPEAKING OF LOST LAUGHS
One of the truly weirdest productions in TV history has to be Ernie Kovacs' bizarro weekly game show Take a Good Look (1959-61). From the shocking opening to the sight of Ernie hurling insults at the celebrity panel (which consisted of Cesar Romero, Zsa Zsa Gabor and Jim Backus) this program turned the game show on its ear.
It was a pretty ingenious format - the panelists had to guess the contestant's occupation, they're given video clues, skits that allowed Kovacs and company ample time to cut up for the cameras. It's Kovacs at his zaniest judging from this short bit.
The great comic and TV pioneer was killed in a automobile accident in 1962 just as he began filming a pilot for a possible new show with Buster Keaton.
Friday, May 14, 2010 - 11:23am
WOULD YOU LIKE TO RESPOND?
GREAT NEW BOOK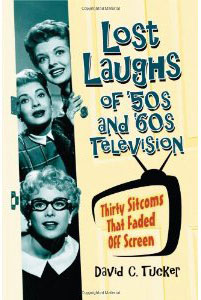 I have an curious problem when it comes to reviewing books and DVDs - the more I like something the more difficult it is to write the review. Maybe it's because I feel the work speaks for itself so what can I add, you know?
And so I find myself in that position again with this new book - Lost Laughs of '50s and '60s Television: Thirty Sitcoms That Faded Off Screen.
This is no dashed off rehash of stories you've heard before, this is a well-written, meticulously researched, collection of fascinating stories that sizzle with fresh insight and untold anecdotes. This is absolutely the best book I've read on classic television shows in I can't remember when, it may be my favorite of all time.
The Jim Backus Show, Hennesey, How To Marry A Millionaire, The Bill Dana Show, The Governor & J.J., Love on a Rooftop, Mr. Adams & Eve, McKeever & the Colonel, Mrs. G Goes To College, Pete & Gladys, Mr. Terrific - the 30 misfits profiled in detail here are an oddball collection of programs good and bad that, for various reasons, failed to click with the home audience but have a certain charm that made them classics regardless.
You'll finally know what really torpedoed that long lost TV fave of yours. I was constantly amazed at the historical and relational parallels that interlace David C. Tucker's thoroughly enjoyable romp through TV's gawky adolescence. The author delivers up a bright, breezy package with photos from all of the shows, not a single one of which I've ever seen before.
I've been researching TV history for heaven knows how long but it was a nice surprise to discover just how much I didn't know about these weird and wonderful broadcastaways. I can't recommend this book highly enough, what a great summer read this is!
You can order the book from Amazon, direct from the publisher at mcfarlandpub.com or by calling 1-800-253-2187.
Okay, that's what's on my nightstand. Right now I'm watching Damages season 2 on DVD. It somehow slipped past me when it was first released. I was crazy about season 1 and the follow up doesn't disappoint, in fact there are a number of new cast members - William hurt, Timothy Olyphant and two of my favorite actors from The Wire, John Doman and Clarke Peters. Can't wait for season 3 on DVD when Lily Tomlin and Keith Carradine joined the production. Whoever casts this show is a freakin' genius!
Today in BestofTVblog- The latest cancellations - and what stars are coming back to primetime?
Friday, May 14, 2010 - 5:30am
WOULD YOU LIKE TO RESPOND?
GEORGE CARLIN
CBS brought Let's Make A Deal back to daytime network TV so let's listen to George Carlin's classic comedy routine by the same name from his AM/FM album from back in 1972. All the hippy kids were listening to this.
Let's Make A Deal reminds me of summer, I guess because that's when I had an opportunity to watch it. That organ music makes me think of vacation times when summers were a bit more fun and $5,000 would buy you a fully loaded new car. Watch this exciting ending to a 1970's show where the winner scores a fridge with a built in 8-track player/recorder. I never saw one of those!
Thursday, May 13, 2010 - 12:22pm
WOULD YOU LIKE TO RESPOND?