* Classic & Current Television Blog *
YOU TUBING
The very first TV show I remember watching was reruns of Sky King on Saturday mornings at noon. I recently watched a few episodes on DVD and enjoyed them very much - simple but effective early TV dramas with a western feel mostly shot on location in Southern California.
This is a weird clip - Jerry Vale Live has the Italian crooner sitting around a living room in Las Vegas talking impromptu with Pat Cooper, Don Rickles, Jimmy Dean and Norm Crosby. This was back in the days when people knew Jimmy Dean as a singer and not a sausage salesman. It looks to me like a public access show, circa 1972.
Wednesday, June 10, 2009 - 7:08am
WOULD YOU LIKE TO RESPOND?
TV SHOWS ON DVD REVIEW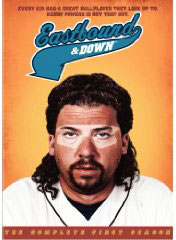 Eastbound and Down -
The Complete First Season
After months of hearing how unbelievably funny Eastbound and Down is the DVD collection of the first season hits the stores and now I'm singing the praises of this riotous HBO redneck romp.

Our protagonist here, former big league pitcher Kenny Powers, is a hopelessly self-absorbed Southern fried jerkoff who finds himself back in his North Carolina hometown teaching middle school gym class.

Danny McBride is memorizing as the unabashed asshole with an unbridled star complex. It's a role he clearly relishes, an even more extreme variation of his character in The Foot Fist Way, one of the funniest movies of the last decade. This drunken, clueless louse burns his bridges before crossing them, Powers is a white trash tornado whipping everything asunder in a litany of curse words and splintered furniture. And it's laugh out loud funny to watch.
READ THE REST OF THE REVIEW HERE
Wednesday, June 10, 2009 - 6:52am
WOULD YOU LIKE TO RESPOND?

BOSTON LOCAL TV
Daniel Newton writes: Just a couple of memories (I don't have many,) about 60's-70's children's TV in the Boston area. I remember when I was very young, probably about six, my parents took me to the Brockton Fair. I remember seeing Rex Trailer performing there. I also remember parts of his theme song.

"Hoofbeats hoofbeats hoofbeats
Movin' 'cross the praire side.
Hoofbeats hoofbeats hoofbeats
Ride cowboy, ride."

and

"The thunder out across the plain
When the sheriff hollers "Shoot!"

<kapow!>


Rex's mother lived down on the Cape and was good friends with my Grandmother, who always refered to her as, "Mrs. Trailer".

Remember the kids marching into the corrall, walking through the gate, waving, while "Hey Look Me Over" played in the background? As a laugh, some members of my High Scholl graduating class ('78) were going to do the same thing during commencement.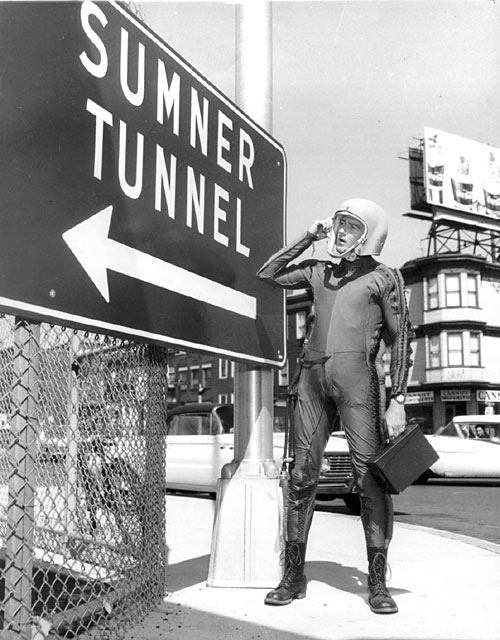 I was a huge Major Mudd fan too. My lifetime love of The Three Stooges started with him. I also remember watching Abbott and Costello cartoons with him, which he introduced by yelling "Hey, Abbaahhhhhhtttttt!!!"

Willie Whistle on WSBK 38 had kids draw pictures of himself and he'd show them on TV. I sent a few in but I don't believe he ever showed them. It was impossible to understand a word he said, so the voice off screen would have to repeat everything:

"Bweep-bweep-bweep bweep bweep bweep bweep bweep bweep bweep!"

"Yesterday you took a trip to the zoo?"

"Bweep."

"And what happened then?"

"Bweep bweep bweep bweep bweep-bweep-bweep bweep bweep bweep-bweep!"

"Oh, you saw a huge elephant and a tiger?"

"Bweep."

And so on and so on.

Meanwhile, on Channel 56 (I've long forgotten their original call letters, although they changed to WLVI in the 70's,) Dale Dorman would introduce the next show, during closing credits of The Banana Splits or The Monkees. I remember for a while he did some commercials for the programming dressed as a circus ringmaster, something along the lines of "Under the Big Top at 56!"

That's all I can remember right now. This site is fantastic and I want to say thank you for letting us Boomers/Gen Xers rattle things around up in the old attic!
Wednesday, June 10, 2009 - 5:00am
WOULD YOU LIKE TO RESPOND?
EYDIE GORME
One of the greatest vocalists in pop history is sorely underappreciated today and is reportedly not in the best of health. No one could belt a torch song like this saucy gal, she had an amazing range and could hit those high notes like ringing a bell. Thankfully we have many TV appearances, mostly in the 1960s, to enjoy. Eydie and her husband Steve Lawrence turned up less often in the 1970s as musical variety shows fell out of favor and were rare seen on the small screen after that.
Here are two of her best performances - first from The Andy Williams Show 'If He Walked Into My Life.'
She goes ethereal at the end of 'I'll Take Romance' - send me, baby, send me! Not only do they not write songs like these anymore they rarely even come close.
Sunday, June 7, 2009 - 1:17pm
WOULD YOU LIKE TO RESPOND?
SAD NEWS
Just read that David Carradine was found dead while filming in Bangkok, Thailand. Here's a fall preview from the little remembered series he starred in before Kung Fu - Shane, based on the hit film of the same name. The show lasted one season on ABC in 1966.
Thursday, June 4, 2009 - 2:46pm
WOULD YOU LIKE TO RESPOND?
BWAAAAHAHAHAHAHAHAHAHA!
Wednesday, June 3, 2009 - 11:30am
WOULD YOU LIKE TO RESPOND?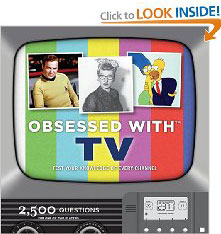 BOOK REVIEW:
Obsessed with TV
Those of you who enjoy lively games and TV trivia are going to go ga-ga over a new book / game combo called Obsessed With TV. It's an ingenious package - a 320 page book filled with 2,500 trivia questions that are sure to test your memory to the max.
150 photos also adorn this handsome volume, the game device is built right into this hardback book so you can play alone or against an opponent.
It's easy to play - choose a multiple choice question, enter your answer into the device and it keeps track of the score. The computer will even select the questions for you at random.

I predict this line of books will be a big success, there's Obsessed With Hollywood, Obsessed with Baseball, Obsessed with Star Wars - you get the idea. The price is certainly right at $29.99 retail but you can get it for less than $20.00 on Amazon if you order now. What a deal, this wonderful gamebook is bound to give you hours and hours of fun

This would make a fantastic gift (it's new for June 2009) and it's a sure bet to take along on your summer vacation, this one will keep everyone entertained on a long drive or leisurely evenings at home. It's from Chronicle Books so you know it's a quality product, they're the top of the publishing game in my opinion.

Definitely recommended!

Wednesday, June 3, 2009 - 8:46am
WOULD YOU LIKE TO RESPOND?
Read more Blog entries here!