I MENTIONED THIS BEFORE
A while back I told you about The Old Rebel Show auction - Timm, the son of George Perry (The Old Rebel on WFMY TV Greensboro, NC for 27 years) was auctioning off some of his prized possessions from his deceased father's kiddie show. The paintings you see were done by George Perry, they didn't sell, but the famous rocking chair Timm sits in did, it's the original used on the show, as did the hat he wears here at the end.
Monday, October 18, 2010 - 8:35am
WOULD YOU LIKE TO RESPOND?
THERE'S THIS
There's a cool new web series called The Hive you should definitely check out. It's the story of some potentially troubled young people who find life, death and drama down South. Episode one 'Changes' has just debuted at www.catchthebuzz.tv. Lots of pretty faces and a murder mystery to boot. And they say there's nothing to do on the net...
Sunday, October 17, 2010 - 12:10pm
WOULD YOU LIKE TO RESPOND?
BARBARA BILLINGSLEY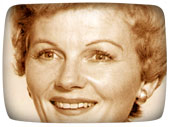 It truly is sad when a TV icon passes - Kevin Butler writes: Actress Barbara Billingsley, best for her roles as Mrs. June Cleaver on "Leave It To Beaver"/"The New Leave To Beaver Show" and the voice of Nanny on "Muppet Babies" died late Friday night/early Saturday morning October 16, 2010 at her home in Santa Monica, Cal.
She was 94 years old and had been suffering from Rheumatoid disease.
Born Barbara Combes in Los Angeles on December 22, 1915, she took the name of Billingsley after her divorce from her first husband Glen Billingsley.
She had been a movie actress since the mid-1940s, her acting credits were minor to say the least, and it was not until the late 1950s that she finally obtained stardom as the beautiful, caring matriarch of the Cleaver clan.
Originally, Ms. Billingsley had been slated to do another series pilot with future "Beverly Hillbillies" lead Actor/singer and dancer Buddy Ebsen. For whatever the reasons, the pilot never came to fruition and she was offered a second series that was picked up by the ABC TV Network - Leave It To Beaver.
The show didn't do so well on ABC and it soon moved to CBS where it ran successfully until 1963. After that, Ms. Billingsley left TV acting and she wasn't seen by the public again until the 1980s when she landed the role of the foul talking, elderly passenger in the two "Airplane" movies.
She went on to appear in the movie "Back To The Beach" with Beaver co-stars Mathers and Dow, Bob Denver, Alan Hale,Jr., Don Adams, Annette Funicello, Connie Stevens and Frankie Avalon in 1986
She reprised her role of the matriarch of the Cleavers first on the CBS TV movie "Still The Beaver" in 1983 and on the cable TV series "The New Leave It To Beaver Show" in 1985.
Ms. Billingsley also found the time to do voice overs for TV cartoon shows like "Muppet Babies" and "Teenage Mutant Ninja Turtles" (where she played against type as the voice of the mother of the infamous Shredder).
She also made guest appearances on "Murphy Brown", "Empty Nest", "Baby Boom" and on an episode of "Roseanne" with other former TV moms Pat Crowley (Joan Nash on the TV version of "Please Don't The Daises"), June Lockhart (Ruth Martin on "Lassie" and Dr. Maureen Robinson on "Lost In Space") and Isabel Sanford (Louise Jefferson on "All In The Family" and" The Jeffersons").
In 1997, Barbara Billingsley played Aunt Martha in the theatrically released "Leave It To Beaver" movie. Despite her appearance in the film. it was a dud and it quickly left the theaters.
In recent years Ms. Billingsley made fewer public appearances due to her failing health. She is survived by her two sons, a stepson and many grandchildren.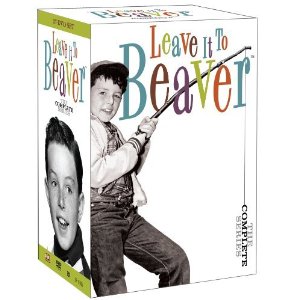 The new DVD collection of Leave it to Beaver has a wonderful visit with Barbara Billingsley filmed just a few years ago and it's a joy. The entire box set is super from start to finish.
Sunday, October 17, 2010 - 11:45am
WOULD YOU LIKE TO RESPOND?
NEW DVD RELEASE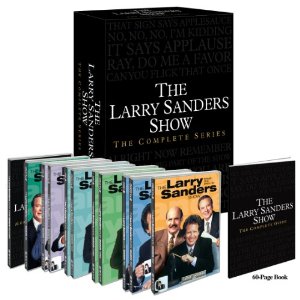 The Larry Sanders Show: The Complete Series

This new DVD collection is absolutely the most impressive in a long, long time and will no doubt top many top ten lists this year, a virtual avalanche of laughter awaits.
The Larry Sanders Show broke new comedy ground and was nominated for (and won) so many awards it would be a chore to mention them all, one of those rare shows that took off out of the gate on strong footing. (Shout! also offers It's Gary Shandling's Show which I enjoyed when it first aired in the eighties; equally odd as the Sanders show but not nearly as funny.)
I thought I'd seen all of these shows before - not by a long shot. The joy of rediscovering this enormously entertaining series is tremendous. Part talk show, part sitcom, this devilishly delicious concoction was a hit on HBO in the 1990s and the episodes are as fresh today as the day they were unleashed.
Producer/ writer Judd Apatow (Knocked Up) and Peter Tolan (Rescue Me) lent their wicked wit to Gary Shandling's arid dry humor and the writers are a who's who of television's brightest.
Besides Shandling's deft portrayal the production sports one of the sharpest supporting casts anywhere, the proof of which is that the actors all found their way into other hit TV shows - Penny Johnson, (24), Janeane Garofalo (24), Mary Lynn Rajskub (24), Jeremy Piven (Entourage), Rip Torn (30 Rock), Jeffrey Tambor (Arrested Development), and so many others.

And then there are the guest stars, far too numerous to mention them all here, a virtual cornucopia of the hottest celebs in Hollywood in the 1990s, many of which make quick appearances for comic effect. Tim Conway, Ben Stiller, William Shatner, Charles Nelson Reilly, Carl Reiner, Ed McMahon, Bill Maher, Bruno Kirby, Michael Richards, Hugh Hefner, Danny DeVito, John Ritter, Henry Winkler, and David Duchovny are all terrific as their faux selves.
It's the soap opera (but all too real in Hollywood) lives these characters share that make the show so wonderful. Roseanne Barr kills as she tries to straighten out Larry when he tumbles into the abyss, Martin Mull hits the spot as Larry's boorish neighbor, and The Daily Show's John Stewart is absolutely remarkable as Larry's affable substitute host the network is hot for.

So so so many classic episodes - the one with Carol Burnett and the spiders, Larry gets roasted and hates it; Hank's sex tape gets out; Larry goes to war with TV critic Tom Shales; the disastrous anniversary show - The Larry Sanders Show stayed consistently strong throughout the series' run leading to one of the finest, funniest last episodes in TV history.
But wait there's more! Numerous extras can be found on each disc in addition to a bonus disc crammed with amazing features. A phone interview between Gary and Jon Stewart, discussing the writing process with Shandling and Judd Apatow, visits with Alec Baldwin, Jerry Seinfeld, Carol Burnett, Jeremy Piven, Penny Johnson and other major guest stars - you could cruise through the better part of a day immersed in the commentaries, deleted scenes, outtakes and other assorted video treats.
This beautifully designed 17 disc set will have you dazzled for days, weeks, years. I've spent untold hours enjoying this set for the last couple of weeks, on and off, and I still haven't gotten to everything I want to see. It also comes with a colorful booklet that details what's where along with a boffo essay by Howard Rosenberg.
The only drawback - some of the prints are quite grainy, which is surprising for such a recent production, but that kind of thing never bothers me much.
I don't know how you put a price on comedy like this but Shout! Factory manages to deliver one of the best entertainment deals out there for a retail price of $150, a mere $100 if you order now from Amazon. What a great Christmas gift this will be and the price is right! Wow factor? Oh yeah!

Couple this with the new Johnny Carson Tonight Show DVD mega-set and you'll be in talk show heaven!
Thursday, October 14, 2010 - 11:45am
WOULD YOU LIKE TO RESPOND?
TUESDAY ABSURDITY
Any thoughts on how long CBS' version of The View with Sharon Osborne playing Barbara Walters will last? The Great Ingramo predicts 13 weeks when The Talk is replaced by Match Game '11 with host Ben Stein.

Speaking of Match Game, semi-regular Fannie Flagg was one of the funniest gals to come out of the South. I wish her hilarious Candid Camera routines were on You Tube, like the Baskin Robbins employee that tastes the ice cream right before handing the cone to a customer. The reactions from New Yorkers at what they perceive to be a clueless hick is priceless. Only slightly less lowbrow, here's a standup bit from an appearance on The Johnny Cash Show.
Time for more Southern fried humor. Laugh along with one of Mississippi's greatest exports, was/is any Southerner funnier than Jerry Clower?
Tuesday, October 12, 2010 - 10:32am
WOULD YOU LIKE TO RESPOND?
RANDOM SUNDAY STUFF THAT GOT PUSHED TO
MONDAY BECAUSE I'M SO DARN DUSY
Google is going to launch Google TV whatever that is but did you know there is a Craigslist TV? Ironically, it's on You Tube.
There's not a lot of life affirming reality TV. A friend of mine told me about Undercover Boss and how shocking it was. I pulled up the latest episode on Hulu and I was bawling practically from start to finish. This episode wasn't a "Gotcha" show like I expected. Here's a CEO, Kim Schaefer of Great Wolf Resorts, that clearly has empathy for her employees. What an incredible PR coup for this company.

NBC announced last week that they ordered a pilot for a proposed remake of The Munsters. Again?!?

Comic great Stan Lee has found another multi-million dollar media empire to hire him to create a new superhero, this time it's MTV. Now Stan Lee is a great talent but I'm not aware of any characters he created himself. Certainly none of the iconic Marvel characters we think of, they were mostly created by others in conjunction with editor Lee. His collaborators would design the costumes and create the stories from a plot by Lee and he would go in a dialogue the finished pages. But for some reason (excellent PR by Stan the Man over the last 50 years) he got the credit for everything in most people's minds. And he's alive and well to reap the benefits, unlike Jack Kirby who really could create dynamic comic book characters out of his own fertile mind - but he passed away just before his characters became huge movie properties.

Jerry Lewis - out as host of the MDA telethon? Maybe.
This Saturday, October 16th there will be the History of Chicago Television Events at the Book Market in Glenview. Steve Jajkowski will give a talk on the history of Chicago TV at 7:30pm and sign copies of his book, "Chicago Television". Then during the 2nd event at 8:30pm, Rick Klein of FuzzyMemories.TV will show some great found footage and talk about the site and various interesting topics with veteran WTTW producer Rick Kotrba!
Monday, October 11, 2010 - 10:46am
WOULD YOU LIKE TO RESPOND?


Read more TV Blog entries here!