* Classic & Current Television Blog *
WEDNESDAY WRAP UP
Famed Daily Variety entertainment columnist Army Archerd is dead at 87.

When Mike Marmer and Stan Burns (The Carol Burnett Show) created Lancelot Link, Secret Chimp it was a genius move. Not only was this Saturday morning classic genuinely funny but the musical segments were top notch as well. In this episode, Lance Link and Mata Hari search for the cure to a sneezing epidemic - kind of like what I'm going through with allegies this year!

And there's this: My name is David Rodriguez and I'm the editor of StuffWeLike.com. Your readers may be interested in a Andy Griffith related contest that we have going on. It's tied into his new film 'Play The Game'. People download this video clip of Andy Griffith dancing and insert it into their own YouTube videos. The most entertaining videos will earn their creators a poster signed by the director. The contest ends September 30, 2009.
I've been Netflix-ing the Star Trek Animated series and I forgot how good some of the episodes were, from that golden Saturday morning era that also included Land of the Lost another great sci-fi show.
Wednesday, September 9, 2009 - 7:54am
WOULD YOU LIKE TO RESPOND?
LABOR DAY LAUGH
Now this is funny - and the type of stand alone entertainment we should be seeing more of on the web in the future.
Monday, September 7, 2009 - 10:50am
WOULD YOU LIKE TO RESPOND?
HAPPY ANNIVERSARY!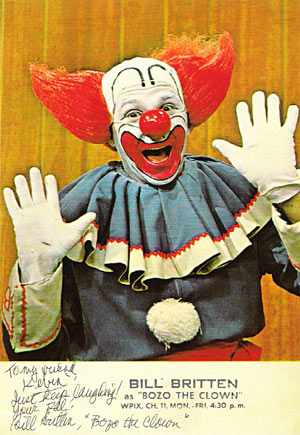 Kevin Butler points us to a classic TV anniversary: On Monday September 14, 2009 it will be 50 years since WPIX TV 11 in NYC premiered the Bozo The Clown kid's TV show.
Veteran nightclub/TV entertainer, puppeteer and former circus clown Bill Britten portrayed the clown and other comedic characters while he entertained and informed his viewers and studio audiences in a live version of "The World's Most Famous Clown."
Britten was best remembered by New York's young viewers as "Johnny Jellybean," he was the third host/performer on WJZ (WABC) TV 7 and Danny Wilson and Jules Power's "Time For Fun / The Johnny Jellybean Show" and the third host of WABD/WNEW/WNYW TV's long-running comedy variety children's show "Wonderama."
The Bozo show aired weekday afternoons and evenings on Channel 11 until April of 1964.

Here's another You Tube mashup of TV Show openings from thirty years ago this fall including Real People, Wonder Woman, Dick Clark's Live Wednesday, Sword of Justice, Project UFO. I always thought Barnaby Jones had a great theme song. How many of these do you remember?
A tradition on The Red Skelton Show was a recitation and explanation of the Pledge of Allegiance. It's beautifully sentimental and everyone should hear it, from a 1969 episode.
Speaking of anniversaries, TVparty! started almost exactly 15 years ago as a section of a larger site I created called Homeroom - TVparty! was so popular from the offset that I launched it as a .com in 1997.
Thursday, September 3, 2009 - 9:10am
WOULD YOU LIKE TO RESPOND?
WHERE I GET UP ON MY SOAPBOX AND
REVIEW A TV SHOW SIMULTANEOUSLY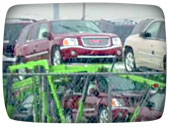 The Last Truck: Closing of a GM Plant
If you ask me (and I know you didn't but you're here) the ruination of this country stems from the fact that we don't make tangible products anymore, we've become a service economy gone mad with a rapidly shrinking customer base.
The Last Truck exposes this problem in human terms as the last vehicle rolls off an assembly line at the Moraine, Ohio GM plant and hundreds of proud workers are sidelined - not because of their lack of productivity but due to the arrogance and incompetence of management and unbridled corporate greed.

A couple of the workers here express their frustration that we can't just close the borders, then make, sell and buy our own goods, the global economy be damned. Maybe they're right. This country prospered precisely because we had a vibrant base of well paid (often union) workers who could afford to buy homes, new cars, color televisions and Malibu Dream House Barbies.
But the ruling class has persevered for more than a century to discredit and dismantle the unions that fought so hard for the benefits we all profited from - and let's face it, the unions gave them plenty of fodder with their own massive misappropriations and unimaginable stupidity.

These GM workers stood by as they were maligned by the TV gasbags as greedy workers making $70 an hour, remember that right wing lie taking hold? They persevered as management insisted on making gas guzzling vehicles that the market rejected, stood by frustrated and confused as their way of life disappeared forever. Disappeared not just for themselves and their families but for you and me as well, my friend.
Just as a rising tide raises all boats, a sinking ship drags down everything around it. We've created a black hole economy that can only rebound by doing the one thing we may no longer be capable of - manufacture something someone wants to buy.
It's fitting that the last in this summer's phenomenal series of documentaries on HBO is a spotlight on the plight of those who are at the end of a dying assembly line.
This film reminds us that a humongous manufacturing plant like this one employing thousands of workers is not just a place to work but the heart of a city, a thriving community of caring individuals who toiled together for decades and now find themselves cast adrift. It's a documentary with a lot of heart and a cautionary message that, one hopes, will not go unheeded - if it's not already too late.
The Last Truck: Closing of a GM Plant debuts Monday night September 7th at 9:00pm only on HBO.

Thursday, September 3, 2009 - 9:00am
WOULD YOU LIKE TO RESPOND?
Read more Blog entries here!