* Classic & Current Television Blog *
OVERHEARD CONVERSATIONS:
The Beverly Hills Supper Club - Mass Murder?
Every once in a while I'll be sharing phone conversations with various people I'm interviewing for a project I'm working on. Since I can't use most of what I get from these conversations in this particular book I thought you might enjoy some insight into events that you may not be aware of.
CLICK HERE TO LISTEN TO THE CONVERSATION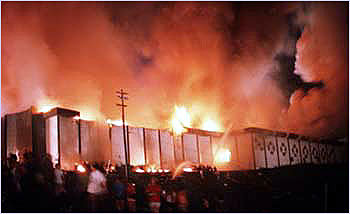 My talk with Wayne Dammert on July 5, 2009 was a real eye opener. He was a longtime employee at the famed Beverly Hills Supper Club near Cincinnati and he was there the night of the mother of all modern nightclub fires in 1977.
He and others on the scene that night are convinced it was deliberately set and that one of the nation's worst mass murderers got clean away. He also tells me about the wild days when Newport, Kentucky was an "open town" with illegal gambling joints all over the place.
Wayne wants to get this story out because, at every turn since the beginning of the investigation, too many people have been willing to turn a blind eye to the possibility of arson. If it's true, the 165 victims deserve justice.

From Wikipedia: On October 28, 2008, Kentucky Governor Steve Beshear appointed a panel to investigate claims that arson may have been the cause of the fire. In March 2009, the panel, in recommending that the investigation not be reopened, characterized the new accusations as "a very tiny shred of evidence of arson and a huge mountain of conjecture, unsupported speculation and personal opinion."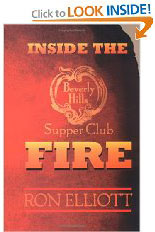 The ruins sit relatively undisturbed over the last 30 plus years, surely there's an enterprising TV producer with a Cold Case type show that could bring together a forensic team to go over the site and look for evidence. It doesn't appear that the Governor's panel did that.
You can read more about this tragic event in the book Inside the Beverly Hills Supper Club Fire by Ronald E. Elliott and based on an original story by survivor Wayne Dammert.
Thursday, July 9, 2009 - 12:18pm
WOULD YOU LIKE TO RESPOND?
THREE UPCOMING EVENTS
The 34th Friends of Old Time Radio Convention will be getting underway soon, as usual it promises to be a weekend of fun and frolic. Click here for the flyer. As usual, the guest line-up is phenomenal - including Clay Cole, Tommy Cook (Red Ryder), Richard Herd (Seinfeld, T J Hooker), Chuck McCann, Gloria McMillan (Our Miss Brooks), Shirley Mitchell (The Great Gildersleeve), Will Hutchins (Blondie; Sugarfoot), Simon Jones (Hitchhiker's Guide to the Galaxy), and many more. It all takes place October 22 - 25, 2009 at the Holiday Inn in North, Newark NJ Everyone I've talked to who have attended these events say it's a fantastic experience.
Another fab event is the Mid-Atlantic Nostalgia Convention, an annual 3-day film festival for vintage TV and movies (and REALLY rare TV). The event benefits the St. Jude Children's Hospital -- literally.
Besides a charity auction and nostalgic TV shows screened, we also have celebrities signing autographs for fans. In the past we have had Edd Byrnes (Kookie from 77 SUNSET STRIP), David Hedison (Commander Crane from VOYAGE TO THE BOTTOM OF THE SEA), Marta Kristen (LOST IN SPACE), Erin Gray (Wilma Deering on BUCK ROGERS), Annette Andre (THE PRISONER, RANDALL AND HOPKIRK), Larry Storch (F-TROOP) and Jon Provost (Timmy on LASSIE) to name a few.
This year's guests include Lee Meriwether (Catwoman on BATMAN), Bob Hastings (Lt. Carpenter on McHALE'S NAVY), Johnny Whitaker (FAMILY AFFAIR) and others.
And it's all for a good cause. August 27 - 29, 2009, The Clarion Hotel in Aberdeen, Maryland.

Julian West invites you to this: On Thursday, July 9th, at 7:00 p.m. I'll be appearing at the Best of Times Book Store, 425 West 3rd Street in Red Wing, MN 55066 (Tel: 651-388-1003). I'll be going solo this time, but I will be featuring some video and audio clips in addition to reading from my book. And of course, I'll be happy to sign copies of "What a Card!" (I will also sign autograph books, stray scraps of paper, Kleenex (preferably unused), or pretty much anything with a writing surface).
Thursday, July 9, 2009 - 11:00am
WOULD YOU LIKE TO RESPOND
STUFF
Greg Laughlin writes: Billy, I just saw the link to the Playgirl article on Gary Conway. Thinking back to that period in the early 70's, we all remember the Burt Reynolds Cosmo layout but did you know there were a number of mainstream actors who actually showed the goods in their layouts. George Maharis, Andrew Prine, Christopher George, John Davidson and Fred Williamson (actually, he didn't show his) are the ones I remember off the top of my head. By '75, Playgirl's readership began to move away from curious female readers to a gay male demographic. If an actor did such a layout today, it would be the kiss of death for their career.
So true. I always thought those Playgirl layouts were so antiseptic, nothing sexy about them at all. I actually knew someone who posed for Playgirl, Warren Cuccurullo when he was with the band Missing Persons before he joined Duran Duran as their guitarist. Playgirl was a last ditch effort to garner some kind of publicity - I mean, who would want to see John Davidson's wee wee? But the resulting bonanza of ink Burt Reynolds got for posing nude convinced people for years that it could be a good career move. Today, of course, you have to make a full on sex tape to get that kind of publicity.
This is funny! Watch this hapless local TV reporter completely lose his cool and ditch his professional demeanor after a bug flies in his mouth. (Not safe for work.)
Wednesday, July 8, 2009 - 9:00am
WOULD YOU LIKE TO RESPOND
NEW DVD RELEASES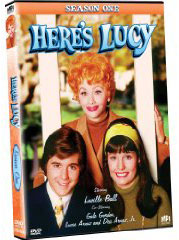 It's going to be a great summer for classic TV lovers! This is a DVD set I'm looking forward to - season one of Here's Lucy. I love that show, it's so bizarre, almost like it's taking place in an alternate universe. This collection is co-produced by my pal (and yours) Dan Wingate so you know it's going to be dynamite, Dan is the ultimate classic TV go-to guy and he loves Lucy the most. The extras are going to be amazing! This one drops next month and I'll be first in line to buy it if MPI doesn't send along a review copy. The best part - it's only $20 if you order online!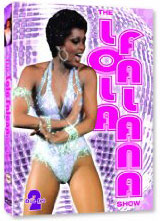 Here's another hot one I thought I'd never see on DVD - the four wonderful Lola Falana specials that aired on ABC in 1976. This was the Cher show if it had been produced by the guys who did the Sonny & Cher Comedy Hour. Poor Lola - she hates her show biz career and won't do interviews about it. Read all about Lola Falana here. Odd that they call it The Lola Falana Show - I think I'm the only one that referred to this four week series spread out over three months that way. I believe all of the 'specials' went under the title Lola.
Tuesday, July 7, 2009 - 10:13am
WOULD YOU LIKE TO RESPOND
STUFF
I mentioned this yesterday and now look. From the press release: Within a couple of hours, fervent fans of Joss Whedon's television hit "Dollhouse," created a colossal traffic jam temporarily halting the pre-sale at Foxstore.com of the special advanced limited edition BD and DVD of the show's groundbreaking first season. Individually numbered and highly collectible, only 5000 (2500 Blu-ray/2500 DVD) copies were created, each featuring a personal letter to fans from Whedon and special packaging. The DVD is available for pick-up exclusively at San Diego Comic-Con International. The Studio has resumed pre-sales.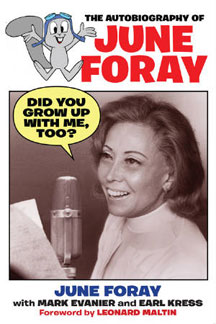 Sean Dougherty tells us that June Foray's biography is soon to be hot off the presses. Now that's going to be a great read! Check out some of the other classic TV related books the publisher has - I'd love to read most of those but had no idea there was a book on, for instance, Car 54 Where Are You or 12 O'Clock High. I read their book on Baby Peggy and it's one of the best bios I've read, highly recommended.
Last summer's documentary season on HBO was a riveting collection of amazing true stories and this summer the series is back. Here's the line-up:
TEDDY: IN HIS OWN WORDS (debuting July 13) explores the life and 46-year Senate career of Ted Kennedy through his own words, from his childhood up through his speech at the 2008 Democratic National Convention. The film includes archival material and never-before-seen home movies. Produced by Peter Kunhardt (HBO's "In Memoriam: New York City 9/11/01") and Sheila Nevins.

PROM NIGHT IN MISSISSIPPI (July 20), an official selection of the 2009 Sundance Film Festival. In 1997, Oscar® winner Morgan Freeman made an historic offer to his hometown high school: He would foot the bill for the school's senior prom — on the condition that both black and white students be allowed to attend. Freeman's offer was ignored, but in 2008, he made it again. This time, the school accepted and history was made, but not without significant opposition. Directed by Paul Saltzman.

THE YES MEN FIX THE WORLD (July 27) This lively documentary focuses on the efforts of Andy Bichlbaum and Mike Bonanno, frontmen for the Yes Men, to champion worthy causes – and battle the excesses of today's free-market economy – through high-profile, politically charged hoaxes. An official selection of the 2009 Sundance Film Festival. Directed by Andy Bichlbaum & Mike Bonanno.

BOY INTERRUPTED (Aug. 3) tells story of Evan Perry, a 15-year-old boy who jumped to his death from his New York City bedroom window after a lifelong struggle with bipolar disorder. An official selection of the 2009 Sundance Film Festival, Director Dana Perry, along with her husband Hart Perry, recount Evan's life and death in this heartbreaking documentary.

THE NINE LIVES OF MARION BARRY (Aug. 10) profiles the controversial Washington, D.C. politician, viewed by some as a philandering, drug-addled disaster, and by others as a folk hero. Directed and produced by Dana Flor & Toby Oppenheimer.

FIXER: THE TAKING OF AJMAL NAQSHBANDI (Aug. 17) focuses on the 2007 kidnapping and murder of a 24-year-old Afghan who was hired by foreign journalists to help gather news stories. 2009 Tribeca Film Festival winner, Directed by Ian Olds.

WHICH WAY HOME (Aug. 24) an official selection of the 2009 Tribeca Film Festival and the 2009 Los Angeles Film Festival, views the immigration issue through the eyes of children who face harrowing dangers as they journey to the United States. Directed and produced by Rebecca Cammisa. Executive produced by Lianne Halfon, John Malkovich and Russell Smith;

YOUTH KNOWS NO PAIN (Aug. 31) follows filmmaker Mitch McCabe, the age-obsessed daughter of a plastic surgeon, as she journeys through America's $60 billion a year anti-aging world.

THE LAST TRUCK: THE CLOSING OF A GM PLANT (Sept. 7) tells the inside story of the last days of a General Motors plant in Moraine, Ohio, as lived by the people who worked the line. Directed and produced by Ohio natives Steve Bogner & Julia Reichert.


I'll be reviewing some of these in the next few weeks.

Finally, Jay Blotcher sends us the Playgirl magazine feature on Gary Conway, star of Land of the Giants. Click here to see it. I guess there's no longer an outlet for middle aged male stars who want to bare it all for money.
Tuesday, July 7, 2009 - 9:00am
WOULD YOU LIKE TO RESPOND
Read more Blog entries here!