* Classic & Current Television Blog *
TONIGHT
This whole Leno - Conan dust-up is messy but it sure is fun to watch. Sad though that the venerable Tonight Show gets dragged through the mud. I haven't watched the show in years and I'm a lot less likely to now.
This is one of my favorite moments from the Tonight Show - with Johnny Carson and Doc Serverinsen from the 18th Anniversary special. Just two guys talking...
Thursday, January 14, 2010 8:15am
WOULD YOU LIKE TO RESPOND?
STUFF
Julian West writes: Hi kids! On Thursday, January 14, at 7:00 p.m., I'll be making a multi-media presentation about Clellan Card and Axel to the Golden Valley Historical Society at the Historic Church located at 6731 Golden Valley Road in (where else?) Golden Valley. I'll have copies of my book What a Card! The Story of Clellan Card and Axel & His Dog and other Axel-related items available for purchase at the event. Please call 763-588-8578 for directions or more information. Thanks -- and by the way, my book is now in its 4th printing!

Conan O'Brien writes: People of Earth:

In the last few days, I've been getting a lot of sympathy calls, and I want to start by making it clear that no one should waste a second feeling sorry for me. For 17 years, I've been getting paid to do what I love most and, in a world with real problems, I've been absurdly lucky. That said, I've been suddenly put in a very public predicament and my bosses are demanding an immediate decision.
Six years ago, I signed a contract with NBC to take over The Tonight Show in June of 2009. Like a lot of us, I grew up watching Johnny Carson every night and the chance to one day sit in that chair has meant everything to me. I worked long and hard to get that opportunity, passed up far more lucrative offers, and since 2004 I have spent literally hundreds of hours thinking of ways to extend the franchise long into the future. It was my mistaken belief that, like my predecessor, I would have the benefit of some time and, just as important, some degree of ratings support from the prime-time schedule. Building a lasting audience at 11:30 is impossible without both.
But sadly, we were never given that chance. After only seven months, with my Tonight Show in its infancy, NBC has decided to react to their terrible difficulties in prime-time by making a change in their long-established late night schedule.
Last Thursday, NBC executives told me they intended to move the Tonight Show to 12:05 to accommodate the Jay Leno Show at 11:35. For 60 years the Tonight Show has aired immediately following the late local news. I sincerely believe that delaying the Tonight Show into the next day to accommodate another comedy program will seriously damage what I consider to be the greatest franchise in the history of broadcasting. The Tonight Show at 12:05 simply isn't the Tonight Show. Also, if I accept this move I will be knocking the Late Night show, which I inherited from David Letterman and passed on to Jimmy Fallon, out of its long-held time slot. That would hurt the other NBC franchise that I love, and it would be unfair to Jimmy.
So it has come to this: I cannot express in words how much I enjoy hosting this program and what an enormous personal disappointment it is for me to consider losing it. My staff and I have worked unbelievably hard and we are very proud of our contribution to the legacy of The Tonight Show. But I cannot participate in what I honestly believe is its destruction. Some people will make the argument that with DVRs and the Internet a time slot doesn't matter. But with the Tonight Show, I believe nothing could matter more.
There has been speculation about my going to another network but, to set the record straight, I currently have no other offer and honestly have no idea what happens next. My hope is that NBC and I can resolve this quickly so that my staff, crew, and I can do a show we can be proud of, for a company that values our work.
Have a great day and, for the record, I am truly sorry about my hair; it's always been that way.
Yours, Conan
Wednesday, January 13, 2010 10:00am
WOULD YOU LIKE TO RESPOND?
ATTACK OF THE DIVAS!
What happens when Martha Raye ('The Big Mouth') and Tallulah Bankhead get together - it's rat-a-tat-tat humor from The Big Show on NBC Radio in 1951. Those were the days! (I guess - I hadn't been born yet.)
Monday, January 11, 2010 10:00am
WOULD YOU LIKE TO RESPOND?
FLACK ATTACK!
Amazon Movies & TV is pleased to announce our first 2010 Deals Event which will run through January 24, 2010, while supplies last. This event will feature DVDs and Blu-ray discs with savings of up to 50% off, including:
- Over 200 Fitness DVDs including yoga, pregnancy, and dance workouts, and featuring celebrity trainers such as Jillian Michaels and Denise Austin
- Hundreds of hit movies including some the biggest new releases from Q4, 2009
- Over 400 indie and art house films including Oscar® winners Juno, Milk, and Lost in Translation
-Over 450 TV shows including HBO favorites, NBC comedy, and more.
Spike TV is proud to announce the arrival of the HBO® Hit Series Entourage® , starting with the first two episodes back-to-back, Tuesday January 12th at 9PM ET/8C. This is the first time the award winning series will be telecast on basic cable, so be sure to catch Entourage® every Tuesday.
Monday, January 11, 2010 8:29am
WOULD YOU LIKE TO RESPOND?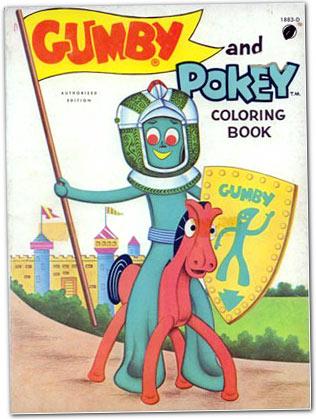 SAD NEWS
Art Clokey, creator of Gumby, has passed way - read all about his bendable creation here.
Saturday, January 9, 2010 8:09am
WOULD YOU LIKE TO RESPOND?
NO MORE JACK BENNY SHOWS?
Sean Dougherty tells us some shocking news - CBS has permanently sealed the masters for The Jack Benny Television program. Here's the story from Aircheck:
This just in from Laura Leff, president of the Jack Benny fan club.
"In December 2008 when I was at CBS overseeing the color specials transfer, I was told that CBS had the Benny television program masters. I was breathless!
I got a listing of their holdings, and selected about 25 shows that are currently uncirculated and in the public domain. I sent the request for us to digitally preserve these shows, at the IJBFC's cost, to Lorra-Lea Bartlett, the Manager of the CBS Contracts Rights and Clearances department.
This was followed by about nine months of waiting for the CBS New York legal department to respond to the request. On September 7th, I was asked to provide a letter from the Benny Estate requesting that the programs be released, and "that should get this unstuck." The Estate happily provided the letter to CBS. I continued to follow up weekly for status.
Today I was informed by Peter Murray, Lorra-Lea's assistant, that she had talked with CBS' Vice President of Business Affairs, and "there are so many issues with those shows, that even if we took the time to figure it out, we still almost certainly wouldn't do the deal." So that's it. Access to the Jack Benny television masters is sealed.
In 1964, James Aubrey told Jack Benny that his weekly television series was terminated with the words, "YOU'RE THROUGH, OLD MAN!" Sadly, 46 years later, CBS has repeated the sentiment by condemning these shows to permanent silence.
This s particularly distressing because those are some of the funniest TV shows of all time! Oh, and James Aubrey was a viscous man - he ended Judy Garland's weekly series with a note to the star that said, "You're finished."
Saturday, January 9, 2010 8:01am
WOULD YOU LIKE TO RESPOND?
WHERE I'M AT
Sorry about the light blogging - I somehow managed to injure my back so I'm writhing in pain.
I'm also watching a show I liked a lot as a kid, The Pat Paulsen Half a Comedy Hour. Bob Einstein appears frequently on the show, he was head writer on a staff that included Steve Martin. This 1970 comedy skit show ran for 13 weeks on ABC. Paulsen's always been one of my favorite comics and this show was truly bizarre with lots of on location shoots along with the predictable recurring comedy variety skits of the day.
The show aired on Thursday night, here are some ABC Thursday night promos from the 1969-70 season, a great night for classic television.
Thursday, January 7, 2010 9:09am
WOULD YOU LIKE TO RESPOND?
TVparty! LAST YEAR'S TOP TEN TV SHOWS ON DVD
People seem to like lists so here's one of my own, my favorite TV on DVD collections of the past year. As I look over this list, these are all television programs I was thrilled to discover for the first time on DVD, shows I hadn't experienced before. Oddly, I've never been a fan of TV dramas but they crowd my list of favorites this year, a testament to just how incredible they are.
I selected these sets not so much for the extras or bonus features but based solely on the content of the programs - after all, that's the main reason you buy TV shows on DVD.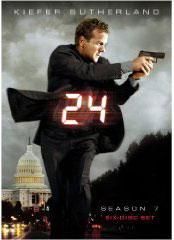 10: '24' - Season 7
Jack is back and better than ever - 24 season 7 is a heart-pounding thrill ride that had me on the edge of my seat more than once. Every year Jack finds himself more and more isolated, this go around there's no CTU and no Jack - he's been relocated in secret and given a new identity. When his cover is blown and his former colleagues are murdered he's forced to return to Washington and save the country two or three more times.
Read the entire review here...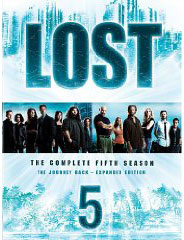 9: Lost: The Complete Fifth Season
The penultimate season of Lost is out on DVD; one of my all time favorite shows is coming to an end and it's high time to start getting some answers about the questions and conundrums the series has so blithely pitched to us. Consistently one of the most intriguing dramas ever, Lost is the rare television series that can actually keep you on the edge of your seat with mind-blowing storylines and a locale that transports you to a verdant paradise. I suppose it's natural that some of the bloom would come off this desert rose as the writers start revealing what it all means. After all, they've thrown up so many trippy anomalies - polar bears on a tropical island, a killer smog monster, an island that travels through time - that whatever explanations are offered up are bound to be a disappointment.
Read the entire review here...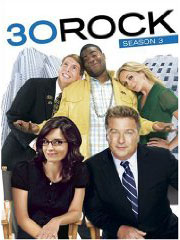 8: 30 Rock - Season Three
One of network television's funniest and game changing comedies, 30 Rock, begins to lose a little of it's luster and fall into a predictable pattern with season 3. Year three delivers plenty of laughs, that's for sure, but it's hit and miss. An excellent episode of 30 Rock is a delicate mix, too much of any character seems to upset the formula. That's unfortunate because standard operating procedure for maturing sitcoms is to develop storylines around the supporting characters.
Read the entire review here...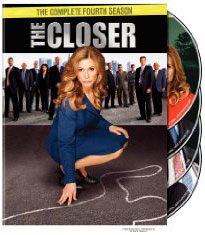 7: The Closer: The Complete Fourth Season
Kyra Sedgwick kills in the role of her lifetime - her character, Deputy Chief Brenda Leigh Johnson, takes passive aggressive behavior and hubris to new levels. For the fourth season look for a very funny guest turn from Amy Sedaris. This DVD collection is a real winner, one of the best written TV dramas of 2009.
Read the entire review here...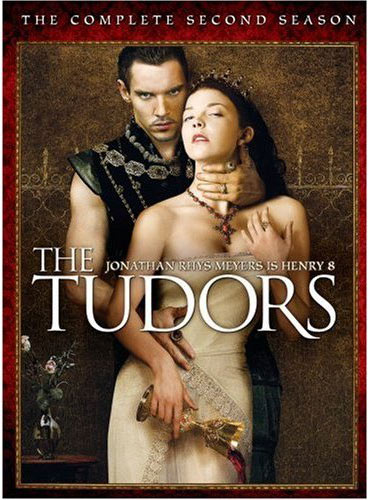 6: The Tudors - Season Two
The
Tudors is a visually stunning representation of a tumultuous past, you'll find yourself thoroughly immersed in the richness of the scenery, the depth and breadth of the storyline, and the breathtaking narcissism that is brought to life so vividly. This is the story of King Henry VIII, before he became the corpulent ruler we tend to think of, and the creation of the Church of England amid the machinations of that medieval homewrecker Anne Boleyn.
Read the entire review here...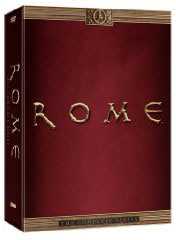 5: Rome: The Complete Series
Rome, undoubtedly one of the finest historical dramas the television medium has ever created, has been released in a gorgeous, fully appointed package, a handsome book style box with the 11 discs encased in pictorial cardboard page sleeves with a foldout booklet that helps you keep track of who's who. It's a release richly appointed with numerous film features that detail both the making of the production as well as giving the viewer some historical perspective. Every aspect of this production was tip top, maybe they fudged the history a little for dramatic reasons, but this was a fascinating storyline from start to finish, a deliriously devastating adventure of epic proportions. Intrigue drips from every frame, with art direction so rich you can almost smell the bathhouse sweat and misting magic potions that permeate the smokey atmosphere.
Read the entire review here...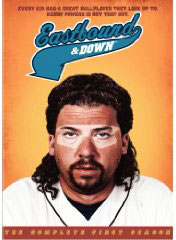 4: Eastbound and Down -
The Complete First Season
After months of hearing how unbelievably funny Eastbound and Down is the DVD collection of the first season hits the stores and now I'm singing the praises of this riotous HBO redneck romp. Our protagonist here, former big league pitcher Kenny Powers, is a hopelessly self-absorbed Southern fried jerkoff who finds himself back in his North Carolina hometown teaching middle school gym class. Starring Danny McBride, the comedy find of the decade.
Read the entire review here...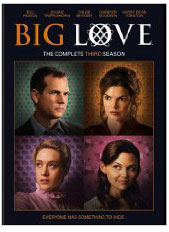 3: Big Love: The Complete Third Season
Oh, do I love Big Love. This is the twistiest, trippiest, wittiest drama ever. I was talking about this show to a friend the other day and she turned her nose and said, "Is that the show about the polygamist Mormons?" You might not think such a seed would yield such a bumper crop of intrigue and devastation but you'd be wrong.
Read the entire review here...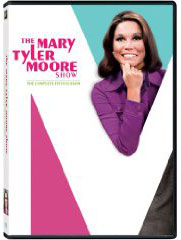 2:
The Mary Tyler Moore Show - The Complete Fifth Season

The long awaited DVD release of the fifth season of The Mary Tyler Moore Show is now available. If there's an award for austere packaging this one would walk away with the prize - no liner notes or even a list of episodes - nothing. Even the DVD navigation is awkward. But aside from that there's nothing to complain about - not when you've got a collection of some of the funniest sitcoms in TV history, every one a jewel.
Read the entire review here...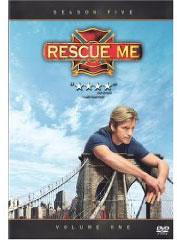 1: Rescue Me: Season 5 Part One
There is no funnier drama on television today than Rescue Me - it's got tremendous re-watchability. What Tommy Gavin goes through this season will have you howling with laughter and dumbstruck at the insane machinations the ladies in his life put him through. Fighting fires is the least of this guy's problems! I look forward to having every season of this show on DVD.
Monday, January 4, 2010 12:00pm
WOULD YOU LIKE TO RESPOND?
Read more Blog entries here!