* Classic & Current Television Blog *

MONDAY MADNESS
Bwaaahaaahaaa! OM sends this along, calling it the lost episode of Winky Dink. This guy is behind bars because he didn't use the magic screen and the correct crayons!

From the press release: On July 6th at 10am PST, Fox Home Entertainment will open pre-orders for the Comic-Con Exclusive DOLLHOUSE: SEASON ONE on DVD & Blu-ray! Only 5,000 Copies will be made and are PICK-UP ONLY at Comic-Con. There will be very few sets available for sale at Comic-Con, so you need to pre-order now and get to Comic-Con to pick up your copy. Available for pre-order at FoxStore.com beginning Monday, July 6 at 10:00 AM PST through July 20 (or until product is sold out), a limited quantity will also be available for on-site purchase at the Fox Booth (#1429). In person pick-up for those that pre-ordered the collection will begin at the Fox Booth on Wednesday, July 22 (preview night). Photo ID is required or purchasers must designate at checkout someone who will pick-up the DVD on their behalf.
I haven't watched even one second of the Michael Jackson coverage. Haven't turned on the TV in weeks except to watch DVDs. Ah bliss!
Are you ready for this? A movie based on the 1980's CBS series T. J. Hooker. Only if they get Shatner for the lead, that might be fun.
Monday, July 6, 2009 - 12:16pm
WOULD YOU LIKE TO RESPOND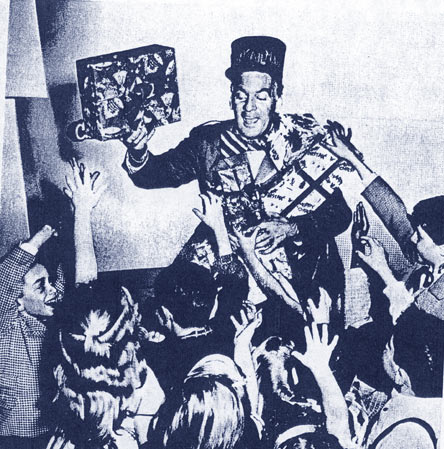 KID STUFF
Don't miss Kevin Butler's tribute to Ray Heatherton, known to millions as The Merry Mailman. He would have been 101 years old this month.

If you were a kid 35 years ago, here are the show's you had to look forward to for the fall of 1974 on the ABC network.
In 1970 ABC had a Friday night line-up that was a magnet for kids - it included the first season for Nanny & The Professor and The Partridge Family; year two for Love, American Style; and the final years for That Girl and This Is Tom Jones. Poor Ann Marie, one more year and she'd have been married! Here's a fall preview:
The most popular show on Saturday mornings in 1970? Archie - here's the intro to a fall, 1969 primetime special where Sabrina the Teenage Witch was introduced. One reason Archie was so popular on Saturdays were the top ten pop hits generated by the show beginning in 1968.

Don Davis has memories of an old kiddie show: I remember from 1950's TV that Heath Bar sponsored Topsy Turvy Theater. A troupe of wolf puppets put on a hammy play based on a classic. One time they did The Count of Monte Cristo. Every play had a number of errors. Kids were supposed to write them all down and mail them in. Do you have any evidence that it existed? The Heath company never heard of it.
Happy Fourth!
Saturday, July 4, 2009 - 6:16am
WOULD YOU LIKE TO RESPOND
WILL DEATH TAKE A HOLIDAY THIS WEEKEND?
From the LA Times: Karl Malden, one of Hollywood's strongest and most versatile supporting actors, who won an Oscar playing his Broadway-originated role as Mitch in "A Streetcar Named Desire," died today. He was 97.
Speaking of celebrity deaths, check out Cary O'Dell's tribute to Gale Storm, a classic TV legend that he had the pleasure of working with.
Also, Mitchell Hadley explores some weirdness embedded in a couple of episodes of The Avengers that touched on political assassinations. Bizarre!
Thurday, July 2, 2009 - 8:26pm
WOULD YOU LIKE TO RESPOND?
BLOG RERUN
From the mailbag, Joseph House writes: In 1999, you had Ripcord in your oldies section that included a sound-byte of the title song. One of the only vestiges of the show that existed. It was the prototypical skydiving drama, in many ways the same thing to skydiving as Jonny Quest was to action adventures.
I saw the show as a kid, & it was how I learned about skydiving but I know more about the show from trivia & what IMdB stated about it than from my memory of watching it. It's one of those shows I was captivated by as a kid and would like to get a perspective of what to think of it now. It seems like a waste to drown it in the sea of obscurity. I'm surprised recordings of the show haven't been preserved by skydiving clubs for posterity. I suppose if a saw an episode, I may find out why it got consigned for extinction. But its mustard seed impact on aviation entitles it to a more dignified sendoff. It was cutting edge skydiving while skydiving itself was in its infancy and the filming of the episodes was history in the making. Somebody really fixed something that wasn't broke when TVP's idea of progress was to remove RC's theme song from its roster. Restoring it to its slot among the TV archives will be greatly appreciated.
IMdB has pretty good details about the show. But it's all postings. No sound bytes or clips. A lot more fuss is made over Andy Griffith, Gilligan's Island, I Love Lucy, Leave it to Beaver, & The Flintstones than over Ripcord. Some of these are constantly recycled through all the oldies stations. Seems like too many of them show all the same shows, while some of the rarer gems like this one, 77 Sunset Strip and Sea Hunt, seem to be one week wonders at best. At least the latter 2 sometimes get shown.
Thanks for reminding me of that page, Paul - you can find it here. I don't remember where the video clip came from or I'd recapture it. I loved that show as a kid as well, along with Whirlybirds, another syndicated show that took to the skies for adventure.
Thanks to what we didn't have ten years ago - You Tube - we can get a glimpse of those great syndicated shows. As a youngster growing up in the 1960s shows like this would be found on Saturday or Sunday afternoons. If Ripcord, Whirlybirds or Sea Hunt was on it was a treat - there was very little to watch on TV back then if you weren't a fan of fishing or wildlife shows like Mutual of Omaha's Wild Kingdom which seemed to be on all the time.
Tuesday, June 30, 2009 - 8:30am
WOULD YOU LIKE TO RESPOND?
Read more Blog entries here!