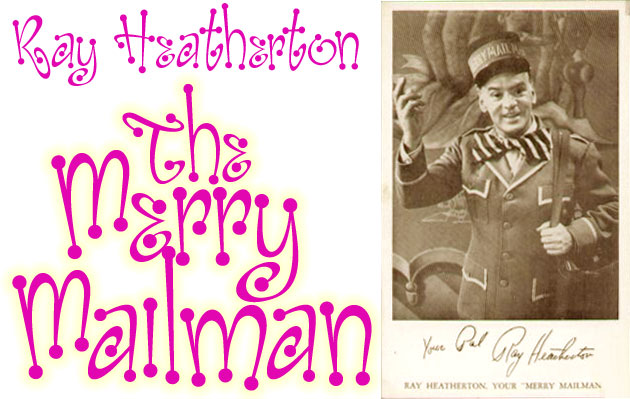 A TRIBUTE TO A GREAT CHILDREN'S BROADCASTER
by Kevin S. Butler
Monday June 1, 2009 marked what would have been the 100th birthday of one of NYC kids' TV's most creative, talented and caring pioneers. It was on that day a century ago that Ray Heatherton, veteran radio/TV/stage/nightclub/vaudeville and recording entertainer and children's wraparound host was born.
Born in Jersey City, N.J. (although some sources state that he was born in Orange) Heatherton was first introduced to performing as a singer with a boys' choir at a local church.

Eventually, his family moved to the Floral Park section of Long Island, New York where he entered a radio singing talent contest sponsored by Atwater Kent, Inc. (then a well known electronic appliance company).
"It was a talent contest for young singers, who showed promise and the prizes were scholarships and such," Heatherton recalled in an April, 1984 interview. He soon performed with a dance band at many local functions in the Floral Park area.
It was during a gig at a local high school that Heatherton received his first professional job. "I attended a prom at Hempstead (N.Y.) high school. I sang at the prom. Paul Whiteman heard me, he was 'The King Of Jazz' at the time and (he) offered me a spot on one of the big commercial programs on radio: "The Old Gold Show."
Heatherton was hired to the soloist for The Rhythm Boys, a popular trio Whiteman featured on his CBS Radio series "The Old Gold Hour." The members of the group were Al Rinker, Harry Barris and an up and coming entertainer by the name of Bing Crosby. Heatherton would also perform with Whiteman's band during "The Midnight Frolics" at the rooftop of The New Amsterdam Theater.
"I worked with Paul Whiteman, who was at the Zigfield Roof," Heatherton explained. "He (Whiteman) was playing in the finale of 'Whoopee' which was an Eddie Cantor song at The New Amsterdam Theater. And one of the posh nightclubs was The Zigfield Roof. After he played in the finale of 'Whoopee' he would go upstairs and he would play at The Zigfield Roof. This was my first job, as a matter of training. I appeared there at The Zigfield Roof."

His tenure with "The Old Gold Hour" was brief, however. Heatherton's father had died recently so he had to complete his education and take a job with the New York Telephone Company to aide his struggling family.
But the allure of show business was too strong to resist and during his lunch periods he would head for the NBC Radio studios to try and find work as a singer.

Eventually, Heatherton was able to re-establish his career as a vocalist after he appeared on numerous musical/variety programs on radio. He also hosted the radio talk show "Celebrity Table." Along with his regular stints on radio, Heatherton began to establish himself as a performer in Broadway musicals. His first stage appearance was in the last of "The Garrick Gaieties".

From there, he appeared in "Anniversary Waltz", a revival of "The Desert Song", "Little Jesse James", "Can Can" and "Babes In Arms" where he was the first to croon the tune "My Funny Valentine" before Frank Sinatra would make the song famous again in the 1950s.

Heatherton made his debut on the small screen in an early video adaptation of Gilbert & Sullivan's H.M.S. Pinafore and The Pirates Of Penzance produced in 1939. "It was for NBC TV," Heatherton recalled. "Harold Sanford was the conductor and Margaret Baum was the soprano. They (the network execs and the producers) were really testing the commercial possibilities of television. I did the lead in both of them."

It was during 1938 that Heatherton embarked on another aspect of his career - as he began to record disks for various labels. On one of those recordings he sang a song about a character that he would make famous two decades later. "I did some (records) not much. Then quite by chance, I made some children's records, which really brought about The Merry Mailman. One of the records that I made for children was a best seller."

Heatherton's performing career was interrupted again when he was drafted into the U.S. Marine Corps during WWII. He served overseas and earned the rank of lieutenant. Upon his return to the states he performed on radio and hosted "Heatherton House," a daily talk/variety show for adults on WJZ (WABC) TV 7 in the NYC viewing area weekday mornings during the spring of 1949.

Unfortunately, the show was not a hit and went off the air after a few weeks. It was a year later that Heatherton created and hosted the TV series for which he is best remembered.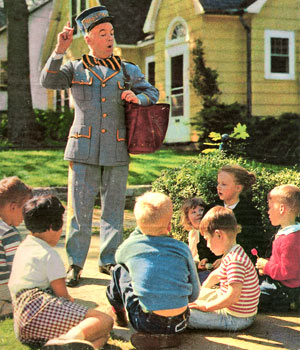 The execs at the newly founded local independent NYC based station WOR 9 were trying to develop a daily children's TV program. They invited Heatherton to audition at Channel 9's studios at 1440 Broadway; he won the job.

When he was asked what type of character he wanted to play on the show he decided to use his happy letter carrier character from the children's recordings that he cut two decades before. "When I came along as The Merry Mailman I tried to entertain, but also to inculcate some ideas which I'm sure that parents have not been preaching but trying to inculcate in their youngsters." He explained, "but, sometimes a person who is not (a member) of the family, will have a more important impact (on them)."

The Merry Mailman began his regular route on WOR 9 on Monday evening, October 16, 1950. The show was not a hit during those early broadcasts due to the fact that Heatherton did little more than stand in front of a curtain in his mailman's uniform and introduce reruns of old movie cartoons from Europe and promote sponsors.
The show was in danger of being cancelled but the station heads at WOR had faith in Heatherton's concept and in his talents. It was decided that the program needed a new producer and director who could create a more appropriate format, one that would serve as a better showcase for Heatherton's talents. They finally found that showman in the person of Sandy Howard.
Howard was a former press agent, manager and short story writer who began his apprenticeship as the associate producer of several radio and TV series including a stint with Martin Stone on NBC TV's panel program "Author Meets The Critics."

"We went onto The Merry Mailman when I had a meeting at WOR TV in NYC," Howard explained in a June 6, 1992 interview. "Fortunately, when we took over the series which was floundering (at the time). We made a number of changes that we felt would make the show more entertaining including different types of cartoons as well as those entertainment guests that would be fun for the audience. I was very pleased that the people who ran the station were very hungry for those who worked for very little money."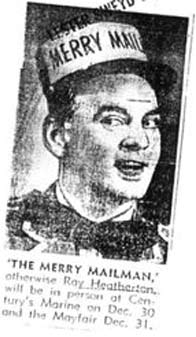 Howard added a studio audience to the format and created the fantasy backdrop of Merry Mail Land, a mythical kingdom that was ruled by the wise and gentle puppet monarch King Orlando. He also included songs, stories, games, craft making, informational segments and interviews with members of the studio audience as well as with well known performers and personalities like Prof. Irwin Corey.
Howard replaced the old movie cartoons from Europe with reruns of the Paul Terry Terry Tunes and screening of the Jay Ward/ Alex Anderson Crusader Rabbit TV cartoons. "We were on a percentage of the income of the shows and we were suddenly making big monies for its day," Howard explained. "The audience grew and we had a very successful show that ran from the time that I took it over in the fall of 1951 until I left for California in late-1957. And it (the show) still continued. It finally went off the air in 1958 when television had become a full grown adult."
(Editor's note The Merry Mailman actually went off the air on Friday, March 22, 1956)
The addition of the studio audience really helped in the development of the show's success. "I think (that) one of the things that changed (the show's image) that is the most dramatic of all is that we invited children," Howard remembered. "Ray's play with the children, his warmth and his loveliness with these youngsters was a major factor in the success of the show. We had about 15 to 20 children in a little area on the set as guests. We tripled our ratings in the first few months and we were able to secure many more sponsors. His personality was able to take advantage of the values of television more than most people."
READ PART TWO OF THE TRIBUTE
TO BROADCAST PIONEER RAY HEATHERTON
---