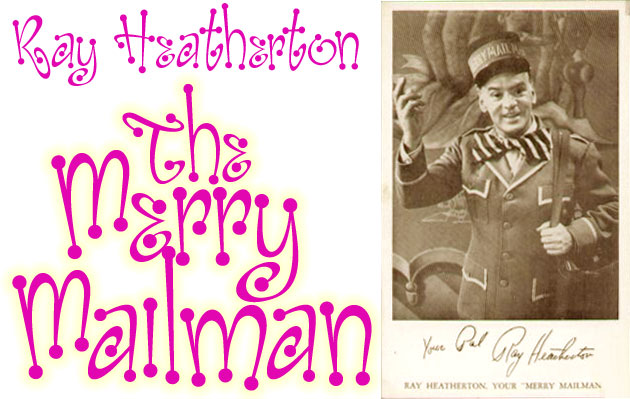 PART 2 : A TRIBUTE TO A GREAT CHILDREN'S BROADCASTER
by Kevin S. Butler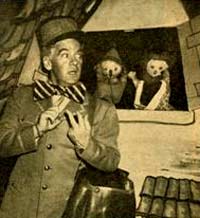 Music was another important part of the program. An organist provided Heatherton's accompaniment for many of the tunes that he harmonized on the series. The full name of the organist is unknown but according to Mr. Howard, "He could sense when to ad lib with the music. The music was something that Al (the organist) would do on the spur of the moment. He just sensed, when to put a musical sound effect from the organ. He was a fine musician and a real magic maker with music."

The show presented well known melodies, which were made even more popular, due to The Merry Mailman's rendition of those songs. Comedy and puppet skits were also a popular feature, presented by the resident jesters of Merry Mail Land - Milt Moss and"The Topsey Turvey Auctioneer" (played by entertainer and future memorabilia trader and collector Chic Darrow).
"At that time they (Sandy Howard and the station execs) had a fifteen minute show and they were looking to expand," Milt Moss recalled in a November, 1983 interview. "They needed somebody to do others with him in conjunction with the presentation of the show."

Moss' involvement with The Merry Mailman occurred during a visit to his local bank. "I was in a bank one day and I met a friend of mine who was working as one of the coordinators (on) The Merry Mailman. He said to me, 'You're the kind of guy with the talents of doing different voices and characters would be great for children. I went over (to the studio) and I saw the producer, a man by the name of Sandy Howard. He got me an interview and I audition for them. They liked what I did."
Moss recalls that prior to his joining the program a young lady was appearing on the series with Heatherton whose talents didn't seem to mesh well with the series star. "At that time they had a woman who was his associate on the show, they were very dissatisfied with her," Moss explained. "I got a call in the middle of the night to come (to the studio), 'You're stating the next day.' I started out by (working) with hundreds of had puppets and then I did all of the live characters." Moss played "Mr. Pennywhistle", "Don Jose", "The Happy Garbage Man", a bratty little boy. He also manipulated and voiced the puppet characters of "Mr. Humperdink", "Pepita" and "King Orlando". He even provided the voices for the many animals that appeared in a segment where The Marry Mailman "Talked To The Animals."

Howard looped all of Mr. Moss' voice-overs for the animals during post production and added the tracks for the animals during the segments. The segments with the animals were not without their dangers. In an interview for an August 2, 1958 article for The New York World Telegram and The Sun? Heatherton recalled frightening experiences with his four legged guests stars. The show opened with The Merry Mailman came onto the set of the show, astride a camel who was being lead by it's trainer and owner, dressed as an arab.

"Someone gave me a leg up," he recalled, "and off we went. hat is my knee cap almost came off. With the cameras going and that darn camel,twisting it's neck and chewing my knee." Seeing that Heatherton was in trouble, the camel trainer snapped the creature's head back. Which removed it's tight grip on the host's knee.
Heatherton was lifted off of the camel's back and while he was given medical attention. Sandy Howard screened a cartoon. Heatherton also tried to nervously hold onto an iguana which was okay until he was told, "Unless he turns on you - then of course, he could tear off your flesh."

Another time he had to deal with an uncooperative eagle. Other times, Heatherton had an animal guest on the show who was not only well behaved but presented a memorable segment, "I had a big husky (Dog) on the show," he recalled. "He was a big, white, fluffy fellow with an expressive face. I would talk to the dog and..Milt Moss would answer offstage into a microphone that (made it) look as though the dog was talking. He gave the animal a personality and the children loved it and accepted it."

Moss also voiced a group of unique creatures "The Weather Heads" were a series of puppets that gave the weather reports on each show. Another popular visitor to "Merry Mail Land" was "The Topsey Turvy Auctioneer" Chic Darrow's zany salesman character would perform comedy skits,magic tricks,juggle,songs and dances and make balloon sculptures for the kids in the audience.

The show was also able to inform kids about events and people in the news. Howard was able to use newspaper and magazine articles as research materials in developing the program's educational segments. Heatherton and his cast would also introduce the kids to world cultures and encourage the kids to respect teachers and inculcate American values. The young viewers fell in love with these characters... because their charm and their warmth so sincere and Heatherton and his cast made sure that he and his cast never talked down to their viewers.
"We never used the words 'kids' on the show," Moss explained. "Always children - the little boys and girls, the young ladies and gentlemen, he treated them as young boys and girls. And he never used the words kids, because in a child's mind, if he was six or seven years old, in his own mind, he was a grown man."
For a time Heatherton did personal appearances at hospitals for disabled and terminally ill children. He did this to give joy to these youngsters in a situation where there was very little to smile about.

More often than not Sandy Howard would join "The Merry Mailman" on these special appearances at hospitals in the NYC, Ct. Long Island, N.J. and Westchester County areas. These appearances were never publicized because Ray Heatherton did it for the benefit of these kids. "It was not the proper thing to do," Howard said about making these public.

Heatherton did these private appearances until 1952 when Howard felt that his kid's TV host/performer should bring these shows to a bigger and more profitable venue. "We had this enormous popularity and Ray Heatherton had his reasons to earn more money," Howard explained. "I had a very serious burden with my father who had gone bankrupt in 1951.I had to make a lot of money to back some debts. A great deal of money, in (terms of) hundreds and thousands of dollars, which,if you were to translate today into millions. I said, 'Ray, you've made a few guest appearances for free in various areas for various crowds. Why don't we do this in theaters and create a show?'"
Howard recalled that he hired Milt Moss to serve as Heatherton's second banana for those personal appearances. "We started doing (stage) shows and, by God, we started making a hell of a lot of money. We use to do three, sometimes four shows a day on Saturday.We had a first show at ten o'clock and then we'd drive to another place and we'd do another show at 12:00, 1:00, 2:00 and 4:00 pm. We'd make quite a large amount of money. I don't know how much Ray and I split after paying costs but that sure as hell helped in pay off (my father's) bankruptcy."
Moss would play a bratty little boy at those PA's, he would engage Heatherton in some verbal nonsense reminiscent of Abbott & Costello. "We'd do comedy skits and do wild things. I'd be dressed as a kid coming through the audience," Moss told me. "'What do you want to be when you grow up? I want to be a hunk of baloney!' Kids would scream at this (type of comedy) because it's fantasy, it's silly, it's inane. At the same time he (The Merry Mailman) would admonish me and I'd say that I want to be 'an empty sardine can.'"

Heatherton, Moss and Darrow would perform at many theaters in the Metro area to capacity crowds. Other times, Heatherton would appear without his friends at The TV Guide Summer Festival at Gimbles Department Store in Herald's Square. For a time, Heatherton and Howard tried to license their character in order to create a plethora of "Merry Mailman" merchandise. Toys, playsuits, books, comic books, records, puppets, etc. were distributed by many companies. The idea of merchandising the character was not as successful due to the fact that he was not well known outside of The NYC/NJ/Ct. viewing area.

The character was heard on the Mutual Radio Network Monday, Wednesday and Friday evenings and Saturday and Sunday afternoons from 1953 to 1955. The concept of a "Merry Mailman" radio program failed to gain an audience and it left the air after a three year run. The TV version remained a hit with NYC kids until 1953 when Ray Heatherton became a victim of The Communist Witch Hunts. "One gentleman from Syracuse, New York, who claimed to be the owner of a major supermarket who propagandized to our sponsors." Howard recalled, "We lost all of our sponsors."

Heatherton and Howard lost sponsors to The Merry Mailman, Luncheon at Sardi's, and for their other shows. They were also in danger of being cancelled because the executive vice president of WOR TV, Mr. Tom O'Neill, was a staunch supporter of Senator McCarthy's blacklisting. Yet, O'Neill didn't believe that Heatherton and Howard were members of the Communist Party and he maintained The Merry Mailman as a station sustained program.

In the interim, Heatherton and Howard went to see the gossip monger when he was staying at a NYC hotel in the hopes that they could try and reason with him. As Mr. Howard explained, "When Ray and I found out that this B-! was from Syracuse and was in town we went over to visit with him and Ray explained to him that, literally after Pearl Harbor, Ray joined the armed forces." Heatherton tried to explain to the supermarket owner that he was not only not a communist but that he fought overseas in WWII in defense of the American cause and that he was also a supporter of McCarthy's efforts.
Try as he might Heatherton was unable to reason with the vindictive demagogue. The man's ravings angered Mr. Howard so much that he was prepared to assault him. Heatherton stopped his boss from committing mayhem and the two unhappily left the hotel.
The Merry Mailman remained on the air on Channel 9 until Friday March 22, 1956. Prior to The Merry Mailman's departure from the NYC airways Heatherton hosted a combination live action and filmed musical anthology series "The Ray Heatherton Theater." Unlike his landmark children's series this dramatic/musical program was aimed at a teenage audience.

Seen weekday evenings beginning on Monday January 9, 1956 Heatherton would introduce a dramatic film, sing a song and then perform in a live dramatization with a guest actor. "The Ray Heatherton Theater" was not a hit and it left the air following the Friday Night March 9, 1956 broadcast.
Heatherton returned to NYC children's TV when the heads of WOR hired him to mc "The Cartoon Parade" - unfortunately, the business of local TV was changing during the late 1950's and early 1960s. Station execs no longer wanted to create, produce and present children's shows that utilized elaborate production values. Local station were now presenting filmed shows or programs with their hosts/ performers introducing reruns of cartoons, comedies, serials, westerns, and promoting sponsors.

READ PART THREE OF THE TRIBUTE
TO BROADCAST PIONEER RAY HEATHERTON
---