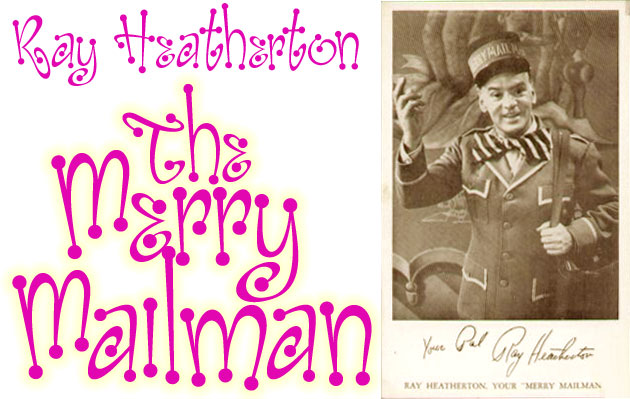 PART THREE : A TRIBUTE TO A GREAT CHILDREN'S BROADCASTER
by Kevin S. Butler
MC's of these cartoon shows had to limit their performances so that they could do the commercials and introduce the films, with little time left for instilling good values. Some local children's shows like WABD/WNEW TV Ch. 5's "Wonderama," WPIX TV Channel 11's "Let's Have Fun" and WGN TV 9's "Bozo Show" were able to maintain their big production formats without any creative interference for years due to successful ratings and good rapport with their station execs.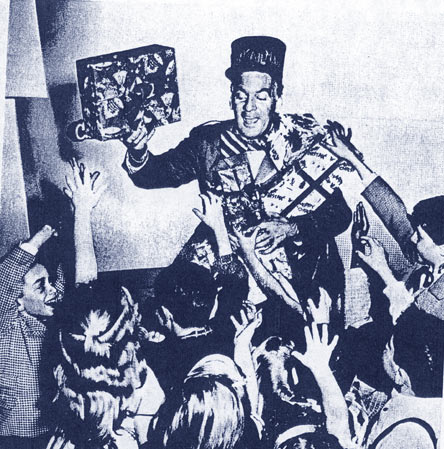 But in 1956 Ray Heatherton no longer had his star children's series on the air. When he hosted "The Cartoon Parade" he was forced to do the series on his own, gone was the fantasy backdrop, the studio audiences, and the comedy and puppet skits provided by Moss and Darrow.

From the first broadcast of the show on Monday evening March 12, 1956, Heatherton hosted the show as himself and he also had to create and perform his own characters. "The Great Raymondo" (a bumbling magician) and "The It", an invisible creature that took great delight in playing cruel pranks on Heatherton and his guest performers were introduced.
The weekday evening edition of "The Cartoon Parade" was cancelled on Friday, June 20,1956 and replaced on Monday, June 23, 1956 with a weekday afternoon timeslot with Heatherton once again playing his friendly letter carrier character.
Despite the return of the Merry Mailman, "The Cartoon Parade" was little more than a minor cartoon fest, the show ended it's march on Monday, September 14, 1956. He moved to WPIX TV 11 where he hosted the weekend evening edition of "The Popeye Show."

This experience was also disappointing as he had no creative control over the format. Heatherton was forced to mc the program as a grandfatherly sea captain character as he introduced the reruns of films and promoted sponsor products.

The weekend evening version of WPIX TV 11's "Popeye Show" was seen from Saturday and Sunday, September 8, & 9,1956 to Sunday, April 13, 1958. Heatherton didn't return to NYC kid's TV until three years later when the WPIX tried to revive the Merry Mailman as a weekday afternoon series to be seen at lunchtime beginning on Monday, September 25, 1961. Sadly, "The Merry Mailman's Funhouse" was simply another half hour cartoon program with Heatherton standing in front of the backdrop of a city park, sporting his mailman's uniform and introducing reruns of the Melo Tunes and Clutch Cargo TV cartoons along with Al Christie film comedies in addition to promoting the sponsors.
"The Merry Mailman's Funhous"e was finally closed on Friday, May 31, 1963. Heatherton went onto other projects, he became the executive vice president in charge of Public Relations for Franklin National and European American Banks. He would later leave those jobs to serve as the head of public relations for Lilco (the Long Island Lighting & Power Co.) and finally he maintained public relations for The Garden City, a Long Island, N.Y. Hotel.
Yet Heatherton never fully abandoned performing - he co-hosted a musical/ variety show "Joey & Dad" with his daughter Joey Heatherton on CBS Sunday nights during the summer of 1975.

He also briefly returned to radio when he mc'd "The Ray Heatherton Breakfast Club" weekday mornings in national syndication from the late-1970s to the 1980s. Heatherton also performed with The Bayside (Queens, N.Y.) Community Theater in their productions of Rodgers & Hammerstein's South Pacific and Oliver. In the latter stage musical he worked against type as he played "Fagin" the infamous leader of the gang of boy pickpockets.

He also sang in The Garden City Hotel's Polo Lounge. He made his last TV appearances in the 1980s - he hosted "A New Day is Dawning," a daily talk/variety show aimed at an audience of senior citizens. "A New Day is Dawning" was seen weekday mornings on WNYC TV 25 in NYC and in national syndication from 1983 to 1985.

He also appeared on WOR TV 9's 35th Anniversary tribute on Tuesday night October 11, 1984 and on WPIX TV 11's 40th anniversary - WPIX At 40 - on Thursday November 29, 1988. He continued to work at The Garden City Hotel until he was diagnosed with Alzheimer's disease in the early 1990s.

Ray Heatherton resigned from the hotel and was admitted to the Actor's Fund Home in Engelwood, N.J. in 1993. Despite the inconviences that his disability gave him Heatherton was still able to perform at local functions near the home.

Ray Heatherton died on August 15, 1997 but his contributions to local kid's TV became the standard for other kiddie shows that followed. His format and characters were utilized on The Clubhouse Gang, The Sandy Becker Show, The Looney Tunes Show, Adventuretime, The Herb Sheldon Shows, Wonderama, Time For Fun / The Johnny Jellybean Show, Watch Mr. Wizard, Captain Kangaroo, The Three Stooges Funhouse, Kartoon Klub / Shari & Her Friends, The Shari Lewis Show, WPIX TV 11's Popeye Show with Captains Allen Swift and Jack McCarthy as well as Mr. Rogers' Neighborhood. All of them have to thank this little man and his regulars who created a format that was able to entertain, educate and inform young viewers and studio audiences in a gentle, engaging and fun atmosphere.
READ PART ONE OF THE TRIBUTE
TO BROADCAST PIONEER RAY HEATHERTON
---