* Classic & Current Television Blog *
THINKING ABOUT VIVIAN VANCE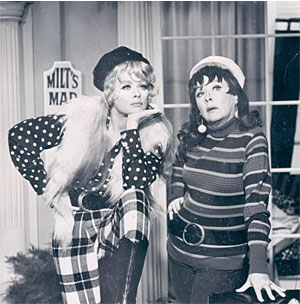 Vivian Vance was one of those actresses from the early days of television that never really got the recognition she deserved, most likely because she was so darn naturally effervescent on screen that most people must have assumed she wasn't play acting at all. That, and having to live under the shadow of the greatest star the medium has known.
In 1959, before I Love Lucy went off the air and was replaced (sort of) by The Lucy-Desi Comedy Hour, Desilu and the network were anxious to launch a spin-off starring Vivian Vance and William Frawley as the Mertzes. One problem - the actors hated each other. Frawley was willing but Vivian Vance stated, "No money in the world could persuade me to do a series with Mr. Frawley." After he found out she'd killed the deal, Frawley never again spoke to Vance unless the words were written in his script.
No matter, William Frawley bounced right from The Lucy-Desi Comedy Hour in 1960 to another hit show that year, My Three Sons. Did you know William Frawley and Lucy were reunited on The Lucy Show, but only for a brief moment? This was while Vivian Vance was leaving the series during the time when Ann Sothern was briefly Lucy's partner in crime. That was William Frawley's last TV appearance, he died in March of 1966.
Desilu developed a pilot for Vivian Vance called Westward Ho! but the results were unsatisfying. Some have said that Lucy didn't want Vance to have a series so she would be available for a Lucy relaunch but Vivian had no desire to do another weekly Lucy sitcom. "Not on your life!" was her initial reaction but was persuaded by that immovable object Lucille Ball. Lucy & Viv made an unbeatable team and that, more than anything, was the key to The Lucy Show's top ten status beginning in 1962.
By 1965, Vivian Vance opted out of the responsibility of starring in a weekly series, preferring a quieter life in Connecticut. She rarely returned to television after departing The Lucy Show in 1965, although she returned faithfully to Lucy's series for an episode or two every year or so.
In 1975 Vivian Vance was a part of the Dean Martin Roast of Lucille Ball and she really socked it to her former boss.

This beloved TV icon made one of her last appearances in primetime as Rhoda's neighbor in a delightful 1975 episode of Rhoda; she fell easily back into the sitcom rhythm, as if she'd never left our screens (she hadn't, really). Valerie Harper and the producers enjoyed the experience so much that they considered making Vivian a regular on the series but she'd been diagnosed with cancer in 1973 and was too fragile for the grind of a weekly show. This was proven tragically true in 1977 when Vivian Vance suffered a stroke while filming a special, Lucy Calls the President, the first scripted show she'd done with Lucy since her last appearance on Here's Lucy in 1972. Vivian Vance died in 1979.
Saturday, April 17, 2010 10:10am
WOULD YOU LIKE TO RESPOND?
ROMPER ROOM MEMORY
It's funny how TV touched my generation growing up - in a way it can't possibly anymore. Television stations were serious about public outreach before the mid-1970s - after all, why would you watch their shows outside of primetime?
Local children's shows offered an opportunity to share in something that was slightly larger than life yet real and tangible. These programs were hosted by individuals with a genuine love for children; the camera and the young audience picked up on this, creating a lasting impression. Of course, this was a time when the medium wasn't populated by vapid, image conscious barracudas.
Here's a poignant example of that connection that once existed, Nancy McCormick (nee Schell) writes: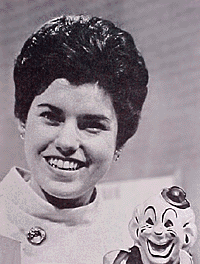 In 1968, I was five, and only child, and was anxiously waiting to start kindergarten. We lived in a run down area of Staten Island and one day, my Mom took me to the Woolworth's right down the block from our apartment, to see Miss Louise from Romper Room School.
I watched the show regularly because I was real eager to start school. I knew she was coming to "our" Woolworth's, but I didn't think my Mom even knew she was going to be there, and I didn't think to tell her.
There was a long line of moms and kids, and we got in it, but then my Dad showed up in the middle of the store, all drunk and delusional, and kept yelling about stuff that made no sense.
My Mom got me out of there before he saw us. She didn't want either of us humiliated but I kept asking her, "Why's Daddy yelling? Is he going to get arrested?"
A few minutes later, we went back in and the line was a lot shorter. I guess my Dad scared some of the other Moms. The people who worked at the store had my Mom bring me toward the front of the line. I kept looking for my Dad and asking my Mom if he was coming back.
Before you know it, I was standing in front of Miss Louise. I saw her with the kids in front of me, and she was sweet, but swift, shaking their hand, asking their first names, then giving them a balloon and a bag of goodies and sending them on there way.
When she got to me, I felt shy and confused. My fantasy world and real world colliding in such an extreme way. Miss Louise took both my hands and asked me my first name. I told her. Then she asked me my last name, which surprised me, but I told her. Then she put me on her lap, with her arm around my shoulder and asked if I went to school, and I prattled for a minute about going to Kindergarten soon. Then she put me down and gave me the goodie bag, but she was out of balloons. I was so giddy, I couldn't have cared less. I told her, "I don't need one." My Mom immediately said she'd buy me one, but I told her the same thing. A lady who worked in the store gave me one off the shelf anyway.
It doesn't end there.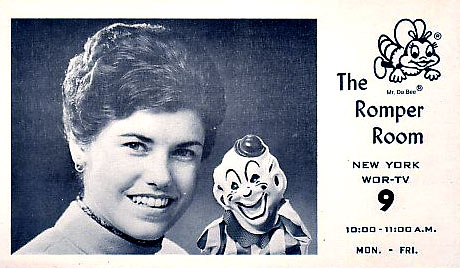 The next time the show was on, at the very end of the show, when she looked into her magic mirror and said "Romper Bomper Stomper Boo..." and started saying the kids names... I got real excited and attentive, hoping she'd say the name "Nancy," but not really believing that she'd be thinking of me when she did.
She said a bunch of kid's first names, like: "I see Timmy and Susan and Carl..." then she said my name, first and LAST!!
I was so happy, I was jumping out of my skin and squealing! My Mom was in the kitchen, and I honestly don't remember if I told her or not. I think I did.
It was so cool that she actually SAW me. Not in the magic mirror, but in the Woolworth's. I wasn't just another kid on the assembly line.
I'm 47 now but I still inwardly laugh and cry when I think about it.
If she is still alive and if anyone who knows Miss Louise reads this... please tell her this story and thank her so much for making one nervous little girl so happy.
Saturday, April 17, 2010 4:00am
WOULD YOU LIKE TO RESPOND?
FRIDAY NEWS ROUNDUP
There's a He-Man Masters of the Universe movie coming, no word yet on who will star or why they're making the movie in the first place.
Keifer Sutherland is on a Charlie Sheen-level bender - he was thrown out of a Lonodon strip club drunk and shirtless. What the heck does a riuch celevrity have to do to get thrown out of a strip club? In London no less where the laws are much more lax and their celebrity worship is unparralleled. (You guessed it, I'm jealous. No, really!)
Russell Crowe got his star on Hollywood Boulevard - no tally yet on how many people were assaulted.
One of my faves, Burn Notice, has been renewed for two more seasons and Bill Maher will be back for season 9 on HBO.
Seen in a cartoon: "I can live with the redistribution of the wealth, it's the redistribution of the poverty that's killin' me."
Porn for the blind is coming, books with braile nude bodies. Why didn't YOU think of that?!?
'Rocker' Brett Michaels, who seemingly has more health problems than my 84 year old mother, is out of the hospital after an emergency appendectomy. Remind me again why those skanks on Rock of Love were so hot to hook up with him? Oh yeah, the operative word - skanks.
Twitter now has 105 million users, myself not among them although I appreciate greatly those of you who have requested to be my Twitter friend. If you want to know what I have to say about anything catch me at the bar after a couple of drinks.
Friday, April 16, 2010 10:40am
WOULD YOU LIKE TO RESPOND?
RODNEY
Rodney Dangerfield was a comic made for TV. He broke out on The Ed Sullivan Show in the 1960s and soon became known for his "I Don't Get No Respect" routine, a genius hook for a comedy bit.
Dangerfield appeared on the Tonight show 35 times, he was one of Johnny's favorite guests and no wonder, he killed every time and was right in line with Johnny's sense of humor. Check this classic routine performed on the Carson's show in 1971.
His career really took off in the 1980s with a string of hit movies. I remember working on the campaign for Rover Dangerfield, an animated movie produced after Dangerfield's successful movie run was over. That expensive 1991 production was God awful and caused the comedian to loose a good chuck of his own money. I think everyone involved knew it was a doomed project but Rodney himself was a very pleasant guy and he loved the poster art we did.
Here's Rodney Dangerfield on the Tonight show just before Easy Money was released in 1983, where he rat-a-tat-tats his way through some of his funniest material. You'll be telling these jokes at work tomorrow - if you can remember them. Watch as Johnny plays straight man for ten minutes and loves it.
Oh, let's face it you want more - once again Johnny plays it straight while Rodney blows the audience away.
Thursday, April 15, 2010 12:52pm
WOULD YOU LIKE TO RESPOND?