* Classic & Current Television Blog *
WE'VE GOT COMICS!
When I was a kid I was crazy about comic books, DC comics in particular. I started with Superman comics then began reading World's Finest with Superman & Batman. After that anything with those characters on the cover grabbed me. DC covers always presented some kind of conundrum and I couldn't wait to find out how the heroes would get out of whatever seemingly impossible situation they found themselves in.
World's Finest covers, mostly drawn by Curt Swan and George Klein, often times had super friends Superman and Batman at odds with one another with one or the both of them turning evil. Presented for your amusement are some of those groovy covers from around 1966.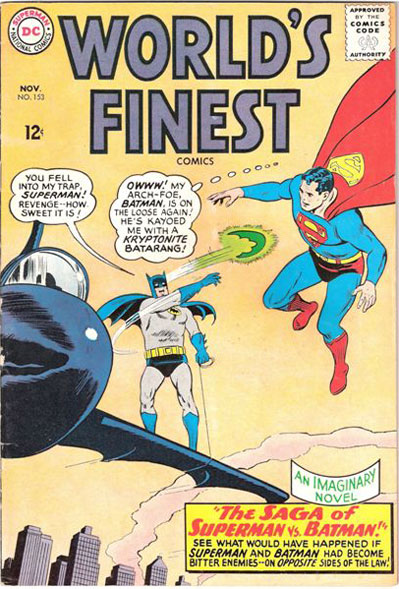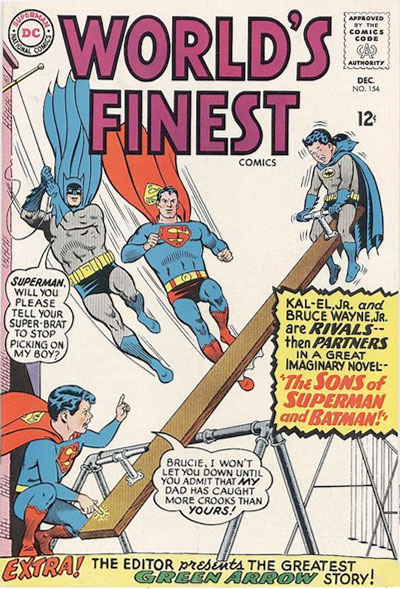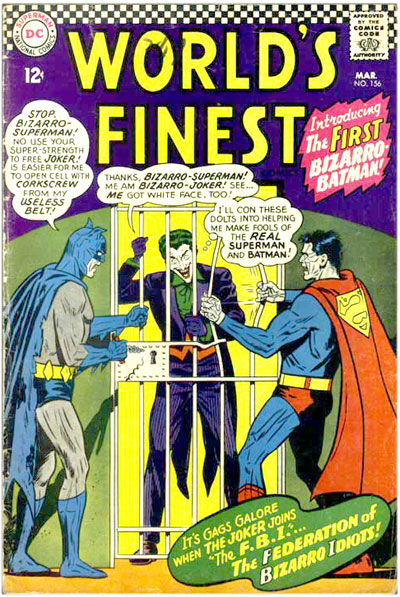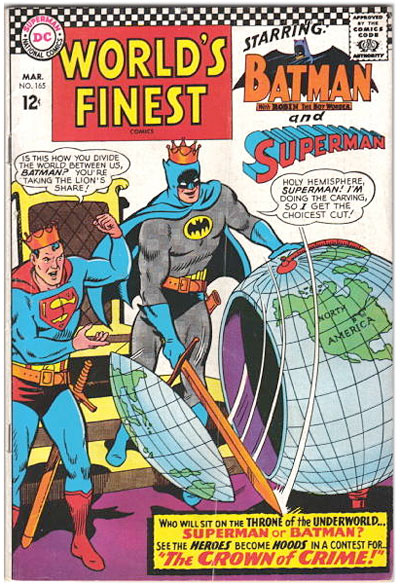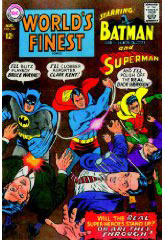 DC is reprinting these comics in glorious black and white in a few weeks, something like 500 pages for around $15.00.
Wednesday, January 27, 2010 9:01am
WOULD YOU LIKE TO RESPOND?
FLACK ATTACK!
Do you like classic cars, moonshine and country music? Otis Farmer writes: The link below is to Matt Dylan's music video for his song Carolina Moonshine. The crew I directed for our Lubbock County shoot invited me to hang out with them during the filming of this music video project.
It was really a blast exploring part of North Carolina's history with moonshine, that led to the development of Stock Car racing. During the production I got to meet the legendary Junior Johnson, and he fixed our breakfast on the second day of shooting. While at the North Wilkesboro Speedway, we met Terri Parsons, the widow of Benny Parsons, a former Stock Car Champion and sportscaster. Terri is an awesome and very classy lady that is continuing her and Benny's dream of operating Benny Parsons Rendezvous Ridge winery.
I've never tasted moonshine!

James Rana, host and producer of THE JAMES RANA SHOW, welcomes British actress/comedienne Carol Cleveland to the program on Sunday, February 7 at 8am on 89.1fm WFDU. Regarded as "The Seventh Python," Carol Cleveland was a regular sketch actress on numerous episodes of "MONTY PYTHON'S FLYING CIRCUS," and appeared in all Python films. Most recently, Ms. Cleveland reunited with Python alum: John Cleese, Eric Idle, Terry Jones, Michael Palin and Terry Gilliam celebrating Monty Python's 40th Anniversary.

THE JAMES RANA SHOW is a comedy/variety/documentary style talk show airing the first Sunday of the month on 89.1fm WFDU.

There's an all new episode of Caprica coming on Friday - here's a sneak peek.
Wednesday, January 27, 2010 8:07am
WOULD YOU LIKE TO RESPOND?
NOW THAT'S OBSCURE KNOWLEDGE
Kevin S. Butler notes: Keith Hefner, the fourth and last host/performer of WJZ/WABC 7 and Power & Wilson's Time For Fun / The Johnny Jellybean Show, told me that when he was MC'ing his first kid's TV series Mr. Toby's Tip Top Merry Go Round weekday afternoons on WAAM (now known as WJZ) TV 13 in Baltimore during the early 1950s Pernell Roberts worked on the technical crew as a cameraman.

My friend Andy Klyde, a lawyer who is also the researcher for the Bonanza TV tributes, asked Mr. Roberts about this and he confirmed that he worked on that kid's show in Baltimore, Md.
I'm just sorry that I wasn't able to talk with Mr. Roberts about this - then again, seeing that there are some aspects of his career that he would prefer to forget, it's probably just as well.
Tuesday, January 26, 2010 11:20am
WOULD YOU LIKE TO RESPOND?
THIS 'N' THAT
The last surviving cast member of Bonanza has passed on: Pernell Roberts, the ruggedly handsome actor who shocked Hollywood by leaving TV's "Bonanza" at the height of its popularity, then found fame again years later on "Trapper John, M.D.," has died. He was 81.
January 30, 1969 The Beatles' played their last concert on the roof of Apple Records.
Tuesday, January 26, 2010 6:30am
WOULD YOU LIKE TO RESPOND?
FROM 1962
Who knew they had comics for Beatniks?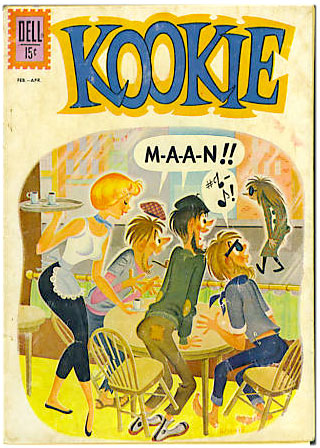 Monday, January 25, 2010 1:15pm
WOULD YOU LIKE TO RESPOND?
TV PIONEER PASSES
Frances Buss Buch, a pioneer of network TV credited with being the first female television director, died on Tuesday January 19th at age 92 in Hendersonville, NC. Buch's family stated that she started as a receptionist at CBS in 1941, in 1945 had worked her way up to producer and director of early TV productions like Missus Goes A-Shopping (1945), It's a Gift (1946), Wheel of Fortune (1952), and Hold It Please (1949). Buch reportedly directed the first color TV program for CBS in 1951.
Sunday, January 24, 2010 11:45am
WOULD YOU LIKE TO RESPOND?
THIS 'N' THAT
Rob Delisa has put together a site to help you find that vintage toy gun you're looking for.
Have you heard about the all-white basketball league? What's up with that? The league owner is calling it "Snowball vs broball." If he was kidding it might be funny, who would go to see such a thing?
"The Sarah Silverman Program" returns for a third season with 10 all-new episodes beginning on Thursday, February 4 at 10:30 p.m. Follow Sarah and the rest of the gang as she takes on pedophile vans, rigs a mayoral election, takes a stance on "Real Time with Bill Maher" and reconnects with her imaginary childhood friend (played by Andy Samberg), among other adventures in this irreverent new season.
Friday, January 22, 2010 11:55am
WOULD YOU LIKE TO RESPOND?
HOST & CONTESTANT REUNITED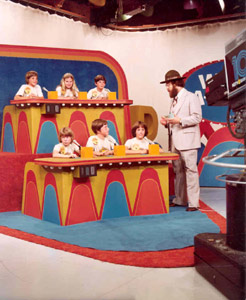 Just about everyone who resides in Southern California knows the legendary radio and television personality 'Shotgun Tom" Kelly.

A veteran of the 'Boss Radio' days, "Shotgun Tom" Kelly is currently heard afternoons 4pm to 8pm on the Los Angeles flagship station K-Earth 101.

Youngsters who grew up in So Cal also remember "Shotgun Tom" as the host of the McGraw-Hill produced syndicated game show Words-A-Poppin', which ran from 1974 through 1979. (The show was broadcast on KGTV San Diego, KERO TV in Bakersfield as well as KMGH TV in Denver, WRTV Indianapolis.)

Words-A-Poppin' ran for 5 years and the genial host won two Emmy awards as host; after that "Shotgun Tom" Kelly moved over to KUSI TV to MC the KUSI Kids Club for 12 years.

Filmed in front of a studio audience, Words-A-Poppin' featured a panel of six kids attempting to unscramble words grouped in a category (like kinds of birds or foods), racking up points and prizes for correct answers.

Shotgun Tom Kelly recently was reunited with one of the contestants from this classic game show. I'll let him tell you the story: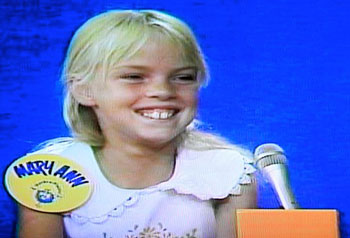 One of the kids on my TV show "Words-a-Poppin" found me through my website shotguntomkelly.com
I get lots of E-mails from kid's who watched the show and kid's who were on the show. But this is the one kid I met. It was a wonderful experience. I just want to tell people about.
Her name when she was on my TV show was Mary Ann Musser, today she's married and her name is Mary Ann Alexander.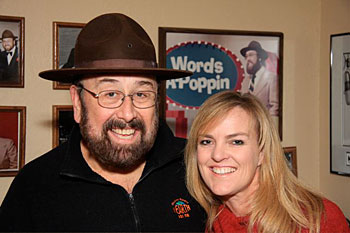 She called the TV station KGTV channel 10 in San Diego and asked about the Words-a-Poppin show she was on when she was in 6th Grade. They told her the video tape's had been destroyed. That's when she found the show she was on on my website. She was so excited she E- mailed me and I made a copy for her on DVD and I met her and gave it to her in person. We took a picture in my office and had a wonderful time talking about when she was on my show and how she told her 4 kids and now they too can see there Mom on TV when she was their age.
Friday, January 22, 2010 6:20am
WOULD YOU LIKE TO RESPOND?
Read more Blog entries here!