WE'VE GOT COMICS!
I was a comic collector back in the day but I didn't read the so called romance comics. They did have some funny covers - check out these gems from the 1970s.
| | |
| --- | --- |
| This poor hippy chick is literally a doormat, which is why her boyfriend dumped her, but lying in the front lawn comes in handy when you want to know what's going on in the neighborhood. Cover artist: Nick Cardy. | This cover would have worked even better as a horror comic, with the Bride of Chuckie ambushing this nice young couple. Cover artist: Bob Oskner & Vince Colletta |
| Pity the poor fashionably dressed blonde with the perfect body and the Merle Norman makeup job - she's shy! Really?!? That's a first. Cover artists: Bob Oskner & Dick Giordano. | This guy's rounding second base - on a comic book cover! Cover artists: John Rosenberger & Vince Colletta (Okay, I'm guessing at these). |
Saturday, September 25, 2010 - 5:45am
WOULD YOU LIKE TO RESPOND
NEW & OLD
Rave reviews all around for HBO's Sunday hit Boardwalk Empire, I can't wait to see it - on DVD where I can watch as much as I want. Here's a preview from episode 2 - The Rothstein Pool Ball Story.
Just for laughs - Rodney Dangerfield sits down with Carson back in the eighties and does his hilarious act.
Friday, September 24, 2010 - 11:29am
WOULD YOU LIKE TO RESPOND
THIS SOUNDS LIKE FUN!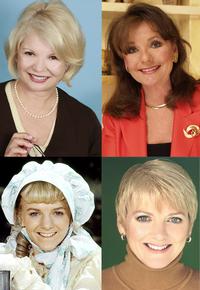 One lived in a New York high-rise. One was stranded on a desert island. Another grew up on the prairie. Now, actresses Kathy Garver ("Family Affair"), Dawn Wells ("Gilligan's Island") and Alison Arngrim ("Little House on the Prairie") will make a rare public appearance together at the popular Larry Edmunds Bookshop in Hollywood on Thursday, October 7 at 7:00 p.m.
Garver and Wells will sign copies of Garver's "Family Affair Cookbook," a collection of Garver's memories of the classic CBS series "Family Affair," as well as recipes inspired by the show. On the show, Garver played Cissy, the older sister to twins Buffy and Jody. Wells, who is best-known for her role as Mary Ann on "Gilligan's Island," wrote the forward to Garver's book. She will have autographed photos for purchase.
Arngrim, meanwhile, will sign copies of her own book, "Confessions of a Prairie Bitch: How I Survived Nellie Oleson and Learned to Love Being Hated." The memoir's title was inspired by Arngrim's role on "Little House on the Prairie" as "mean" girl Nellie Oleson, whom the other characters did not like, but who was popular with viewers.
"Classic TV stars never disappear; we just go on to appear on DVDs and write books," Garver said, laughing. "Alison, Dawn and I have been friends for years. Dawn and I worked at CBS at the same time, and then I met Alison years later at an autograph convention. I am looking forward to seeing them again at Larry Edmunds."
Since "Family Affair" and "Gilligan's Island" ended four decades ago, both Wells and Garver have continued acting and producing. Wells has guest-starred on such shows as "Roseanne," "Baywatch," "Growing Pains," "ALF" and more. In 2001, she produced "Surviving Gilligan's Island: The Incredibly True Story of the Longest Three Hour Tour in History." She currently is developing reality-based TV shows.
Garver has also appeared in many movies and series, including "The Princess Diaries," "Adam-12," "The New Love American Style" and more. She has provided voices for children's animated programs and audio books. Recently, she signed to play a nun in the Christmas movie "Santa's Dog." She also narrated the audio book version of the new "Chicken Soup for the Soul: A Book of Miracles."
Since "Little House on the Prairie" ceased production in 1983, Arngrim has appeared in several movie and TV projects, including "Make the Yuletide Gay," "Le Deal," "The Last Place on Earth" and "For the Love of May."
Garver, Wells and Arngrim will appear at Larry Edmunds Bookshop, 6644 Hollywood Boulevard, Los Angeles, California 90028, on Thursday, October 7 at 7:00 p.m. For more information, call 323-463-3273 or visit www.LarryEdmunds.com.

Thursday, September 23, 2010 - 9:16am
WOULD YOU LIKE TO RESPOND
TUESDAY PLUGS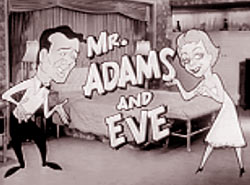 Wow! This looks lovely - a new book is coming about one of my favorite TV shows of all time - Mr. Adams and Eve starring Ida Lupino and Howard Duff. You can read the TVparty! feature on the show here but you have to check out the web site that teases the book - mradamsandeve.com.
Every once in a blue moon a star is born, someone comes out of nowhere and captivates the nation. Danny McBride is one of those actors, he emerged from the South a full blown media personality and HBO was smart enough to give him a show, Eastbound & Down, one of the flat out funniest shows of the last season. The series returns this Sunday, September 26 at 10:30PM; for season 2 Kenny Powers heads to Mexico for some southern-fried hilaridad. There is a contest going on called The Kenny Powers Video Tribute Challenge where you can use your mad video editing skills to win a 55 inch TV. One of those flat ones that hang on the wall, I'm sure you've seen one.
Tuesday, September 21, 2010 - 11:32am
WOULD YOU LIKE TO RESPOND
SATURDAYS PAST
Kill a few minutes with some Saturday morning commercials from 1972.
Enjoy some more from around the same time including Crumpet the Tea-Party Doll - no, she doesn't say, "Obama's a socialist!"
Saturday, September 18, 2010 - 11:32am
WOULD YOU LIKE TO RESPOND
FRIDAY STUFF
Real Time with Bill Maher returns on HBO tonight at 10:00. Here's a sample.
If you didn't see it somewhere else Billie Mae Richards, the voice of Rudolph the Red Nosed Reindeer, has died. A great talent.
One of my favorite shows of the 1970s was The Gong Show. A testament to how popular it was, even if you've never seen it you know what I'm talking about. A lot of LA performers got their first break on Chuck Barris' bizarre game show. The Unknown Comic, aka Sonny & Cher regular Murray Langston, was one of the breakout stars. Friend the Unknown Comic on Facebook and he'll send you some very funny jokes from time to time. Funnier than the jokes he used in his act, that's for sure.
Friday, September 17, 2010 - 8:50am
WOULD YOU LIKE TO RESPOND
BEAUTIFUL LOS ANGELES
I really loved the LA of the late-1970s - early-80s, just before the city started booming - wrecking architectural treasures, Hollywood landmarks and building up up up. Here's a slide show with photos of one of the most famous corners in the world over the years - Hollywood & Vine.
In the same vein, photos from the San Fernando Valley over the last century. I remember a lot of those places!
I had many great lunches at Phil's Diner in the 1980s, a dilapidated 1920's railroad car turned cafe by the tracks in North Hollywood. I don't know where the writers of Bette Davis' signature line "What a dump!" were when they wrote it but they could easily have been at Phil's. It was a greasy spoon, didn't do that much business, and was very small but some of my younger coworkers thought it was cool so we ate there once a week.
We were eating lunch there one day and some filming was going on. They told us it would be a while before they started so we could go ahead and eat. Sitting at one of the few tiny tables was Demond Wilson, star of Sanford & Son, who was in the production.
I lost track of the place once I was lucky enough not to have to go to the Valley to work anymore but it eventually was shuttered. Now the joint has reopened on Lankershim Avenue in North Hollywood looking like an old whore with a new dress, painted up in neon for the new millennium.
If you're into the dining car experience in LA the Pacific Dining Car in downtown Los Angeles built in 1921 used to serve magnificent meals, I assume it's still great. They're open 24 hours, had excellent service and made a killer steak.
Wednesday, September 15, 2010 - 8:20am
WOULD YOU LIKE TO RESPOND
Read more TV Blog entries here!