REMEMBERING VIVIAN VANCE
by Billy Ingram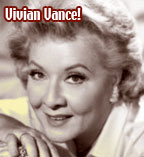 Vivian Vance was one of those actresses from the early days of television that never really got the recognition she deserved, most likely because she was so darn naturally effervescent on screen that most people must have assumed she wasn't play acting at all. That, and having to live under the shadow of the greatest star the medium has known.
In 1959, before I Love Lucy went off the air and was replaced (sort of) by The Lucy-Desi Comedy Hour, Desilu and the network were anxious to launch a spin-off starring Vivian Vance and William Frawley as the Mertzes. One problem - the actors hated each other. Frawley was willing but Vivian Vance stated, "No money in the world could persuade me to do a series with Mr. Frawley." After he found out she'd killed the deal, Frawley never again spoke to Vance unless the words were written in his script.
No matter, William Frawley bounced right from The Lucy-Desi Comedy Hour in 1960 to another hit show that year, My Three Sons. Did you know William Frawley and Lucy were reunited on The Lucy Show, but only for a brief moment? This was while Vivian Vance was leaving the series during the time when Ann Sothern was briefly Lucy's partner in crime. That was William Frawley's last TV appearance, he died in March of 1966.
When William Frawley made his last appearance on TV in an episode of The Lucy Show
he did it in an episode that didn't feature Vivian Vance.
Desilu developed a pilot for Vivian Vance called Westward Ho! but the results were unsatisfying. Some have said that Lucy didn't want Vance to have a series so she would be available for a Lucy relaunch but Vivian had no desire to do another weekly Lucy sitcom. "Not on your life!" was her initial reaction but was persuaded by that immovable object Lucille Ball. Lucy & Viv made an unbeatable team and that, more than anything, was the key to The Lucy Show's top ten status beginning in 1962.
By 1965, Vivian Vance opted out of the responsibility of starring in a weekly series, preferring a quieter life in Connecticut. She rarely appeared on television after departing The Lucy Show in 1965, although she returned faithfully to Lucy's series for an episode or two every year or so.
In a rare TV appearance 1975 Vivian Vance was a part of the Dean Martin Roast of Lucille Ball and she really socked it to her former boss.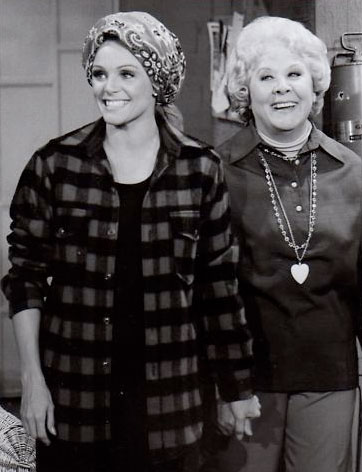 This beloved TV icon made one of her last appearances in primetime as Rhoda's neighbor in a delightful 1975 episode of Rhoda; she fell easily back into the sitcom rhythm, as if she'd never left our screens (she hadn't, really). Valerie Harper and the producers enjoyed the experience so much that they considered making Vivian a regular on the series but she'd been diagnosed with cancer in 1973 and was too fragile for the grind of a weekly show.
This was proven tragically true in 1977 when Vivian Vance suffered a stroke while filming a TV special, Lucy Calls the President, the first scripted show she'd done with Lucille Ball since her final appearance on Here's Lucy in 1972. Vivian Vance died in 1979.