Reviews of the newest DVD collections
of your favorite classic TV shows!
Click on the title to order - huge discounts and free shipping through Amazon.com!

---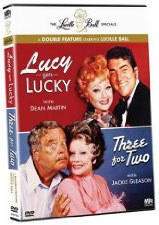 The Lucille Ball Specials
'70s style Lucy
The two 1975 specials that are included on the DVD set, which will be released on June 30, 2009, titled "The Lucille Ball Specials" have many good and bad points that relate to Ball never recapturing the elements that made "I Love Lucy" such a classic.
"I Love Lucy" simply had wonderful characters that the actors depicted very well and offered good timeless humor. An enormous loaf of bread shooting out of an oven and a cat fight in a vat of grapes are just as funny today as they were more than 50 years ago.
The first special "Lucy Gets Lucky," is true to Ball's style of the madcap slapstick humor described above. It involves Ball, as middle-class Lucy Collins, travelling to the MGM Grand Hotel in Las Vegas to see Dean Martin.
This special, which was filmed in Las Vegas, has the typical Lucy plot of her being unable to get into Martin's show, befriending him, and engaging in slapstick antics along the way.
Scenes in which Martin and Ball discussed his well-publicized drinking were very funny, but other segments seemed to be out-dated and predictable vaudeville routines. A scene in which Ball provides evasive answers, such as that she has had a driver's license for 20 years, while the hotel manager is interviewing her for a job is an example of this.
Further, the slapstick was amusing but reminded me of a review that I read of the failedcom "Life With Lucy" in which Ball starred in 1986. The gist of these comments was that it was sad to see Ball bounced around at an advanced age after such an exceptional career. A scene in "Lucky" in which the 60-something Lucy drove a car up and down steps in front of the hotel reminded me particularly of that observation.
The second special "Three for Two" in which Ball and the equally talented and successful performer Jackie Gleason appeared in three dramas about married couples had a much more serious tone. The stories and the performances were good, but seeing Ball is such serious roles seemed odd.
The first story had Ball trying to rekindle the romance in her marriage to Gleason's character after raising their children, the second one was more comic and had them playing characters who were having an affair, and the third one depicted a couple dealing with their children becoming more independent.
The bottom line is that new footage of Ball is always a treat and that the approximately $15 that online retailers are charging for pre-orders of the disc make it a good bargain for her numerous fans.
Please do share your thoughts regarding this show as e-mail to tvdvdguy@gmail.com.
---
TV on DVD Reviews: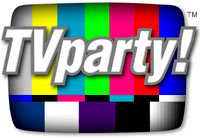 TVparty! for TV Shows on DVD!
Patrick Duffy of Dallas Interview
---
Review by John Stahl

John Stahl is a freelance legal writer who is also a fan of classic and cult television programs. He can be reached at
tvdvdguy@gmail.com
.
---
---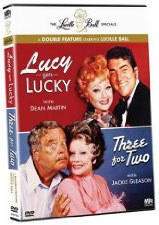 The Lucille Ball Specials
Product Details
Actors: Lucille Ball, Dean Martin, Jackie Gleason
Directors: na
Format: Color, DVD-Video, NTSC
Language: English
Subtitles: English
Region: Region 1 (U.S. and Canada only. Read more about DVD formats.)
Number of discs: 1
Rating: NR (Not Rated)
Studio: MPI HOME VIDEO
DVD Release Date: June 30, 2009
Run Time: 150 minutes

Product Description
A Double Feature Starring Lucille Ball with Dean Martin and Jackie Gleason
Following the long-running success of her Here s Lucy series, the inimitable Lucille Ball returned to television with a series of special programs, pairing her with other legendary performers.
LUCY GETS LUCKY finds the wacky redhead pulling out all the stops in Las Vegas to see her favorite entertainer, Dean Martin. Lucy gets a job working at the MGM Grand casino and high stakes hi-jinks follow.
THREE FOR TWO presents Lucy with the Great One, Jackie Gleason - combining their comedic talents for the first time - in a trio of comedy-dramas centered on the various aspects of marriage.
Bonus features include: LET S TALK TO LUCY, long-lost radio interviews with Dean Martin, bloopers, featurette with guest actor Gino Conforti, and rare Lucy footage.
I Love Lucy / Lucy Show
Here's Lucy / Life With Lucy
Here's Lucy: Lucille Ball Behind the Scenes
Lucille Ball Specials on DVD Review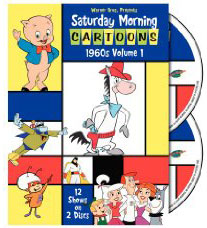 PR4 & PR5 Pages for ads - CHEAP!
Carol Burnett Show on DVD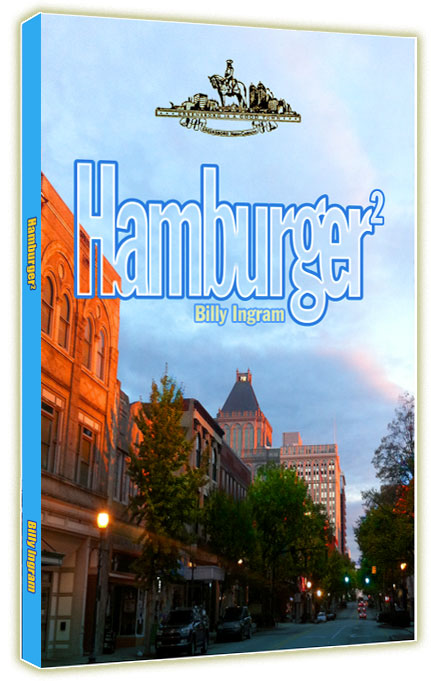 The focus is on Greensboro, NC!
---
Everything you're looking for is here:
Shop Amazon's New Kindle Fire
Shop Amazon's New Kindle Fire