TV shows on DVD Reviews - New & Classic TV Titles!
(Click on the titles to order - huge discounts
and free shipping through Amazon.com!
---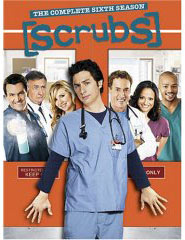 Scrubs - The Complete Fifth Season
It's no secret that I dislike Scrubs so I'm not going to be the person to review this if you're a fan of the show.
And man, does this show have a legion of fans, I'm practically the only person I know who doesn't like Scrubs. What fans find charming and quirky I find churlish and hopelessly childish. But that's me.
Still, there's no denying this DVD collection is first rate all the way with a huge selection of extras - deleted scenes, expanded episodes (including a never-before-seen extended cut of the 100th show), commentary tracks, and lots more. It's a amazing bargain for only $29.99; that's 25% off - with no sales tax, free shipping from Amazon now.
Product Description: Make an appointment with the outrageous doctors of Sacred Heart. Garnering an Emmy® Award nomination for Best Comedy Series, SCRUBS' fifth season is "sillier and more whimsical than ever," raves NEWSDAY. This year, the laughs are off the charts as J.D. moves in with Turk and Carla, and Elliot uses an interesting form of blackmail in order to get her job back at the hospital. Jason Bateman and Cheryl Hines are just some of the sensational guest stars joining TV's quirkiest cast. Experience all 24 episodes, plus exclusive bonus features. It's just what the doctor ordered.'
DVD Features:
Available Subtitles: English, Spanish, French
Available Audio Tracks: English (Dolby Digital 5.1), French (Dolby Digital 2.0)
All 24 episodes from the 2006 season on three discs
My 117 Episodes: A look back at 5 seasons
Deleted scenes & alternate lines
Director's cut of the 100th episode directed by Zach Braff
---
You get these episodes in this 2007 DVD collection:
Disc 1
My Intern's Eyes
My Rite of Passage
My Day at the Races
My Jiggly Ball
My New God
My Missed Perception
My Way Home
My Big Bird
My Half-Acre
Disc 2
Her Story II
My Buddy's Booty
My Cabbage
My Five Stages
My Own Personal Hell
My Extra Mile
My Bright Idea
My Chopped Liver
My New Suit
Disc 3
His Story III
My Lunch
My Fallen Idol
My Deja Vu, My Deja Vu
My Urologist
My Transition
---
Classic TV DVD Reviews:
---
FEATURED TV DVDs: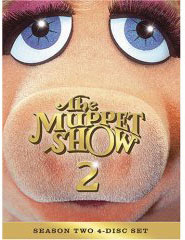 The Muppet Show - The Complete Second Season
The last of the classic variety shows and one of the finest TV programs of all time, The Muppet Show Season 2 is an unrestrained delight from start to finish. This amazing production lit up the screens when it debuted in 1976 and the second season may be the best of the series' run.
The sing-alongable theme song. The incredible guest stars. The crazy costumes. Pigs in space. The crabby guys in the balcony. The love / hate relationship between Piggy and Kermit. All here to relive or experience for the first time. If you are encountering The Muppet Show for the first time, what a treat you're in for; if you watched the show as a youngster you may find yourself uncontrollably singing along with the bizarrely choreographed Tin Pan Alley tunes.
No question, this is Muppet-mania at its peak, before the many hit movies and Muppets on Ice diluted the product. How wonderful to see the delightful Edgar Bergen & Charlie McCarthy and Miss Piggy trading barbs that could have come right out of radio. (In fact, some of the jokes do harken from Bergen's radio days.)
Read the entire review of The Muppet Show on DVD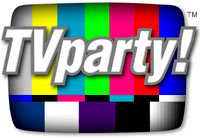 TVparty is TV on DVD!
Reviews by Billy Ingram,
as seen on VH1, Trio and Bravo.







Carol Burnett Show on DVD
| | |
| --- | --- |
| FEATURES YOU MIGHT ENJOY: | |
---
YOU MAY ALSO LIKE: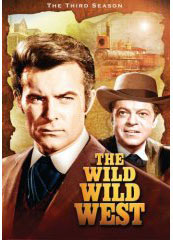 The Wild Wild West - Third Season

The Wild, Wild West is stylish, colorful and just campy enough to stay interesting, undeniably one of the most exciting and offbeat television shows of the 1960s, a true classic that stands the test of time.

The pace of year 3 is a little slower than the previous 2. The production was revamped slightly for year 3 and has a grittier, more realistic feel to it than in earlier seasons without sacrificing too much of the whimsy. For year 3, Secret Service agents Jim West and Artemus Gordon are armed with an new arsenal of nifty but unlikely high tech gadgets to spirit them out of danger. They also sport some snazzy new outfits for romancing the ladies and generally looking cool as they knock heads and ride off triumphantly.

Read the entire review...

TV Shows on DVD
Holiday Specials on DVD
TV Commercials on DVD

Amazon Prime - unlimited streaming
of your fave TV shows and movies!
Get your FREE 30 Day Trial!

Everything you're looking for is here: