Reviews of the newest DVD collections
of your favorite classic TV shows!
Click on the title to order - huge discounts and free shipping through Amazon.com!

---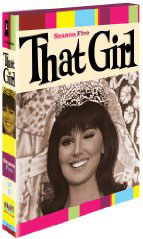 That Girl: Season 5
'That Girl' S5: Its everything that every sitcom should be
The fifth and final season of the 1960s sitcom "That Girl" is a genuine treat that is being released on DVD on May 5. Ann Marie, the struggling New York City actress around whom this show is centered, enjoys a more outrageous fantasy than living with a genie or a witch in that she lived alone in a nice one-bedroom apartment and met a handsome, successful, kind boyfriend within weeks of moving to New York.
The fifth season of "That Girl" brought numerous changes to the show. Catchy lyrics were added to the theme song, both Ann and her boyfriend Don Hollinger let their hair grow out, and they got engaged in the first episode of the season.
The engagement provided the impetus for many of the antics of this season. Typical sitcom plots that were written and acted very well included Ann losing her engagement ring, Donald getting cold feet regarding the upcoming wedding, and Ann meeting all of Donald's family and friends in his home town.
The episode in which Donald had a bachelor party included surreal fantasy sequences in which he imagined married life with Ann. Unfortunately, the show not having a sixth season prevented fans from seeing how married life would have gone for "these nice young kids;" I imagine that it would have been similar to Rob and Laurie Petrie the early years.
This season also had one of the best episodes from the series in which Donald's co-workers took his clothes after getting him to put on a superhero costume that Ann made him for winning an award for a news article that he had written. This episode included several very amusing Superman jokes.
Another memorable episode had performer television star Danny Thomas, who was the real-life father of series star Marlo Thomas, appear as himself. A vaudeville skit that they performed with Danny's contemporary Milton "insert your own horse joke here" Berle was good old-fashioned entertainment.
On a general note, this series is one of the relatively rare sitcoms with good casting, writing, and directing. I really cared about the characters as a child and still felt the infectious enthusiasm and low points that Ann experienced regarding her acting career and relationship with Donald. She also made me wonder if you really can bowl with your foot.
Please do share your thoughts regarding this show as e-mail to tvdvdguy@gmail.com.
---
TV on DVD Reviews: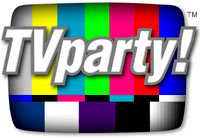 TVparty! for TV Shows on DVD!
Patrick Duffy of Dallas Interview
---
Review by John Stahl

John Stahl is a freelance legal writer who is also a fan of classic and cult television programs. He can be reached at
tvdvdguy@gmail.com
.
---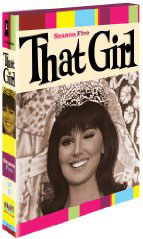 That Girl: Season 5
Product Description
The fifth and final season of That Girl leads the audience down the aisle. Ann Marie (Marlo Thomas) and Donald Hollinger (Ted Bessell) finally cement their long relationship with an engagement to wed. The ring, the cake, the family, the bridal shower . . . everything happens in amusing fashion this season except the wedding. Ann Marie continues her acting career with a series of adventures including a play in St. Louis, appearing as Miss Everything at the New York Has Everything exhibit, playing the Friars Club, modeling at a race track and more. Season 5 would garner a fourth Emmy nomination for Marlo Thomas and the first for Ted Bessell. The amazing list of guest stars includes Cloris Leachman, Danny Thomas, Dick Van Patten, Joe Flynn, Milton Berle, Regis Philbin, Stan Musial and more.
Bonus Features: Audio Commentaries by Marlo Thomas and Series Co-Creator Bill Persky

Product Details
Actors: Marlo Thomas, Ted Bessell
Directors: Hal Cooper
Format: Box set, Color, DVD-Video, Full Screen, NTSC
Language: English
Region: Region 1
Number of discs: 4
Studio: Shout Factory
DVD Release Date: May 5, 2009
Run Time: 600 minutes
TV Shows on DVD
Holiday Specials on DVD
TV Commercials on DVD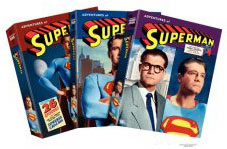 Amazon Prime - unlimited streaming
of your fave TV shows and movies!
Get your FREE 30 Day Trial!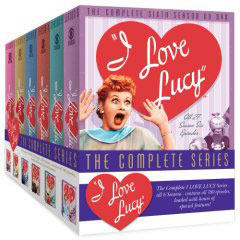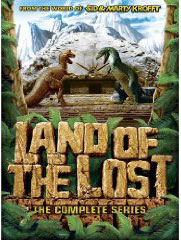 ---
Everything you're looking for is here:
Shop Amazon's New Kindle Fire
Shop Amazon's New Kindle Fire