Reviews of the newest DVD collections
of your favorite classic TV shows!
Click on the title to order - huge discounts and free shipping through Amazon.com!

---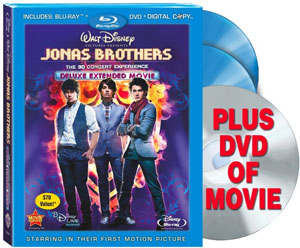 Jonas Brothers: The 3D Concert Experience
Pop music that exceeds expectations; I promise
It is interesting that the release of the DVD set of the new Jonas Brothers concert film is less than a week after the death of Michael Jackson; in fact, I intended to submit this review last Thursday morning and added these opening comments to this review on Friday morning.
It will be very surprising if Joe and his posse have a fraction of the phenomenal success of Jackson, who also started out singing with his brothers. However, it is almost certain that the Jonases would have had a sleep-over at the Neverland Ranch if their success had coincided with the period in which Jackson was on top.
Coincidentally as well, a tin of TastyKake baked goods showed up unexpectedly at my door within days of the deluxe three-disc set of "Jonas Brothers: The 3D Concert Experience." Every tween girl in America knows that that set was released on June 30.
Discovering satisfyingly "feel-good" sweet sponge cake that is enjoyable in limited amounts at the same time as being introduced to highly addictive frosted baked goods from Philadelphia was a nice double treat.
Before discussing the specific of the film about a New York City concert of les frères Jonas, I will confess that the blu-ray version of the set was the first blu-ray disc that I have watched on the blu-ray player that I bought recently. The much clearer picture and brighter colors that this format offers over standard DVDs seems well-suited to the bubble-gum style of the boys; the 3D version of the film on this disc was spectacular despite the bizarreness of Jonases coming out toward you.
One other disc is in the set is in standard DVD format, and the third disc is designed for a download copy to play on your computer. Additionally, Jonas junkies will be pleased to see that the scene selection option allows jumping to performances of each song.
Watching the concert footage and off-stage Jonas high-jinks achieved my purpose of understanding the appeal of Hanson, the next generation. The Jo Bros present a friendly playful image and throw themselves into their work.
The Jonas boys simply convey teen sentiments about love in songs that I did not feel compel to fast-forward over but forgot the minute that the boys finished them. Seeing them hop around the stage and watching lead singer big brother Joe sway around safety dance style was amusing.
The most intentional humor related to the attempts of these live-action Alvin and the Chipmunks to achieve hard-core rocking out; clean-shaven promise-ring-wearing teens simply cannot pull that off.
I also found it amusing that Joe played the tambourine in several songs; as six-year-old Tracy Partridge of "The Partridge Family," and twenty-something Davy Jones of "The Monkees" showed, this is often done to keep someone who cannot even mime playing another instrument busy.
The DVD also included footage of the boys' life on the road, including the obligatory chase by a crowd of crazed girls and the antics that included cartwheels and riding segways. The aforementioned tween girls will also enjoy a scene that shows bare-chested Jonases.
The only thing for which I must criticize the boys is their practice of using phallic-appearing fire-hose like devices that they hold waist-high to shoot large amounts of white foam on the audience that seemed to consist entirely of tweenyboopers. The girls loved this and I am sure that Disney approved it, but it still struck me as icky.
It is worth mentioning as well that I have absolutely no hope of fitting in skinny pants if I do not restrain my enjoyment of TastyKake products.
Please do share your thoughts regarding this show as e-mail to tvdvdguy@gmail.com.
---
TV on DVD Reviews: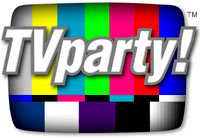 TVparty! for TV Shows on DVD!
Patrick Duffy of Dallas Interview
---
Review by John Stahl

John Stahl is a freelance legal writer who is also a fan of classic and cult television programs. He can be reached at
tvdvdguy@gmail.com
.
---
---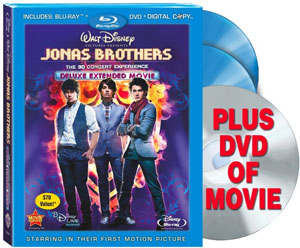 Jonas Brothers: The 3D Concert Experience
Product Details
Actors: Nick Jonas, Joe Jonas, Kevin Jonas
Format: AC-3, Color, Dolby, Dubbed, DVD, Live, NTSC, Subtitled, Widescreen
Language: English, Spanish
Region: Region 1 (U.S. and Canada only. Read more about DVD formats.)
Aspect Ratio: 1.85:1
Number of discs: 1
Rating: G (General Audience)
Studio: Disney
DVD Release Date: June 30, 2009
Run Time: 76 minutes

Product Description
Put yourself in the middle of the Jonas Brothers motion picture debut with the ultimate Extended 3D Concert Experience only on Blu-ray Hi-Def. It doesn t get any better than this as Kevin, Joe, and Nick invite you inside their personal world for an all inclusive look at the band. The 3D picture looks so incredible you ll think you can reach out and touch the brothers, and the theater-quality sound will have you jumping out of your seat. This 3D movie event launches music s hottest trio straight into your living room and includes guest appearances by chart topping artists Demi Lovato and Taylor Swift.
Secure your backstage pass to this once in a lifetime 3D experience with the Jonas Brothers, complete with exclusive bonus features including unseen performances, additional songs, and an extra DVD copy of the movie. You ll feel like you re part of the Jonas family with this deluxe up close and personal Blu-ray set for the ultimate fan.
Bonus Features Include: Two additional songs not seen in theaters, Up Close and Personal: Behind the Scenes with the Jonas Brothers