Reviews of the newest DVD collections
of your favorite classic TV shows!
Click on the title to order - huge discounts and free shipping through Amazon.com!

---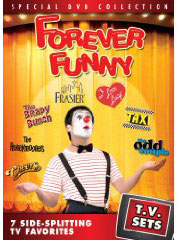 T.V. Sets - Forever Funny
Pilot episodes of classic sitcoms
Watching the seven sitcom pilots on the DVD set "T.V. Sets: Forever Funny" (FF) reminded me of the good old days when the cable network TV Land exclusively showed classic old sitcoms and there was not a tacky badly produced reality show in sight. I looked forward to the New Year's Day marathon of sitcom pilots for months.
FF offers the pilot episodes of "I Love Lucy," "The Honeymooners," "The Brady Bunch," "The Odd Couple," "Taxi," "Cheers" and "Frasier." Despite my insignificant criticism of the set, I truly liked it a great deal.
The only slightly negative aspects of this set are that they did not present these shows in chronological order, and it seems that they did not present the original opening credits of "Lucy" or "The Odd Couple."
These flaws are minor, and the pilots provided a nice sample of shows that truly are forever funny with the possible exception of "The Brady Bunch." Little Cindy was so nauseatingly sweet and "Marcia, Marcia, Marcia" acted like such an annoying little princess that I barely choked down this episode. I confess that I am much more of a "Partridge Family" guy.
The "Lucy" episode in which the Ricardos and the Mertzs argued about going to a fight or a nightclub was a classic episode that included Lucy scheming and dressing in a funny costume. Additionally, having all four characters smoke and the women doing the dishes while the men lounged was an amusing look at a much different time.
I also enjoyed the "Taxi" pilot and will share that I just bought a DVD set of the first three seasons of this show from DeepDiscountDVD.com for $38.47. This was an early example of a great ensemble show that had well-cast, unique, and interesting characters and exceptional writing.
Just seeing the late Andy Kaufman walking down the stairs with a dazed look on his face for his first scene as bumbling immigrant Latka made me smile. I also laughed out loud when Danny Devito as Louie DePalma came down from his cage after bullying every character and it was revealed that he was unusually short.
The pilot episode of "Frasier" was interesting as well because it contained plenty of the wry humor and voice appearances of A-list celebrities for which it was known. It also introduced the concept of the show of Frasier's gruff father and his quirky physical therapist moving in with Frasier.
The "Cheers" pilot made me mourn the death of Nicholas Colasanto, who played Coach and passed away during the series. A scene in which the prim know-it-all Diane asked him in the bar where the restroom was and he answered very seriously "next to my bedroom" was hilarious.
Additionally, the remark by the cocky Sam Malone that Diane liked the bar patrons and that she thought that they liked her summed up the first season of the show well.
The other pilots were equally as good and largely also established the premises for the program. FF is a good option for folks who want a taste of these truly timeless shows without buying entire seasons of them or for folks like me who simply enjoy these samplers.
Please do share your thoughts regarding this show as e-mail to tvdvdguy@gmail.com.
---
TV on DVD Reviews: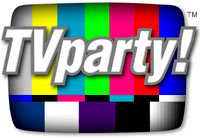 TVparty! for TV Shows on DVD!
Patrick Duffy of Dallas Interview
---
Review by John Stahl

John Stahl is a freelance legal writer who is also a fan of classic and cult television programs. He can be reached at
tvdvdguy@gmail.com
.
---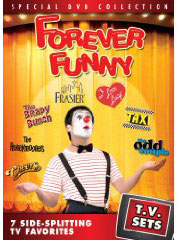 T.V. Sets - Forever Funny
Product Description
Product Details
Actors: TV Sets: Forever Funny
Format: Color, DVD-Video, Full Screen, NTSC

Language: English
Number of discs: 1
Rating: NR (Not Rated)
Studio: Paramount
DVD Release Date: May 26, 2009
Run Time: 173 minutes
---
Shop Amazon's New Kindle Fire