---
Pride & Prejudice DVD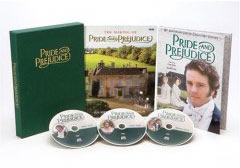 DVD Features:
Available Audio Tracks: English (Dolby Digital 2.0 Stereo)
10th Anniversary Limited Edition Collector's Set
Gold embossed green fabric slipcase
Newly remastered widescreen print
Bonus Disc Features:
Jane Austen Biography episode
An exclusive new retrospective documentary about the making of the classic series
A 120 page deluxe companion book The Making Of Pride and Prejudice with photos, illustrations, and interviews with cast and crew
Product Description
From Jane Austen's classic novel about the morals and mores of the class system in Georgian England.
The intelligent and spirited Elizabeth Bennet is one of five daughters -- which, during that era, meant trouble: because women cannot inherit, upon her father's death her family's home will become the property of their nearest male relative. Only marriage, preferably to someone wealthy, can ensure her security. But the proud young lady instantly takes offense when Mr. Darcy, a promising newcomer in town, doesn't seem quite admiring enough, and she spurns his advances.
Slowly and painfully, Elizabeth realizes her error, but not before it seems she has lost Mr. Darcy forever.

Running Time 300 Mins.
Incredible Values - Blu-ray players,
movies, PlayStation 3 consoles
Everything you're looking for is here:
Incredible Values - Blu-ray players,
movies, PlayStation 3 consoles
Everything you're looking for is here: