---
YOU MIGHT ALSO ENJOY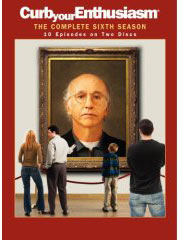 Curb Your Enthusiasm - The Complete Sixth Season
This is flat out the funniest program around, it may be the most hilarious of all time in my opinion. Yet, people seem to love or hate this show, there's little middle ground when it comes to Curb.
From the product description: Deep inside, you know you're him. Curb Your Enthusiasm - it's the HBO hit comedy series starring Larry David as... Larry David! Each half-hour episode of Curb Your Enthusiasm features verite-style footage of David (playing himself) at home, at work and around town, as he gets into predicaments with fictional and real-life personalities.
If you haven't experienced this riotous, improv based comedy I suggest you start at the beginning. I know I've watched the previous 5 seasons twice and the episodes are just as funny the second time around.
Read more about Curb Your Enthusiasm on DVD