Reviews of the newest DVD collections
of your favorite classic TV shows!
Click on the title to order - huge discounts and free shipping through Amazon.com!

---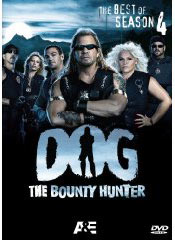 Dog the Bounty Hunter - The Best of Season 4
Dog and his criminal hunting brood are back with a rousing new DVD collection of 7 adrenaline fueled episodes filmed before their brief, infamous respite from TV.
Bounty Hunter Duane Lee Chapman (aka Dog) and his family operate a storefront Hawaiian bail bond business where, fortunately for the viewing public, some of their clients try to skip out on their responsibilities and have to be dragged kicking and screaming back to jail. But not before the family dispenses some sound advice and try to wring out a moment of redemption.
This family oozes self-righteousness, inhabiting a fairy tale world of wishes and dreams. Their clients, frequently drug addicted criminals, are going to jail but this show would have you believe they're off to a magical world where addicts and lost youth get all the help they need. In prison?!? Children are reunited in the street with their handcuffed, underwear clad dad on his way to the gray bar hotel and that's supposed to be an uplifting family moment? (And they say I'm cynical...)
It's unique characters that make these types of shows compelling, the bond the Dog family members have is marvelous to observe, especially when a perp assaults the young daughter and Mom goes ballistic. By all appearances these guys walk the walk and you have to admire that.
The highly charged takedowns are incredibly thrilling, it's hard not to get caught up in the action - the adrenaline is addictive, the editing rat-a-tat-tat tight.
Watching, I sometimes forget this is a 'reality' show; the end result is so contrived it's hard to know how much is real and how much wink, wink, nudge, nudge 'real.' For instance, when a bail sponsor commits suicide and it's necessary to bring in the client to return her to jail somehow the suicide victim's mom, brother, and girlfriend/perp end up in the office at the same time for a wrenching emotional scene.
There's something joyous about watching low life thugs getting what they deserve and this production delivers the goods like no other while offering up a positive message to boot. Kind of like those Saturday morning shows we grew up with. Shazam!
---
Product Description:
See how Duane "Dog" Chapman brings fugitives to justice and keeps his family in line.
The very best episodes, hand-picked by Dog himself, from Season 4.
Thrill to the real-life exploits of the world's most successful bounty hunter.
To catch the baddest, you've got to be the baddest, and they don't come badder than Duane "Dog" Chapman! He even tangled with Mexico's federales and lived to hunt another day!

The extreme exploits and personalities of Dog and his Posse have made them the most compelling characters on television, and they are 100% the Real Deal. What you see is what you get, unscripted and unabashed, and their sheer integrity and outrageousness have made all four seasons of DOG THE BOUNTY HUNTER required viewing for fans of hard-hitting, honest television.

This special DVD collection features Dog's hand-picked favorites from his unbelievable fourth season. With the Mexican law threatening to lock him up, D and his team hit the streets, tracking down fugitives and giving them that one-of-a-kind dose of tough love only Dog can provide. In addition to Tim, Leland, and Duane Lee, this year Baby Lyssa, Dog's daughter, joins the Posse full time. Catch all the season's highs — and lows — in these awesome picks!

---
TV on DVD Reviews: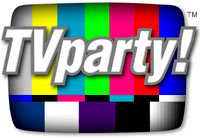 TVparty! for TV Shows on DVD!
Patrick Duffy of Dallas Interview
| | |
| --- | --- |
| | Reviews by Billy Ingram, as seen on VH1, Trio and Bravo. |




Carol Burnett Show on DVD
| | |
| --- | --- |
| FEATURES YOU MIGHT ENJOY: | |
---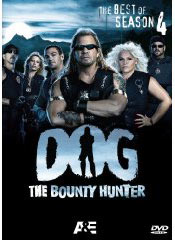 Dog the Bounty Hunter - The Best of Season 4

Dog's hand-picked favorites:
Make a Wish
The Good Fight
The Last Call
The Smackdown of Baby Lyssa
The Big Wipe-Out
No Love Still
The Time to Cry (double episode)

Dog the Bounty Hunter - The Best of Season 4: Duane Lee Chapman
Directors: Jayson Haedrich
Format: Color, DVD-Video, NTSC
Language: English
Region: Region 1 (U.S. and Canada only. Read more about DVD formats.)
Number of discs: 1
Studio: A&E Home Video (New REleaset)
DVD Release Date: August 26, 2008
Run Time: 176 minutes
TV Shows on DVD
Holiday Specials on DVD
TV Commercials on DVD
Amazon Prime - unlimited streaming
of your fave TV shows and movies!
Get your FREE 30 Day Trial!
Everything you're looking for is here:
Shop Amazon's New Kindle Fire
Everything you're looking for is here: