Reviews of the newest DVD collections
of your favorite classic TV shows!
Click on the title to order - huge discounts and free shipping through Amazon.com!

---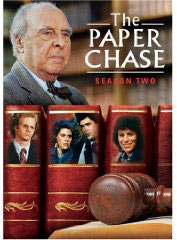 The Paper Chase: Season 2
Better when it sticks to the law
Like the legal drama "Ally McBeal," which I reviewed recently, the episodes in the DVD set of the second season of "The Paper Chase" succeed best when it sticks to its main law-related subject. In this case, the topic is the life of James Hart and his fellow second-year law students at an unnamed law school that is actually Harvard.
The first season of "Chase" provided great stories about first-year student Hart and company adjusting to the heavy demands of law school and the pressure exerted by highly respected Professor Charles W. Kingsfield, played by the classic actor and "Silver Spoons" regular John Houseman. As my review of that season mentioned, it triggered law school nightmares that I have not had for years.
One problem with second season of "Chase" was that the reduced pressure that Hart and his classmates experienced in the second year of their studies resulted in less compelling television; although the series introduced new first-year students, they played a fairly minor role to avoid the second season being largely a rehash of the first one.
The second problem with the second season is that it looked to romances among Hart and company as a source for drama; this caused me to dislike this season until it got back on track after the first several episodes.
Once the focus returned more fully to law school studies, the show continued its tradition of depicting this world well. The first-year students competing for the outline that Hart had prepared for Kingsfield's class the prior year rang very true.
My own outlines were excellent and in demand, but I was unlike Hart in that I shared them freely. Any current law student with access to a 3.5" floppy drive is welcome to them.
I could relate as well to law firms competing heavily to hire the top second-year students for summer associate positions and to every student competing vigorously for those jobs. Unfortunately, my experience was being a very good fit for $10/hour job and the firm telling me that they could get the top student in my class for that amount.
Another very good episode had Hart struggle with the right of even undesirable clients to a proper defense. In this case, public defender intern Hart was assigned to help represent the man who mugged the 80 year-old Kingsfield. The outcome depicted the legal system well.
The show also presented Hart's struggle to study and hold a highly coveted position on the school's law review well. As various episodes depicted, both are essentially full-time endeavors.
The episodes that focused on the law review also offered an interesting look at the use of computers for legal research, which was new in the period of the early 1980s in which the show was set. The students were understandably skeptical of this new technology, and a competition between Kingsfield and the school's mainframe computer was one of the more compelling scenes of the season.
My closing argument regarding this season is that it is worth owning if you are a fan of the series, are in law school, are considering law school, have an interest in learning about law school or simply like a good drama that is not too heavy and has nice elements of humor.
Anyone with thoughts on the show is welcome to e-mail me at tvdvdguy@gmail.com.
---
TV on DVD Reviews: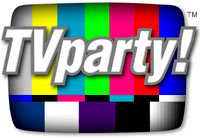 TVparty! for TV Shows on DVD!
Patrick Duffy of Dallas Interview
---
Review by John Stahl

John Stahl is a freelance legal writer who is also a fan of classic and cult television programs. He can be reached at
tvdvdguy@gmail.com
.
---
---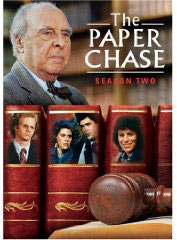 The Paper Chase: Season 2
Product Details
Actors: John Houseman, James Stephens
Directors: Jack Bender
Format: Box set, Color, DVD, Full Screen, NTSC
Language: English
Region: Region 1 (U.S. and Canada only. Read more about DVD formats.)
Number of discs: 6
Rating: NR (Not Rated)
Studio: Shout! Factory
DVD Release Date: December 15, 2009
Run Time: 1050 minutes

Product Description
School is back in session. Based on the 1973 film The Paper Chase, the TV series features John Houseman (who won an Academy Award for his portrayal in the original film) as Professor Charles W. Kingsfield, Jr. the almighty voice of law and order on the Ivy League campus. He presides over second year student James T. Hart (James Stephens) and a class of driven, intelligent, and morally challenged students who always seem to rise through the pressures of life and law in the pursuit of truth and justice. They will be challenged and you will be riveted. For the first time on DVD, this second season box features 19 one-hour episodes.
PR4 & PR5 Pages for ads - CHEAP!
Carol Burnett Show on DVD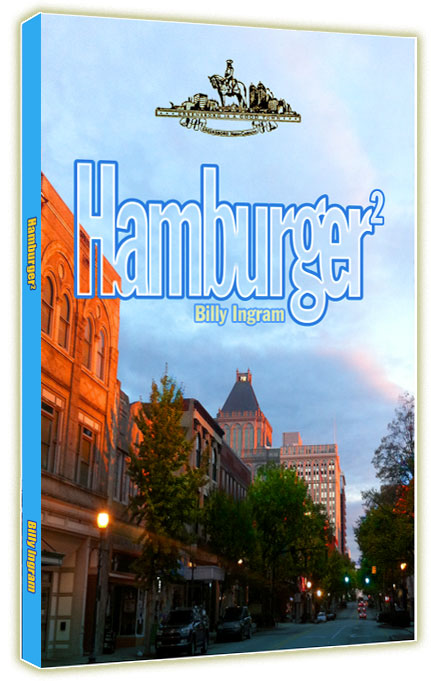 The focus is on Greensboro, NC!
---
Everything you're looking for is here:
Shop Amazon's New Kindle Fire
Shop Amazon's New Kindle Fire