Reviews of the newest DVD collections
of your favorite classic TV shows!
Click on the title to order - huge discounts and free shipping through Amazon.com!

---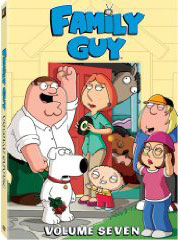 Family Guy - Volume 7
Good subversive humor about sex, politics, and religion
The seventh DVD set, which was released June 16, of the Fox animated sitcom "Family Guy" contains 13 recent episodes of this hilariously dark program. Although the program tells the story of family guy Peter Griffin and his eccentric family, the evil and sexually ambiguous baby Stewie alone demonstrates that this is not your father's family sitcom.
Like "South Park," which has a history of feuding with "Guy," "Guy" offers wonderful middle-school gross-out and politically incorrect humor. The 12 year-old boy in every man and many woman will find the jokes about the disabled people, black people, white people, gay people, intoxicated children, sexual deviants, celebrities, Christians, Jews, and numerous other targets hysterical.
The segments on celebrities are one of the best-known and most clever elements of "Guy." My favorite in this set was good sick humor that had Parkinson's patient Michael J. Fox make a very shaky looking Z as the swashbuckler character Zorro.
It is worth mentioning as well that one dud in the set of great special features was an interview with the very boring Frank Sinatra, Jr., who did a good guest shot on an episode in this set. In the spirit of "Guy," I will comment that Sinatra probably escaped from his real-life kidnappers by talking to them until they fell asleep.
Regarding the show itself, I repeat my comment in my review of "Seth MacFarlane's Cavalcade of Cartoon Comedy" that "Guy" creator, writer, and voice actor Seth MacFarlane uses his shows as combination therapy sessions and a political soapbox. He does so as effectively as Christopher Titus of the exceptional former Fox sitcom "Titus."
MacFarlane's hang-ups include the bad taste regarding religion that Catholic school put in his mouth. This is apparent most clearly in the "I Dream of Jesus" and "Road to Germany" episodes in this set of "Guy." These episodes are also the best examples of MacFarlane's wonderfully juvenile humor that definitely would have gotten him sent to bed without dinner when he was a child.
The "Jesus" episode has Peter befriending Jesus, who is transformed into a modern-day celebrity. A hilarious song-and-dance number that includes having Jesus crucified and an indication that he was circumcised, a scene in which Jesus demonstrates genie-like magical powers, and having Jesus confront then-president Bush about his claimed relationship with Jesus are all highly amusing and leave no doubt regarding MacFarlane's views on politics and religion.
The "Germany" episode includes fall-on-the-floor and very politically incorrect anti-Semitic, humor regarding Jewish pharmacist Mort Goldman time-travelling back to Poland hours before the 1939 Nazi invasion. Several jokes relate to the whiny nature of Jewish people and their role in the crucifixion of Christ. Additionally a scene in which Stewie disguises himself as Hitler and recreates the famous Harpo Marx and Lucy mirror scene from "I Love Lucy" deserves heil praise.
The raunchy sexual humor of Guy includes family dog Brian acting aggressively sexually toward human wife Lois and the elderly neighborhood pedophile pursuing well-hung teen-age son Chris in "Play it Again, Brian" and the generally disgusting behavior of neighborhood pervert Glen Quagmire. Religion and sex meet in a scene in which Joseph sits outside the bedroom while Mary and God have sex on Joseph's and Mary's wedding night.
The mostly exceptional extras included an entertaining and well-planned panel session of MacFarlane and his posse at fanboy event ComicCon 2008 and a tour of the "Guy" offices that made me want to work there. It has a wonderful variety of junk food and the creative and fun environment that most of us would love. Peter would definitely repeat "Oh, my God" incessantly and soil himself if he saw it.
Please do share your thoughts regarding this show as e-mail to tvdvdguy@gmail.com.
---
TV on DVD Reviews: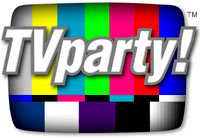 TVparty! for TV Shows on DVD!
Patrick Duffy of Dallas Interview
---
Review by John Stahl

John Stahl is a freelance legal writer who is also a fan of classic and cult television programs. He can be reached at
tvdvdguy@gmail.com
.
---
---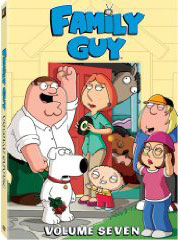 Family Guy - Volume 7
Product Details
Format: AC-3, Animated, Box set, Color, Dolby, DVD-Video, Full Screen, Subtitled, NTSC
Language: English
Subtitles: English, French, Spanish
Region: Region 1 (U.S. and Canada only. Read more about DVD formats.)
Aspect Ratio: 1.33:1
Number of discs: 3
Rating: Unrated
Studio: 20th Century Fox
DVD Release Date: June 16, 2009
Run Time: 305 minutes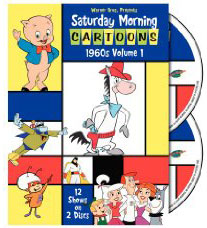 PR4 & PR5 Pages for ads - CHEAP!
Carol Burnett Show on DVD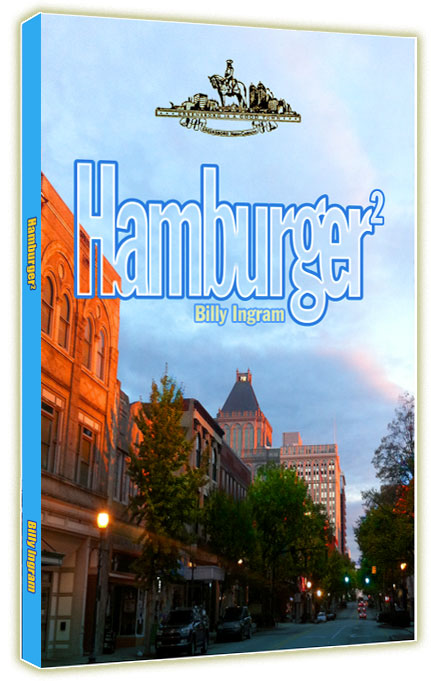 The focus is on Greensboro, NC!
---
Shop Amazon's New Kindle Fire