Reviews of your favorite movies on DVD and Blu-Ray!
Click on the title to order - huge discounts
and free shipping through Amazon.com!
---
Review byJohn Stahl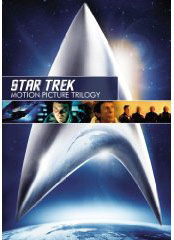 Star Trek Motion Picture Trilogy
Great remastering of classic sci-fi films
The newly released remastered DVD collection of the "Spock Saga," which consists of "Star Trek II," "Star Trek III," and "Star Trek IV" from the 1980s with their wonderfully campy big-haired and broad-shouldered '80s look are another example of incredible enhancement of "Star Trek" productions.
The remastering is particularly spectacular regarding the placement shots that has the Enterprise orbiting a planet or that depicts the planet itself. The only drawback to this incredible improvement is that rare scenes that have not been remastered seem worse in comparison than they appeared when they were released originally. Fortunately, such instances are few and far between.
This collection, and the "best of" collections from "Star Trek" the original series and from "Star Trek The Next Generation" which were also released Tuesday and which I will also review, were timed obviously to coincide with the release of the new "Star Trek" movie last Friday.
The first comments that I will make about the new film are that most Trekkers have seen it already and that others will see it no matter what I or anyone else writes.
I will add that the stories from the "Spock Saga" are far better and generally more realistic in the sci-fi universe and that none of the actors in the new film seemed to embrace their roles. I must state as well that producing an Enterprise that looked more basic ala the ship from the original series without making it look as wonderfully cheesy as that ship should have been easy.
The "Spock Saga" begins with "Star Trek II: The Wrath of Khan." This film brings back the character of the insane superhuman Khan, who Kirk and company had left stranded on a planet in the original series. Khan manages to escape and seeks revenge against Kirk.
Khan also sought to acquire the Genesis bomb that most people saw as an incredibly fast terra-forming device that could resurrect dead planets and help with overpopulation and food supply problems. Khan's perspective was that this device could be used as a very powerful weapon.
I was glad to see that Harve Bennett, who produced the trilogy, confirmed in a wonderful interview in the DVD set that I observed correctly that Khan pursued Kirk with the degree of obsession as Captain Ahab of "Moby Dick" hunted his whale. Bennett also had great memories of the late Ricardo Montalban, who played Khan in the series and the film.
Trekkers know that "Khan" ends with Spock, the highly logical Vulcan who struggles to suppress his emotions, acting in a way that triggers the plot of "Star Trek III: The Search for Spock." The spoiler alert for this one is that the Enterprise crew does issue a universe-wide Amber alert or put a photo of Spock on a milk carton.
"The Search for Spock" also continues with the story of the Genesis bomb; in this case, a Klingon commander is seeking the secret of the device. We learn as well that the device has a very serious flaw and that a need to get Spock "back in time" is very important.
Before moving onto discussing "Star Trek IV: The Voyage Home," which many Trekkers consider to be the best of the 10 original "Star Trek" movies, one cast member of II and III deserves a quick note. Merritt Butrick, who played the ultimately heroic Dr. David Marcus, gained the love of Trekkers for that role and a wider audience for his portrayal of Johnny Slash in the 1982 sitcom "Square Pegs."
Butrick had a wonderful quirkiness in "Pegs" that one could see him suppress in the Star Trek films, and he was an early AIDS victim. As I wrote in my review of "Square Pegs" for another site, losing the chance to see what Butrick would have done next is sad.
Moving on, "The Voyage Home" seemed to have the broadest appeal because it had the most humor on any of the "Star Trek" films and set most of the action in the relatable period of 1980s San Francisco. Engineer Scotty speaking into a mouse to get a computer to recognize voice commands and Spock using the Vulcan neck pinch to subdue a literal punk who cranked his boom box and flipped off Kirk were perhaps the funniest moments of this great film.
"Voyage Home" also had the preachy but valid message regarding the need to save the whales. These truly magnificent creatures may not be critical to saving the earth of the future but deserve better than being hunted out of existence. As "Voyage Home" states, whales are mammals just like people.
Having run a little longer than usual, I do not want to say much about the all-new features in the great DVD set but will say that each movie includes a Starfleet Academy segment that recaps that film very well. There is also an entertaining interview with an actor other than Leonard Nimoy who portrayed Spock in "The Search for Spock."
Trekkers and anyone else are encouraged to offer their thoughts and criticize
my dislike of the new movie as e-mail to tvdvdguy@gmail.com.
---
Movies on DVD Reviews: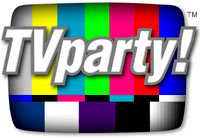 TVparty! for TV Shows on DVD!
Review byJohn Stahl
/ / / Classic TV Blog / / / TV Shows on DVD / / / 2010 TV Show Reviews / // / TV on BLU-RAY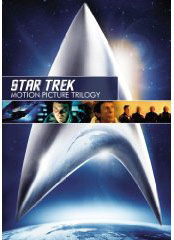 Product Details
Actors: William Shatner, Leonard Nimoy, DeForest Kelley, James Doohan, Walter Koenig
Directors: Leonard Nimoy, Nicholas Meyer
Writers: Leonard Nimoy, Nicholas Meyer, Gene Roddenberry, Harve Bennett, Jack B. Sowards
Format: AC-3, Box set, Color, Dolby, Dubbed, DVD-Video, Original recording remastered, Restored, Subtitled, Widescreen, NTSC
Language: English
Subtitles: English, French, Portuguese, Spanish
Number of discs: 3
Rating:
Studio: Paramount
DVD Release Date: May 12, 2009
Run Time: 336 minutes

ASIN: B001TH16CY

Product Description
STAR TREK MOTION PICTURE TRILOGY SD
Prepare to embark on an epic three-part adventure starring the legendary crew of the U.S.S. Enterprise as they sacrifice their lives, ship, and freedom to save the universe from imminent destruction. Spanning across three motion pictures, the Star Trek: Motion Picture Trilogy is the ultimate story of heroism, duty and friendship that will thrill old and new fans alike. The films have been digitally remastered and The Wrath of Khan has been fully restored in high definition with brilliant picture quality and 5.1 Dolby Digital Surround EX.
INCLUDES:
STAR TREK II: THE WRATH OF KHAN
STAR TREK III: THE SEARCH FOR SPOCK
STAR TREK IV: THE VOYAGE HOME
OVER 90 MINUTES OF ALL-NEW SPECIAL FEATURES
Everything you're looking for is here: