Reviews of your favorite movies on DVD and Blu-Ray!
Click on the title to order - huge discounts
and free shipping through Amazon.com!
---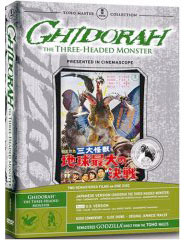 Ghidorah, the Three Headed Monster
I have fond memories of getting up early on Saturday morning in the 1970s and tuning in a far off, snowy station in Raleigh to watch a horror movie double feature that came on each week after the Farm Report. The movies were all 1950's B (and C) movies, Attack of the 50 Foot Woman, The Thing, Incredible Shrinking Man, that sort of thing.
If we were really lucky there would be a Godzilla movie. They were the top monster movies of the time, surprisingly well-made schlock; it was like TV wrestling as guys in rubber costumes battle each other on a dirt ring.
Now the entire Godzilla catalogue has been released on individually released deluxe DVDs and these films are a joy to behold all over again. Ghidorah, the Three Headed Monster is a hoot with Godzilla and the flying beast locked in mortal combat - rubber suit against rubber suit. These are the 'good guy' Godzilla movies where the creature is out to save mankind not destroy it.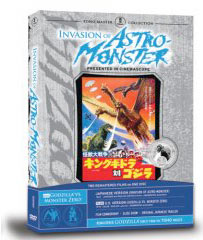 It's mid-sixties fun on a grand scale, as is Invasion of the Astro Monster (also known as Monster Zero), an all star monster mash with Godzilla and Rodan battling Ghidorah on an alien planet. That one starred Nick Adams (The Rebel) in one of his last major roles, if you can call this a major role. He died 3 years after this production.
The transfers are crisp and the colors pop. It's every bit as fun (and funny) as I remember them being. The cool thing is you get both the American and Japanese versions of the movies, along with commentary tracks for each and other bonus features. A serious value for only $18.00 if you order online now.
This is a beautifully packed set of individual DVDs - buy one or get them all. My 10 year old nephew is crazy about Godzilla movies, if you have kids this would be a double treat. You'll enjoy it as much as the little ones!
The commentaries by Stuart Galbraith (Invasion of the Astro Monster) and David Kalat (Ghidorah, the Three Headed Monster) are concise and loaded with obscure info on the Japanese monster genre, the special effects (which can be quite good), actors and filmmakers.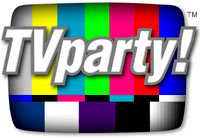 TVparty! for TV Shows on DVD!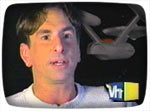 Reviews by Billy Ingram,
as seen on VH1, Trio and Bravo.
On BRAVO'S 100 Funniest Movies this month!
---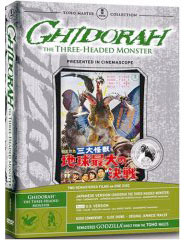 Product Description
(Sci-Fi) Ghidorah, the Three-Headed Monster -- A prophetess from Venus foretells cataclysmic disasters! Godzilla, Mothra and Rodan reappear in Japan, wreaking havoc! A giant meteor crashes into the mountains and the three-headed, fire-spitting space dragon King Ghidorah emerges! As the Venusian's prophecies come true, assassins from a tiny Asian kingdom hunt her down, while the Earth monsters must decide whether to settle their petty differences and join forces against the extraterrestrial enemy!
---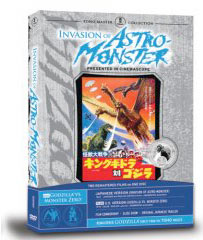 Product Description
(Sci-Fi) Invasion of Astro-Monster/Godzilla vs. Monster Zero -- Aliens from Planet X borrow our monsters for a little extermination project, but they've got something else up their sleeves: world domination!
Using mind-control technology, these vinyl-and-sunglasses wearing spacemen turn Godzilla, Rodan and King Ghidorah loose in Japan, demanding Earth's surrender!
It's up to American astronaut F. Glenn, his galaxy-trotting buddy Fuji, and nerdy inventor Tetsuo to break the aliens' hold on the monsters and save our planet from certain doom.
Everything you're looking for is here: