Reviews of the newest DVD releases
of your favorite movies!
Click on the title to order - huge discounts
and free shipping through Amazon.com!
---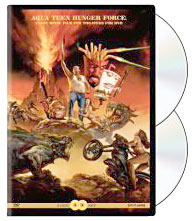 Aqua Teen Hunger Force Colon Movie Film for Theaters for DVD
A little Aqua Teen Hunger Force goes a long way and I'm not sure they overcame that hurdle with the movie version. Reportedly made for under a million dollars, I easily can understand why the film didn't do that great in the theaters but judging from the excitement surrounding this DVD release there are diehard fans who are eating it up. It's one of the hottest selling movies on Amazon right now.
I love the randomness of ATHFCMFFT, the insane juxtapositions, the unbridled bizarreness of it all; it's basically the television show but 3 times as long. There's no sense in explaining the plot because it makes no sense.
It's ridiculous, vulgar, base, crass, uncalled-for, and goes on too long even with a relatively short running time of 87 minutes. But I still liked it.
It's so unrepentantly incongruous you don't have to be familiar with the late night Adult Swim program to enjoy this spectacle but it's clearly produced for the fans and they are legion. One Amazon reviewer called it, "the most critic proof film ever made" and he is undoubtedly right. Yet another suggests it's the third best film of all time, right behind The Godfather, which will give you some idea of how loyal the show's viewers are. That allegiance comes about because of the pure joy Aqua Teen's creators Matt Maiellaro and Dave Willis put into their strange and uncommonly original work.

This double DVD set actually contains two movies. You get a 'deleted' version which is a rougher cut of the film, allowing those that caught Aqua Teen Hunger Force Colon Movie Film for Theaters at the cineplex a chance to re-experience the movie from a different point of view. It's even more random - and unfinished to boot.
It's all cleverly packaged and the extras are many (see below). Fans of the Cartoon Network series will be more than pleased, as I was. It's 30% off if you order online now, only 20 bucks.
---
Product Description:
The Aqua Teen Hunger Force movie establishes the origins of the Aqua Teens and attempts to explain the back story to some age-old mysteries that have surrounded the Aqua Teens. Or does it? No one really knows.


DVD Features:
Alternate endings
Deleted Scenes
Alternate endings:Fake .com Endings
Featurette: Round Table Discussion - Making of the Movie
Music Video
Promos Behind-the-scenes / Making of the Music Videos for the movie
Photo gallery
Theatrical Trailer
---
Movies on DVD Reviews: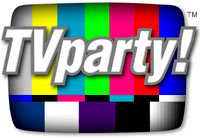 TVparty! for TV Shows on DVD!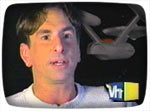 Reviews by Billy Ingram,
as seen on VH1, Trio and Bravo.
On BRAVO'S 100 Funniest Movies this month!
---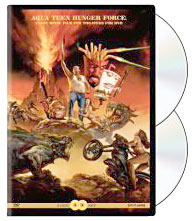 Aqua Teen Hunger Force Colon Movie Film for Theaters for DVD
Plot Outline: An action epic that explores the origins of the Aqua Teen Hunger Force (better known as Master Shake, Frylock, and Meatwad,) who somehow become pitted in a battle over an immortal piece of exercise equipment.
Tagline: Bring the whole family... because children can't get into "rated R" without an adult.
Actors: Dana Snyder as Master Shake
Andy Merrill as Oglethorpe
Bruce Campbell as Chicken Bittle
Chris Kattan as Walter Melon
with Dave Willis, Carey Means, Mike Schatz.
Directors: Matt Maiellaro, Dave Willis
Produced by Williams Street
Format: AC-3, Animated, Closed-captioned, Color, Dolby, DVD-Video, Subtitled, Widescreen, NTSC
Released on August 14, 2007.
Everything you're looking for is here: