Reviews of your favorite movies on DVD and Blu-Ray!
Click on the title to order - huge discounts
and free shipping through Amazon.com!
---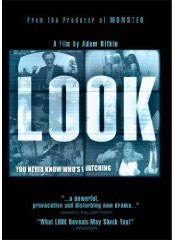 Look
Look offers a unique frame of reference - the entire film was shot from the perspective of surveillance cameras, the point being we are captured hundreds of times on a daily basis by the ubiquitous eyes in the skies, those unnoticed silent watchers embedded in buildings.
What could have been just a neat gimmick becomes an extremely effective storytelling tool. Couple that with a robust, lean script and some incredibly naturalistic performances and you've got one hell of a film.

Writer / director Adam Rifkin exposes "unwitting exhibitionists" who, because they don't see the big picture the passive cameras capture, become unwitting pawns plunged into desperate circumstances by treacherous temptations and life's random events. It may take a while to get into the groove but once this joint gets underway it draws you along into its disturbing, voyeuristic odyssey.
It's not all heavy. Part Clerks, part No Country for Old Men, this is one of the most invigorating, engrossing movies I've seen in a long time - a devastating portrait of seriously flawed individuals caught seemingly unnoticed in their all too public malfeasance.

There's a damn good reason why this film racked up remarkable reviews from hard to please critics and walked away with numerous film festival awards. Look is a slow boiling pot right up until the abrupt ending - a harsh disconnect with an unconscionable lack of resolution. But then, that's life, eh?
This is one must see motion picture - the DVD offers a behind the scenes peak, an audio commentary with director Rifkin and others, deleted scenes, outtakes and more.
Product Description:
There are an estimated 30 million surveillance cameras in the United States. On any given day, the average American is captured approximately 200 times. Every one of us is constantly being observed at our jobs, on the street, while shopping, and sometimes even in our own homes. Every one of our secrets, lies, crimes and most private moments are all being recorded. But who is watching us? Look is an award-winning drama from writer/director Adam Rifkin that takes the ultimate look at our 'Big Brother' world.
"...a powerful, provocative and disturbing new drama…" ~USA TODAY
"A disturbingly inventive piece of entertainment" ~THE WALL STREET JOURNAL
"What LOOK Reveals May Shock You!" ~NEWSWEEK "practically dares you to look away." ~THE HOLLYWOOD REPORTER
"A brilliant Hitchcockian suspense film" ~LOS ANGELES TIMES
"Unexpectedly amusing and inevitably disturbing...." - Robert Koehler. ~VARIETY
"A fascinating, if frightening statement on the way we are." ~Maxim
---
Movies on DVD Reviews: