Reviews of your favorite movies on DVD and Blu-Ray!
Click on the title to order - huge discounts
and free shipping through Amazon.com!
---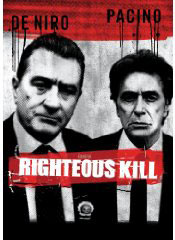 Righteous Kill
Two of the silver screen's biggest stars paired with an occasionally brilliant director and the result is one murky mess of a movie that might have been great if it had just made any damn sense.
The plot, such as it is, concerns a rouge cop who's killing bad guys and leaving cryptic poetry behind.
From the Product Description: Turk and Rooster, two aging NYPD detectives who have been longtime partners are faced with a serial killer who is murdering sociopathic criminals. They both have personal issues, and when they start working with a younger team, Perez and Riley, tensions between the pairs of partners is inevitable, especially since Turk is now living with Perez's ex-girlfriend, also a homicide detective.
C'mon, the only chance we'll probably ever get to see Robert De Niro and Al Pacino together for any extended period and this is the script they go with? It's revolting, a total waste of time with only flashes of what could have been in the performances of a superb cast that includes Donnie Wahlberg, 50 Cent (who is quite good), Brian Dennehy, and John Leguizamo.
Pacino and De Niro are like two barges floating, meandering through shallow waters, with no memorable scenes either together or individually. And the surprise ending will have you scratching your head and wondering - why? What was the point of that?
There are 2 mini-documentaries on this DVD release that are mildly entertaining and an audio commentary by director Jon Avnet.
---
Actors: Robert De Niro, Al Pacino, Curtis 50 Cent Jackson, Carla Gugino
Directors: Jon Avnet
Format: Color, DVD-Video, NTSC, Subtitled, Widescreen
Language: English
Subtitles: English, Spanish
Region: Region 1 (U.S. and Canada only. Read more about DVD formats.)
Aspect Ratio: 2.35:1
Number of discs: 1
Studio: Anchor Bay - ITN
DVD Release Date: January 6, 2009
Run Time: 100 minutes

---
Movies on DVD Reviews: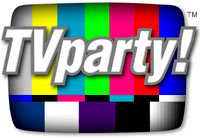 TVparty! for TV Shows on DVD!
Reviews by Billy Ingram, as seen on VH1, Trio and Bravo.

Watch for Billy Ingram on BRAVO this month!
Everything you're looking for is here: