Reviews of your favorite movies on DVD and Blu-Ray!
Click on the title to order - huge discounts
and free shipping through Amazon.com!
---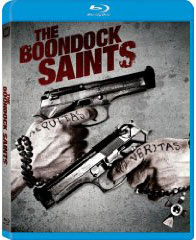 The Boondock Saints [Blu-ray] (2000)
Another seminal motion picture comes to Blu-Ray and this definitive version is sure to please the many fans of this amazing, bloody, free-wheeling mess.
If you haven't immersed yourself in Boondock Saints, you're in for one hell of a ride. Twisty, disturbing, unrelenting, this staggering 1999 crime thriller packs a massive punch, standing tall as one of the best films in the genre.
Sean Patrick Flanery and Norman Reedus are riveting as the careening Irish vigilantes who cut a bloody swath through the city's diseased underbelly. Willem Dafoe's performance as a flamboyantly gay, classical music loving FBI agent is not to be missed, worth the price of admission alone. The quirky supporting cast that includes Billy Connolly provides constant merriment.
Like Pulp Fiction and Reservoir Dogs, Boondock Saints is a hyper-violent film but it's mostly cartoon violence since the situations are wildly imaginative but hardly realistic. Like a Warner Brothers short brought to life as a butcherous bloodbath.
This true cult classic explodes on Blu-Ray, the picture and sound clarity are quite nice, you're drawn in to the action as never before, it's like watching Boondock Saints for the first time. And the sound quality is first rate. But then, I've only ever seen this movie on VHS.
Extras include:
- Audio Commentary with director Troy Duffy
- Audio Commentary with actor Billy Connelly
- Complete The Boondock Saints Screenplay
- Theatrical Trailer
- Deleted Scenes
- Outtakes
The commentary by Billy Connelly is loads of fun. As a side note, if you like this film check out Overnight (2003), the unbelievable story behind the making of this film. It's beyond crazy!
Product Details
Actors: Willem Dafoe, David Ferry, Brian Mahoney, Billy Connolly, Ron Jeremy
Directors: Troy Duffy
Format: AC-3, Color, Dolby, DTS Surround Sound, Subtitled, Widescreen
Language: English
Subtitles: English, Spanish
Region: Region 1 (U.S. and Canada only. Read more about DVD formats.)
Aspect Ratio: 2.35:1
Number of discs: 1
Studio: Fox/MGM
DVD Release Date: February 10, 2009
Run Time: 110 minutes
---
Movies on DVD Reviews: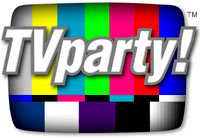 TVparty! for TV Shows on DVD!
Boondock Saints on Blu-Ray
Reviews by Billy Ingram, as seen on VH1, Trio and Bravo.

Watch for Billy Ingram on BRAVO this month!
/ / / Classic TV Blog / / / TV Shows on DVD / / / 2010 TV Show Reviews / // / TV on BLU-RAY
Everything you're looking for is here: