Reviews of your favorite movies on DVD and Blu-Ray!
Click on the title to order - huge discounts
and free shipping through Amazon.com!
---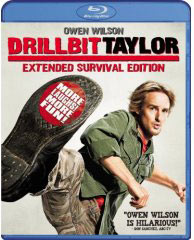 Drillbit Taylor (Extended Survival Edition) [Blu-ray]
This Judd Apatow produced film starring Owen Wilson proved to be a modest hit in the theaters and it comes to Blue-Ray with an amazing array of extras that are sure to please fans and casual viewers alike.
Owen Wilson's goofy portrayal of a down and out Army Ranger pressed into the service of 3 high school nerds is one of his best, even if the script tends to let him down at times.
Drillbit Taylor provides plenty of laughs and this DVD delivers even more with an extended version of the movie, deleted and extended scenes, some very funny outakes, and mini-docs about Danny McBride (the real Don) and the writers. There's also a wonderfully insightful commentary with the filmmakers, you'll learn a great deal about how movies get made.
This is hardly groundbreaking filmmaking and I seriously doubt this film will make anyone's top ten list but thanks to this deluxe Blu-Ray DVD release there's a great deal more to like about Drillbit Taylor.
From the product description:
Ryan (Troy Gentile) Wade (Nate Hartley) and Emmit (David Dorfman) attend their first day at high school and they re pumped until they meet up with Filkins (Alex Frost) a school bully who comes off like a little Hannibal Lecter. Before they become completely engulfed in Filkins reign of terror they seek out some protection by placing an ad in Soldier of Fortune magazine. Their best response and the cheapest comes from Drillbit Taylor (Owen Wilson) a down-on-his luck soldier of fortune who lives a homeless he likes to say home-free existence on the beach. He enrolls them in some physical and mental training.
Running Time: 101 minutes
Actors: Ian Roberts, Owen Wilson, Leslie Mann, Lisa Ann Walter, Josh Peck
Directors: Steven Brill
Format: AC-3, Color, Dolby, Dubbed, Subtitled, Widescreen
Language: English
Subtitles: English, French, Spanish
Region: Region 1 (U.S. and Canada only. Read more about DVD formats.)
Aspect Ratio: 2.35:1
Number of discs: 1
Studio: Paramount
DVD Release Date: July 1, 2008
Run Time: 109 minutes

---
Movies on DVD Reviews: